Savor ocean, pines, and great pie on a three-day coastal California weekend
Rising from a rocky shoreline into hills covered by Monterey pines, Cambria has a spirit shaped equally by ocean and forest.
Midway between Los Angeles and San Francisco, this Central Coast town boasts several miles of coastline and, especially in spring, is bordered by rolling hills green enough to evoke the Welsh origins of its name.
The village itself sits deep in a knoll between wooded slopes. Quaint but not cloyingly so, it has 19th-century cottages set in lush gardens while a lawn-bowling green commands a prominent place on a main street named Main Street.
Back when this area was busy with whaling, mining, and logging, Cambria was known as Slabtown. Rugged as the town was, the name referred not to tombstones but to the slabs of rough wood used in building construction.
These days Cambria's trees and mountains are cherished rather than bought and sold, and the town makes an ideal base for anyone looking for a weekend filled with long beach walks or hikes into the hills. Browsing, not brawling, is the main village pursuit, and shops and galleries feature many of the local artists and craftspeople who have settled here. It's no wonder they chose Cambria ― a place where beauty and inspiration are never very far away.
Day one: Stroll the beach, art shop, eat some great olallieberry pie
The ideal start to a Cambria day is a walk at Moonstone Beach. You can take the boardwalk that follows the bluffs or walk along the beach, named for the white agates sometimes found here.
Head into the village for breakfast, where, on Saturdays, Lily's Coffeehouse serves crêpes on its patio. 
For lunch, Robin's Restaurant has an eclectic menu that features daily salad specials and a flavorful salmon bisque. Its vine-covered patio is one of Cambria's most appealing dining spots. Save room for dessert and drive up Santa Rosa Creek Road to Linn's Fruit Bin Farmstore for its country setting and famous olallieberry pie. From here, double back to State 1, then head south a short distance to Harmony. While the old dairy town has seen busier times, you can watch glassblowing demonstrations, visit a pottery studio, and end your afternoon with wine tasting at Harmony Cellars. Then join the locals for oysters, clams, and other seafood at the Sea Chest on Moonstone Beach.
Details
• Moonstone Beach. Along Moonstone Beach Dr. off Windsor Blvd.
• Lily's Coffeehouse. $; closed Tue (crêpes 11-4 Sat only). 2028 Main St.; 805/927-7259.
• Robin's Restaurant. $$$; lunch Mon-Sat, brunch Sun, dinner daily. 4095 Burton; 805/927-5007.
• Linn's Fruit Bin Farmstore. $; 10-5 daily. Five miles east of town on Santa Rosa Creek Rd.; innsfruitbin.com or 805/927-8134.
• Harmony Cellars. Tasting $7. 3255 Harmony Valley Rd., Harmony; harmonycellars.com or 805/927-1625.
• The Sea Chest. $$$ (no credit cards accepted); dinner Wed-Mon. 6216 Moonstone Beach Dr.; 805/927-4514.
• Annual Garden Extravaganza. 9 a.m. to 3 p.m. Sunday, June 4, 2006; $35 admission includes breakfast at Cambria Pines Lodge, tours of six gardens, and a dessert/champagne reception. 805/909-2181. 
Day two: Take a hike, meet an elephant seal, shop for your garden
With bread bins and a Parisian street mural, the French Corner Bakery lives up to its name and is a good bet for a light breakfast, or for sandwiches at lunch.
Take some time to explore beyond the town. One of the best day-hikes starts along the boardwalk at San Simeon State Park and heads into forests of Monterey pines and onetime ranchland. While you're north of Cambria, visit the elephant seal viewing area at Piedras Blancas. May isn't prime season, but female and juvenile seals might still be around. Nearby you'll find Sebastian's Store, which dates to 1852 and the area's whaling days.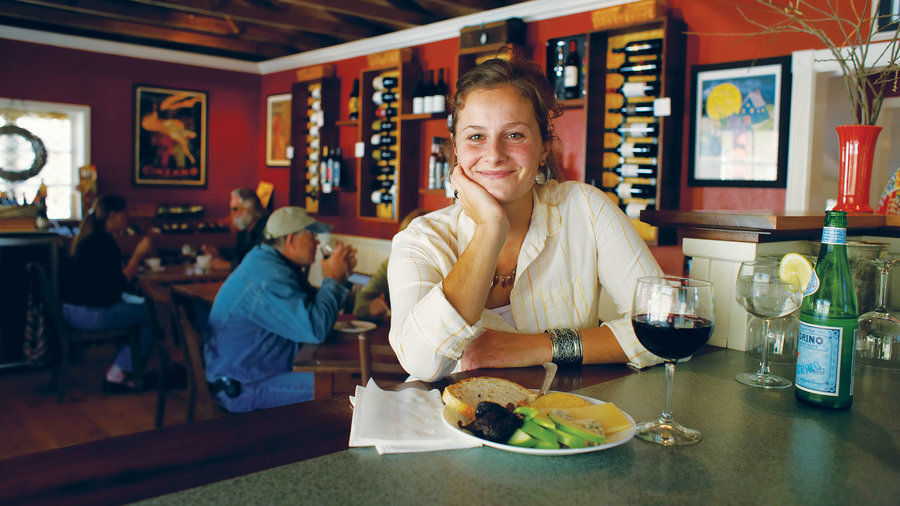 Chris Leschinsky
Back in Cambria, begin an afternoon of shopping with a casual lunch at Indigo Moon, a gourmet shop offering a wide selection of artisan cheeses. As Cambria's landscaping suggests, this is prime garden territory. The Garden Shed has a nice selection of pots and accessories, while Cambria Nursery and Florist offers monthly demonstrations and workshops at its rambling facility above town.
Details
• The French Corner Bakery. $; breakfast and lunch daily. 2214 Main; 805/927-8227.
• San Simeon State Park. 3- to 4-mile loop begins at trailhead located just north of Cambria at Washburn Day Use Area. www.parks.ca.gov or 805/927-2068.
• Piedras Blancas. Elephant seal viewing area has parking and docents on site. 12 miles north of Cambria on State 1; 805/924-1628.
• Sebastian's Store. 442 SLO San Simeon Rd., San Simeon; 805/927-4217.
• Indigo Moon. 1940 Main; 805/927-2911.
• The Garden Shed. 2024 Main; 805/927-7654.
• Cambria Nursery and Florist. 2801 Eton Rd.; 805/927-4747.
Day three: Tour two castles, dine Pan-Asian-style, savor a sunset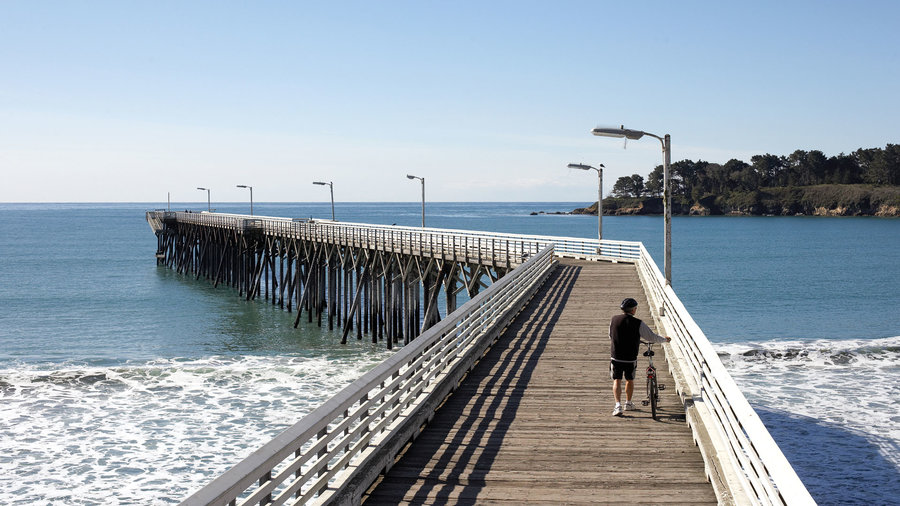 Photo by Chris Leschinsky
Meet the Central Coast's new kid 
Almost but not quite within sight of the Pacific, the new El Colibri Boutique Hotel is hidden by the trees along Santa Rosa Creek. That said, a 1/4-mile boardwalk path leads you to Moonstone Beach, the kind of beach that makes even seasoned coastal wanderers stop and whisper, Wow.
As for the hotel, it breaks out of the town's famous cutesiness for something that's a more Tuscany-meets-SoCal flavor of luxury. Check out the small but pretty top-floor spa for a massage. From $189, including breakfast; 805/924-3003. –P.F.
More: Escape to Cambria
For all of Cambria's simple charms, the Central Coast's biggest attraction remains Hearst Castle, the grand vision of William Randolph Hearst. Designed by Julia Morgan, it holds Hearst's assemblage of rare antiquities and art. Nearby, at William Randolph Hearst Memorial State Beach, you can walk the pier at San Simeon Bay. Head back to Cambria for another architectural obsession, albeit more humble than Hearst's. In the hills above the village, the late Art Beal constructed the ramshackle folk-art castle Nitt Witt Ridge out of abalone shells, lumber that washed up from the ocean, and pretty much whatever else he could find.
Most of us live in houses between Beal's and Hearst's extremes, and Cambria's home decor stores cover a range of tastes. The Shop Next Door offers traditional Amish, Shaker, and Mission designs. Home Arts' items include Oaxacan weavings, and Under the Banyan Tree carries an eclectic assortment of objects from around the world.
For lunch, the Wild Ginger Cafe is a good bet for its Pan-Asian cuisine. End your
visit with a sunset walk at East West Ranch, where trails explore the natural essence of Cambria: wave-splashed coves, flower-dappled grasslands, and forests where fog drifts amid the pines.
Details
• Hearst Castle. $25. www.hearstcastle.com or 800/444-4445.
• William Randolph Hearst Memorial State Beach. Off State 1 across from Hearst Castle. www.parks.ca.gov or 805/927-2020.
• Nitt Witt Ridge. $10. 881 Hillcrest Dr.; 805/927-2690.
• The Shop Next Door. 4063 Burton; 805/927-9600.
• Home Arts. 727 Main; 805/927-2781.
• Wild Ginger Cafe. $$; closed Thursdays. 2380 Main; 805/927-1001.
• East West Ranch. Trailhead at Windsor Blvd. past Wallbridge Dr. www.cambriacsd.org or 805/927-6223.
Traveling to Cambria
Cambria is 240 miles south of San Francisco and 240 miles north of Los Angeles. For information, contact the Cambria Chamber of Commerce (767 Main St.; 805/927-3624).
Lodging
J. Patrick House. In a forest setting, traditional bed-and-breakfast features cozy rooms with wood-burning fireplaces. Eight rooms from $175. 2990 Burton; www.jpatrickhouse.com or 800/341-5258.
Keep Reading: