Top Spots for Fun in East Hollywood
Tinseltown is ready for its close-up, and the star is in the east. Check out these top spots for eats, drinks, and more fun
Hollywood. Just whispering the word sparks visions of glam premieres, celebs on red carpets, and cinematic heavyweights swapping screenplays. But anyone visiting in the past few decades faced the harsh reality of a Hollywood down on its luck.
After most of the original movie studios relocated to more spacious digs in the 1950s and '60s, Hollywood became more famous for its strip clubs, seedy bars, and crime scenes than for studio starlets. A-list residents fled, and tourists glumly wandered blocks of abandoned storefronts and shuttered theaters with the same cheated feeling: This is Hollywood? But any good plot thickens with a comeback. First was the Hollywood and Highland project in 2001, bringing thousands of young, creative types to the multimillion-dollar condo developments springing up. Today, look for shiny high-rise apartments, star chefs, and a swank hotel, and it's looking like Hollywood's got its groove back.
These days, most visitors beeline for the flashy tourist hubs near Hollywood and Highland, like the Oscar-famous Dolby Theatre and the Walk of Fame. But the real sleeper hit is Hollywood's eastern flank, anchored at Hollywood and Vine, which has cleaned up its act and become a hot spot for locals moving in and anyone looking for a sexy car-free weekend in the city. Here, our lights, camera, action guide to Hollywood—take two.
THE NEW HOLLYWOOD SCENE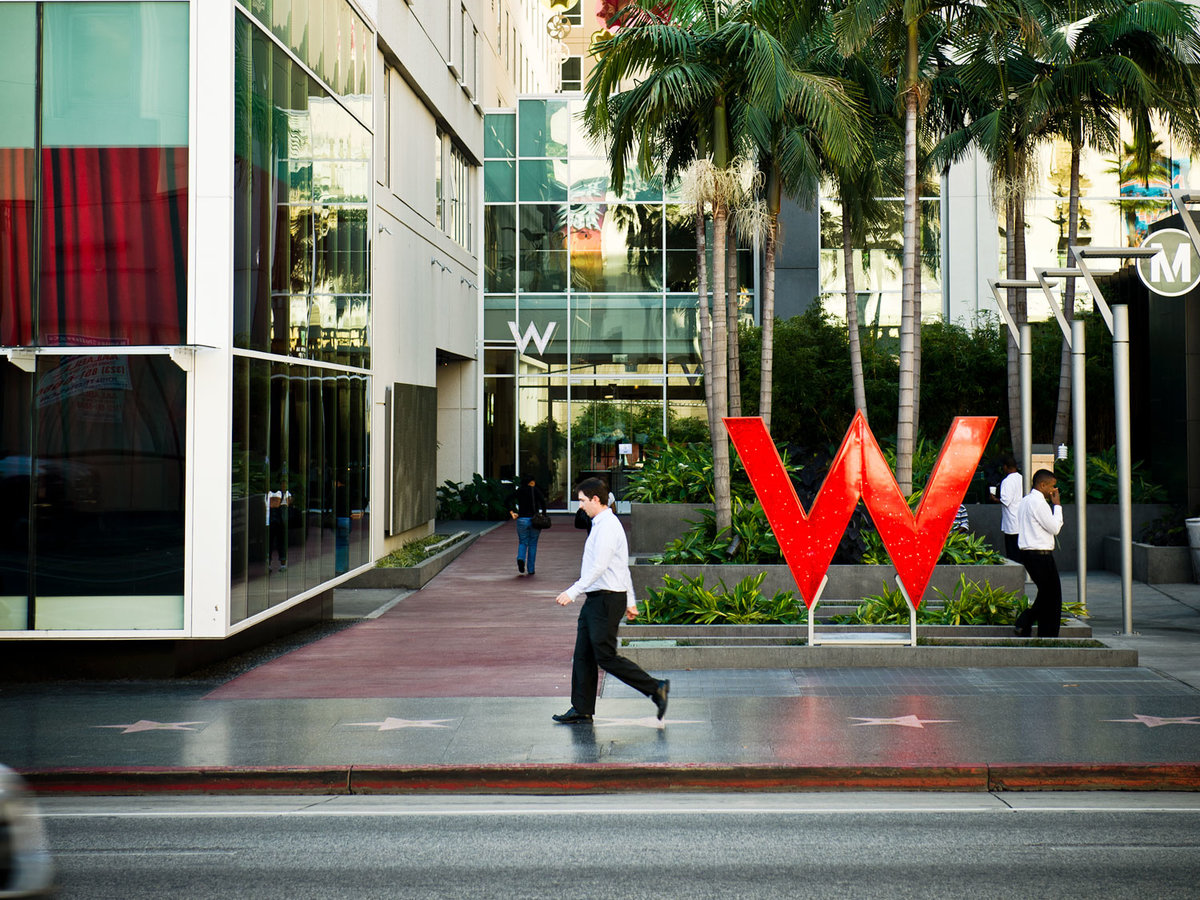 A glam home base
The W Hollywood helped snazzy things up when it opened in 2010. Some rooms even have full frontal views of the Hollywood sign, the midcentury mod curves of Capitol Records, and the art deco Pantages Theatre. Hit the rooftop pool, then saunter down the red-carpeted spiral staircase underneath an elegant chandelier for cocktails and late-night bites at the Living Room lounge. whollywoodhotel.com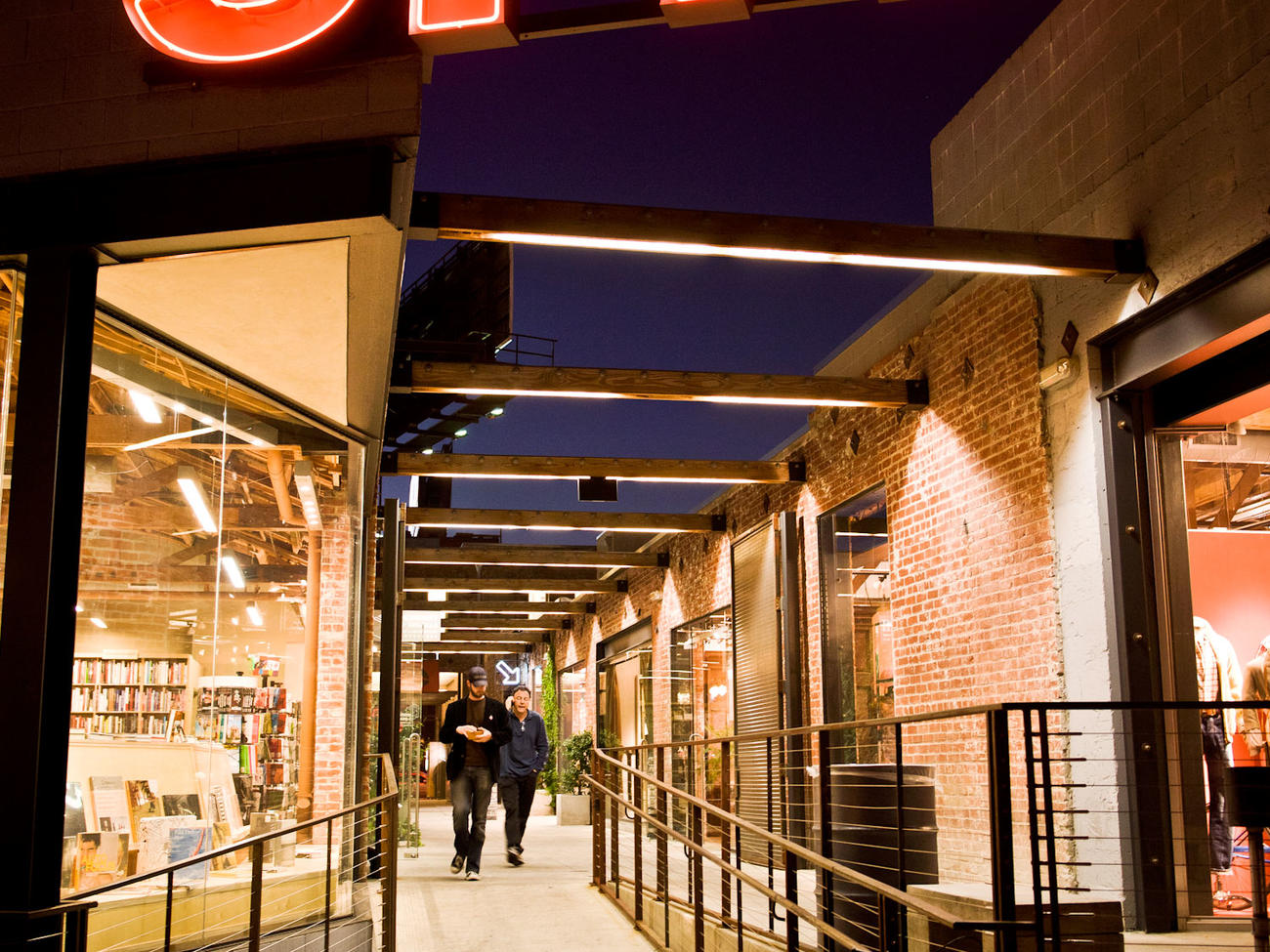 The neighborhood artist
Colony Space 15 Twenty is a former lighting studio refurbed into a mini-mall for the creative. Here, you can check out vintage threads at What Goes Around Comes Around, architecture and design books at Hennessey + Ingalls, and works by local artists and photographers at Gallery Space. Hungry? The newest outpost of the cultishly popular Umami Burger recently moved in. Nights and weekends, the courtyard draws crowds to  '80s film festivals, screen-printing workshops, and the flea market (11–4 Sun). space15twenty.com
New eats
In a Spanish-style building you'll find a knock-out restaurant: District (323/962-8200) is a dinner-only bistro where the duck fat Yorkshire pudding stands out.
The best big screen in the world
The concrete dome hovering like a spaceship on Sunset Boulevard landed back in 1963 to project the revolutionary "Cinerama" wide-screen format. Now the restored Cinerama Dome is part of ArcLight Cinemas, where star sightings are a definite possibility—ArcLight Presents…is a series of classic movies occasionally accompanied by intros from actors and directors, with audience Q&As afterward. Special screenings can sell out, but even regular flicks here have perks: stadium seating, caramel corn made in-house, and displays of costumes from new releases in the lobby. arclightcinemas.com
The Sunday morning hot spot
Rub elbows with local chefs at the Hollywood Farmers'  Market, one of the biggest and best around, while sampling spirals of Romanesco broccoli and fresh oysters—shucked and ready to slurp on the spot. It's worth waiting in line for Delmy's Pupusas, a Salvadoran fried flatbread stuffed with everything from pork to mushrooms. 8–1 Sun; farmernet.com
GO CAR-FREE
Get there by metro. The Red Line (metro.net), which starts at downtown's Union Station, stops at both Hollywood and Highland and Hollywood and Vine, underneath the W Hotel.
By bus. The 212 travels up and down Hollywood Blvd.
From LAX. The FlyAway ($8 one way; lawa.aero/flyaway) shuttles nonstop to Union Station. From there, take the Metro Red Line.
Keep Reading: