One Perfect Day in San Clemente, CA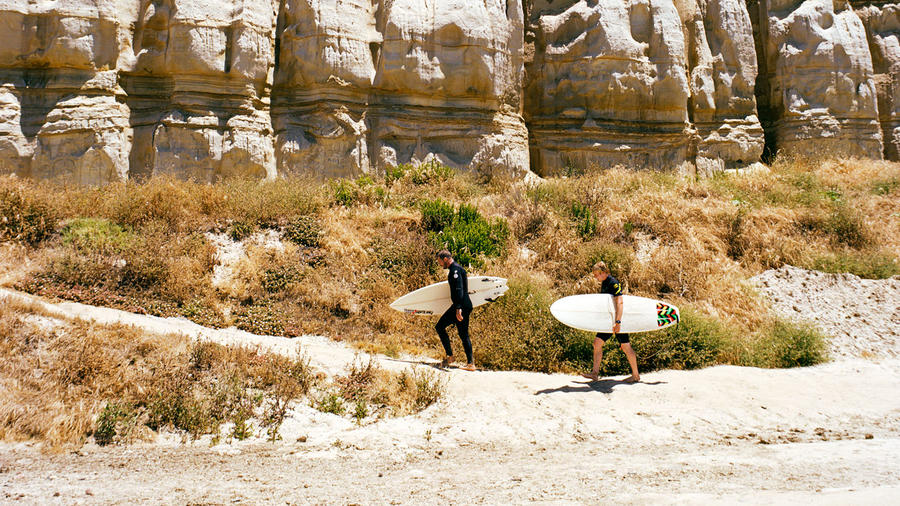 Spend the day in an Orange County surf town with plenty to offer
Why go now: The surf's up, but the pace is slowed down in this charming small town, where fine wine and farmstands meet big waves and a chill surfer vibe.
Easy-peasy pull-over: It's right off I-5, so you can't beat it for beach convenience.
Or go carless: Amtrak's Pacific Surf­liner chugs alongside San Clemente's sandstone cliffs and stops in town (amtrak.com).
Main drag: On downtown's laid-back Avenida Del Mar, it's easy to forget the freeway just north.
The look: White stucco adobes with red-tiled roofs line the curvy streets, making this town feel like a "Spanish village by the sea"—just what founder Ole Hanson envisioned back in 1925.
Walk on water: The fishing pier stretches 1,300 feet into the Pacific.
Weekend sweet spot: Show up on Sunday mornings at Sugar Blossom Bake Shop for buttermilk cinnamon rolls with macadamia nut glaze (204 Avenida Del Mar; 949/429-5555).
Gardens with a view: Wander Casa Romantica, a Spanish colonial revival estate turned cultural center with killer views (415 Avenida Granada; casaromantica.org).
Park it by the ocean: Between State Beach, Calafia, and Lobeiro park, you're in for a coastal three-in-one at San Clemente State Beach. Which to pick? State is the largest, with calm surf perfect for swimming and bodyboarding. On Saturdays, pop into the visitor center, with a room dedicated to surf memorabilia. Calafia (pictured) is just north, where steep sandstone cliffs make a dramatic backdrop for sunbathers. Or follow the path from Calafia to Lobeiro park for a picnic on the lawn with ocean views. parks.ca.gov
Quirky shopping: Looking for a cast concrete birdbath in the shape of a rhubarb leaf, a vintage mirror, or Chuck Berry Greatest Hits on vinyl? Look no further than La Casa Verde de Granada, an artists' co-op that feels more like a funky antique store, with fun finds from estate and garage sales. 130 Avenida Granada; 949/498-2560.
Burgers and brews: Locals line up at the Riders Club Cafe, a former gas station, for craft beer, build-your-own burgers,  and carnitas topped with carrot slaw. The rock tunes and beer-themed decor add honky-tonk swagger. $; 1701 N. El Camino Real; 949/388-3758
Veggies on the green: Sure, you can play nine holes at Bella Collina golf club, but Saturdays you can also buy produce from the 21/2-acre VR Green Farms, near the clubhouse. Look for tomatoes, zucchini, and fresh herbs at the farmstand, and say hello to farmer Nic Romano. 200 Avenida La Pata; vrgreenfarms.com 
Wine break: At the Cellar wine and cheese bar, food and drink share equal billing. Pull up a stool and order a glass of Rhône-style red and a wedge of triple-cream Red Hawk. Headed back to the beach? Grab a baguette sandwich and a bar of fair-trade chocolate. $; 156 Avenida Del Mar; 949/492-3663.
Shop like a surfer: 3 stores even nonsurfers will love
An artsy surf shop: Just south of downtown, Stewart Surfboards is owned by longboard-making legend and artist Bill Stewart. Stop by to pick up beach gear, or just admire the ocean-inspired air-brushed mural outside. 2102 S. El Camino Real; 949/492-1085.
Bargains, dude! Locals head to Trestles Surf Outlet, named after the famous surf spot nearby, for great deals on wetsuits, board shorts, and swimsuits. The 20 to 50 percent off saves more for that sweet board you've been eyeing. 3011 S. El Camino Real; 949/498-7474
Surf gear gone green: Big-time surf brand Hobie gets eco at their Green Room downtown, where everything is Earth-friendly—from organic cotton shirts to board shorts made from recycled water bottles. 151 Avenida Del Mar; 949/542-3400.
Keep Reading: