California Central Coast Road Trip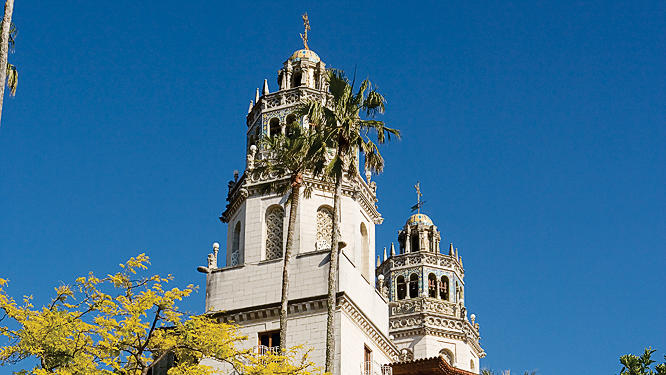 Perfect stops along one of California's most beautiful drives
Full story: California central coast escape
Travelers' information:
Dining and Lodging
Photo by Andrea Gómez Romero
Santa Barbara County
Café Quackenbush Gourmet sandwiches and art gallery just off U.S. 101. $; closed Mon; 458 Bell St., Los Alamos; 805/ 344-5181.
Four Seasons Biltmore Resort Santa Barbara Oceanfront classic. From $575; 1260 Channel Dr., Santa Barbara; fourseasons.com/santabarbara or 888/424-5866.
La Super-Rica Taqueria Mexican food well worth long peak-hour waits. $; 622 N. Milpas St., Santa Barbara; 805/963-4940.
Patrick's Side Street Cafe Wine country cuisine in a relaxed setting. $$$; closed Mon–Tue and for dinner Wed; 2375 Alamo Pintado Ave., Los Olivos; 805/686-4004.
San Luis Obispo County
La Bellasera Hotel & Suites Large, comfy Italian-style rooms, some with spa tubs and fireplaces to spice up late-night local-wine sipping. 60 rooms from $199; 206 Alexa Court, Paso Robles; labellasera.com or 805/238-2834.
Meritage Wine Tasting Lounge Right on the old town square, Meritage pours some well-known Paso labels (Hope Family, SummerWood), with crostini and pizza to consume alongside—and live music on the occasional Friday or Saturday night. $; closed Tue; 810 11th St., Paso Robles; meritagelounge.com or 805/238-9456.
Taco Temple A great spot for fish tacos, hidden on a State 1 frontage road. $; closed Tue; 2680 Main St., Morro Bay; 805/772-4965.
Monterey County
Big Sur River Inn After a meal of fresh fish and organic produce, kick back in a chair in the river. $$$; on State 1 at Pheneger Creek; bigsurriverinn.com or 800/548-3610.
Big Sur Roadhouse Cal-Latin fusion cuisine with funky roadhouse decor. $$; on State 1, about 25 miles south of Carmel; 831/667-2264.Green Gables Inn Victorian elegance by the sea. From $140. 301 Ocean View Blvd., Pacific Grove; greengablesinnpg.com or 800/722-1774.
Casanova Restaurant Classic romantic setting, Mediterranean cuisine. $$$$; Fifth Ave. between Mission St. and San Carlos St., Carmel; 831/625-0501.
Inn at the Pinnacles Wine-country setting near the western gateway to Pinnacles National Monument. Open Thu–Sat; from $225; 32025 Stonewall Canyon Rd., near Soledad; innatthepinnacles.com or 831/678-2400.
La Playa Hotel Onetime estate a couple of blocks from Carmel City Beach. From $190, two-night weekend minimum; Camino Real at Eighth Ave., Carmel; laplayahotel.com or 800/582-8900.
Loulou's Griddle in the Middle Updated take on waterfront breakfast joint. $; closed Tue; on Municipal Wharf II, Monterey; 831/372-0568.
Monterey Bay Inn Recently renovated hotel on the waterfront. From $289, two-night weekend minimum; 242 Cannery Row, Monterey; montereybayinn.com or 800/424-6242.
Treebones Resort Upscale camping, where roughing it means complimentary waffles and a new on-site restaurant and sushi bar. Campsites from $65 and yurts from $160, two-night minimum on weekends. 71895 State 1, 1 mile north of Gorda; treebonesresort.com or 877/424-4787.
Attractions
California missions There are 8 missions along the way: Santa Barbara, Santa Inés (in Solvang), La Purísima (now La Purísima Mission State Historic Park in Lompoc), San Luis Obispo, San Miguel, San Antonio (near Jolon), Soledad, and San Carlos (in Carmel). We like Purísima for its meticulous restoration and Santa Barbara for its sheer beauty. Fees vary by mission; californiamissionsfoundation.org or 951/369-0440 for locations and details.
Hearst Castle A classic example of California history and architecture. Five different guided tours. From $24, reservations recommended; 750 Hearst Castle Rd., San Simeon; hearstcastle.com or 800/444-4445.
Henry Miller Memorial Library Bookstore with concerts, lectures, and other events. Free; closed Tue; on State 1, Big Sur;  henrymiller.org or 831/667-2574.
Julia Pfeiffer Burns State Park The 0.5-mile round-trip McWay Falls Overlook Trail offers a view of a waterfall dropping 80 feet into the ocean. $10/vehicle; on State 1, 37 miles south of Carmel; parks.ca.gov or 831/667-2315.
Monterey Bay Aquarium The nation's top aquarium has added an octopus habitat and a walk-through wave-crash exhibit. $29.95, $17.95 ages 3-12; 886 Cannery Row, Monterey; montereybayaquarium.org or 831/648-4888.
Oso Flaco Lake Natural Area Rare coastal lake and dune habitat. About 3 miles north of Guadalupe, turn west onto Oso Flaco Lake Rd. and continue to the parking area at the visitor center. $5/vehicle; dunescenter.org or 805/343-2455.
Pfeiffer Big Sur State Park Redwoods and shaded picnic space and trails that lead to swimming holes; try the 3-mile round-trip Valley View Trail to Pfeiffer Falls. $10/vehicle; on State 1, 26 miles south of Carmel; parks.ca.gov or 831/667-2315.
Pinnacles National Monument Dramatic volcanic outcrops and even California condors. $5/vehicle; from U.S. 101 in Soledad, take State 146 east 14 miles; nps.gov/pinn or 831/389-4485.
Point Lobos State Natural Reserve The 2.8-mile round-trip North Shore Trail offers the best look at the reserve's coves and forests. $10/vehicle; on State 1, 3 miles south of Carmel; pointlobos.org or 831/624-4909.
Wineries
There are many distinct wine regions (American Viticultural Areas, or AVAs) along California coast road trip. Our favorite wineries include:
Chamisal Vineyards Tasting fee from $9; 7525 Orcutt Rd., San Luis Obispo; chamisalvineyards.com or 805/541-9463.
Foxen Winery Two tasting rooms near Santa Maria offering different wines:  At the "Shack," 7200 Foxen Canyon Rd., pouring Bordeaux-style and California-Italian varietals, and at the new winery, 7600 Foxen Canyon Rd., pouring Burgundy and Rhône varietals. $10 tasting fee at each location or $12 to sample at both; foxenvineyard.com or 805/937-4251.
Full story: California central coast escape
Keep Reading: