How California Has Prepped for This Year's Wildfires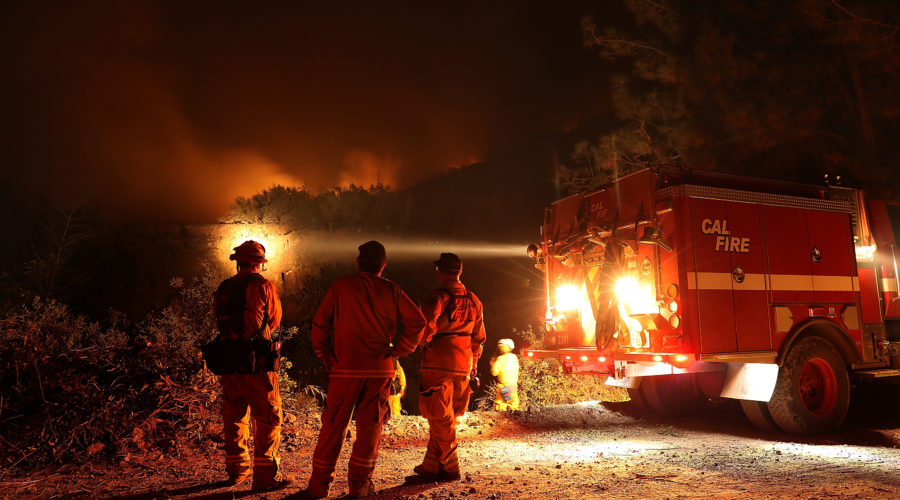 Justin Sullivan / Getty Images
The state has increased preventative efforts after last year's record-breaking season
If you've flipped on the news or caught footage of the wildfires burning across Northern California, you know the threat of wildfire season is in full swing. Since mid-July, major blazes have covered Shasta, Trinity, Mendocino, Colusa, and Lake counties, burning hundreds of thousands of acres, destroying homes, and forcing the closures of roads, businesses, and even parts of Yosemite National Park. Last year's wildfire season was record-breaking–the 9,000 wildfires in California were both deadly and destructive, burning 1.2 million acres of land statewide, and killing at least 46 people.
Though wildfires are a mighty and unpredictable force, officials are working tirelessly to contain the blazes threatening the aforementioned counties. To learn more about what's causing all of the wildfires, and the necessary safety precautions, we connected with the California Department of Forestry and Fire Protection (CAL FIRE) Information Officer, Heather Williams.
In terms of why, Williams says there are a handful of factors to consider in the recent uptick of wildfires.
"After 5 years of drought, combined with several wet winters, there is increased vegetation on the ground," she explains. "With the winds and dry conditions we are seeing explosive fire growth. California is known for having a Mediterranean climate–our weather is conducive to wildfires–but it is the added impacts of climate change that is aiding in these large and damaging fires."
To combat the growing threat, CAL FIRE is taking extra measures to secure the safety of fire-prone regions, and is upping the ante on preventative tactics, including fuel-reduction projects and defensible space inspections. Williams says the state fire department has also staffed 52 additional engines during the winter months to respond to growing wildfire activity and to aid in prevention efforts. This month, the department also announced that $170 million in grants has been awarded to agencies and organizations across the state to help reduce greenhouse gas emissions and prevent wildfires.
While any area with overgrown brush is at elevated risk for wildfires, residents and communities can do their part to protect their property by following state laws to create and maintain 100 feet of defensible space around their home, including spacing their trees and shrubs appropriately, and hardening their homes and landscaping with fire-resistant materials.
Beyond that, she says, is the element of simply being prepared.
"The other major step we need everyone to take is having a wildfire action plan," Williams warns. "Know where you would go and have two ways out of your area, have an out-of-county contact established, prepare an emergency supply kit, and have a plan for pets, too. It is not a matter of if, but when!"
Keep Reading: