Avila Beach: Wine, Waves, and Restaurants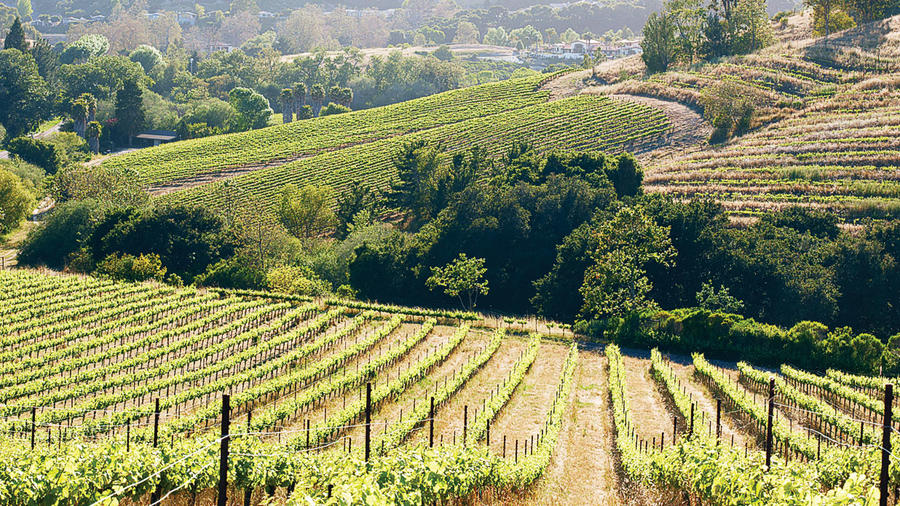 Farm country meets the California shore in a charming (and much overlooked) Central Coast town
The central coast doesn't always fit nicely into one of the classic California archetypes. Is it Gidget and surfers and sunsets? Or is it great rolling vineyards and striped green fields?
The answer, of course, is that it's both. And tiny, out-of-the-way Avila Beach—with its sunny microclimate, beachfront promenade, and down-to-earth vibe—might be the ultimate sampler platter of all things classically Californian. It's where the fertile valley meets the mighty Pacific, and where surfers know a good Pinot when they taste one.
Longtime resident Micheal Kidd calls Avila "the last great place left," and it does have a certain celluloid perfection, like a Disney set of a California beach town. (This is due in no small part to a late-'90s rebuild after an oil leak pretty much shut down the town.)
The best way to explore these 3 perfect square miles is to create your own mix-and-match surf-and-turf adventure, bouncing back and forth from beach to valley—from sunsets and sandy feet to berries and barrel tastings.
TURF
Bike to a farm
The beach cruiser bikes at Joe Momma's Beachstay Bike Rentals come fully loaded with helmet, basket, and total adorableness ($19 for 4 hours; 805/627-1500). Pedal inland to the Avila Valley Barn on the mellow 2.5-mile Bob Jones Trail. The Barn is a petting zoo, old-timey sweetshop, U-pick (look for raspberries and peaches this month), and farmstand, all rolled into one. And that's before we get to the roasted corn on the cob or the famous pies (which fit nicely into those bike baskets). 560 Avila Beach Dr.
Hike a secret trail
To access the Pecho Coast Trail, you have to make a reservation and pass by a guard (who's protecting a nuclear power plant you never actually see), but the 3.5-mile round-trip to the Point San Luis lighthouse is so spectacular, the rigmarole is worth it. Follow your docent through oak groves and coyote brush to serpentine cliffs for jaw-dropping views. Sat 9 a.m.; hike free, lighthouse $5; or 805/541-8735.
Rock out at a winery 
You can check out the converted two-room schoolhouse that is Salisbury Vineyards any day of the week, but Sunday afternoon is when it really gets jumping. The Schoolhouse Rock Concert Series has live music, barbecue, tours, and lots and lots of Salisbury's award-winning wine. It's about as family-friendly as it comes—in fact, you may find yourself doing the Mashed Potato with a bunch of 6-year-olds. $5 entry, $5 tasting, barbecue from $5; 6985 Ontario Rd.
Soak under the stars
People seem to think Californians spend most of their time hot-tubbing. Why not prove them right in one of the private hillside tubs at Sycamore Mineral Springs Resort? Steep under the Milky Way until nearly midnight—and if you book a room, you can make your way home in a robe. $18 per hour per person; rooms from $199.
Next: Surf
SURF
Save room for shrimp
Avila is a sleepy place, and the beachfront Fish & Farmer's Market, with live music, local artists, and fresh strawberry shortcake, is about as rollicking as it gets around here. Save room for a shrimp cocktail ($6) from BJ's Seafood and a mahimahi taco ($3) from Pete's Pierside Café. Fri 4–8 through Sep 24; Avila Promenade; visitavilabeach.com
Do the beach like a local
In the morning, before the day-trippers arrive from the scorching inland valleys, you'll share the sand with just locals, including a few beach yogis doing their sun salutations. Get a cup of coffee at local fave Joe Momma's Coffee and head toward the tidepools. By the time you make it back to Joe Momma's, you'll have earned a California Kiss (that's a pineapple mango smoothie; from $4.50) and a cinnamon roll ($3). Sort of. 310 Front St.; 805/627-1500.
Make like an old salt
The historic Harford Pier at Port San Luis (built in 1873, before the trains came to nearby San Luis Obispo) is a working fishing pier that happens to have a couple of low-key restaurants perched at the end. Stop at BJ's Fish Market to say hello to Speckles and Waddles, BJ's two adopted pelicans. Spend some time in front of Pete's Pierside Café and Fish Market ($) watching the sea lions flop around. Finally, nab one of the see-through tables at Olde Port Inn ($$$; 805/595-2515) to eat cioppino while watching the kelp slosh under your bowl. avilabeachpier.com
Chill out at your beachfront hotel
With a sweet spot on the ocean, Inn at Avila Beach is just the right amount of groovy. The rooftop deck with hammocks, pillow-strewn couches, and grills is the best sunset hangout in town. From $95; 2-night weekend minimum. 
More: Perfect summer trips
Keep Reading: