Behind the Scenes: Cut Flower Garden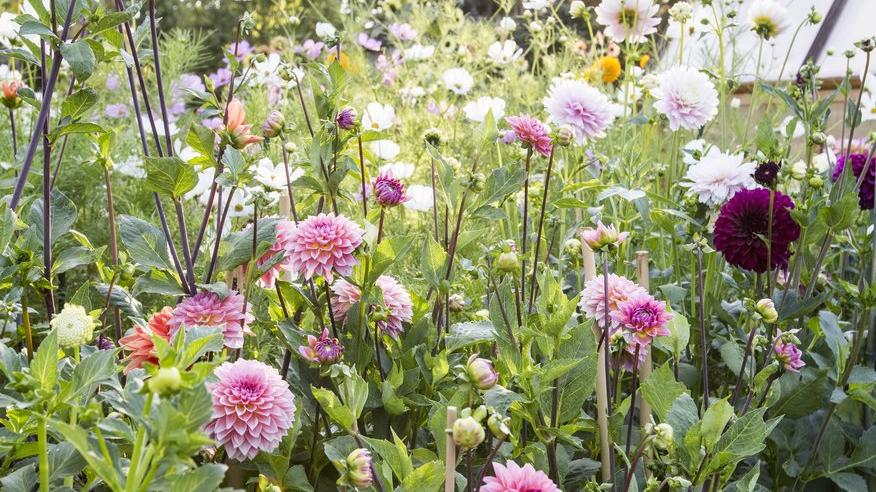 For our March 2015 feature story, we turned the Sunset Test Garden into a miniature flower farm. If you're curious, check out our plann…
For our March 2015 feature story, we turned the Sunset Test Garden into a miniature flower farm. If you're curious, check out our planning process and some of our pictures along the way.
The area of the Sunset Test Garden by the greenhouse is one of our sunniest spots and is usually taken over by summer veggies or, most recently, covered in a no-mow lawn. But last summer we transformed the patch of dirt into a garden filled to the brim with blooms.
To map out the planting plan, I put together a moveable diagram with a picture of each flower variety glued to a piece of card stock the width and length of the bed. On the back, I listed the mature height of each plant to make sure no row would be shading its neighbor. The collage-style planting plan made it easy to shift rows around until we got it juuuust right.
There were so many varieties we wanted to grow that digging farm-style rows was the best way to pack in as many flowers as possible without the area becoming a flower jungle. When forming the beds, we used twine and landscaping stakes to keep the rows nice and straight. We also added heaps of compost before turning over the soil. We kept all rows to 3 feet wide to make it easy to reach into the beds for picking blooms for bouquets.
Next up was selecting all of the flowers for the bed. We contacted growers and picked their brains as to which varieties were the best for cut flowers. Our criteria: easy to grow plants, gorgeous blooms with a range of flower forms, tall stems, and long vase life. Swan Island Dahlias' owner Nicholas Gitts has been growing dahlias for decades and hand-picked his favorite varieties, including tiny pom-pom 'Tiny Treasure' and peach-colored 'Jitterbug' (one of my new favorites).
We started seeds for zinnias in February, tucked the dahlia tubers in the ground in March, and planted out seedlings for amaranth, cosmos, corn cockle, echinacea, feverfew, Minoan lace and others in April. Then we sat back and watched the garden grow—with a whole lot of bouquets along the way.
The zinnias in the Benary's hybrid series were one of the rockstars of the cut flower garden.  I had seen a picture of a beautiful cutting bed up in Salem, OR on the farm of Minto Island Growers with the tallest zinnias I had ever seen. Farm co-owner Elizabeth Miller told us they were Benary's zinnias. In the Sunset Test Garden, the Benary's produced more blooms than any other variety with long stems that were perfect for cutting. 'Benary's Salmon Rose' was particularly pretty as the flower colors ranged from soft coral to deeper magenta.
As the plants grew, we realized perhaps we should have allowed a bit more than 2 feet for paths since the zinnies and cosmos quickly billowed over the walkways. Here's our associate garden editor, Johanna Silver, drowning in dahlias.
At the end of the day, there was nothing more satisfying than going out into the garden and picking bouquets—for our desks, to take home, to bring for birthdays for friends, to cheer up the Sunset lobby, to brighten up a brunch table, or leave on someone's doorstep. We made a lot of friends.
This summer, the beds are being turned over to green beans, eggplant, tomatoes, and peppers. But you can bet we'll be carving out space for dahlias, ear-marking the area along the wall for sunflowers and cosmos, and tucking in alstroemeria, feverfew, and scabiosa in every square inch we can find.
---
Read the 2021 Harvest Issue Right Here
Get one year of Sunset—and all kinds of bonuses—for just $24.95. Subscribe now!
Keep Reading: