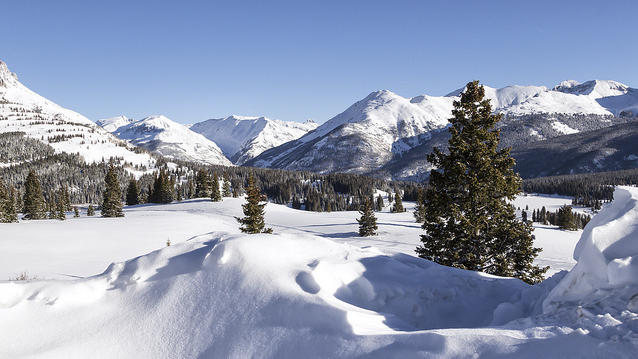 As we near the final bend of winter, let us reflect on the season that was—and in many places, wasn't—with this touching essay by aut...
As we near the final bend of winter, let us reflect on the season that was—and in many places, wasn't—with this touching essay by author Pam Houston.
---
I live at 9,000 feet above sea level in Colorado, near the headwaters of the Rio Grande, in a high horseshoe-shaped valley wrapped on three sides by the Continental Divide. The air is thin, dry, and cold up here. The snowstorms get stuck in the dip and swirl of the basin, turning back and back again on themselves, sometimes dropping as much as 4 inches an hour. On a morning in mid-November, we can wake to dry frozen ground and flurries, and by dinnertime, the split-rail fences have all gone under: We might not see the tops of them again until March.
That is the day that launches four solid months of worry. I fear for my elderly geldings who get so depressed standing on that forzen moonscape with their achy old-man legs that they sometimes stop eating, stop taking the short walk to the trough. You can lead a horse to water, you can carry a bucket of water to a horse and stick it right under his nose, you can float carrot bits on the surface to make it more appealing, you can even lie down on the ice in front of the bucket and pretend to slurp up water yourself, but it turns out to be true that you cannot make him drink.
I worry, too, about the mini donkeys, who are far jollier than the horses but no taller than the split-rail fences.They have to power through the pasture like Tonka trucks, leaving their belly marks in the fresh powder, and I imagine the high-centered in a drift some howling night, their little legs spinning but gaining no purchase.
I worry about my Icelandic sheep, especially Jordan, the ewe, who is prone to respiratory illness brought on by sudden cold snaps, and my chickens, who tend to attack (and sometimes kill) each other in extreme weather of any kind. I've been spotted heading out to the chicken house at 5 a.m., dressed in my giant Denver Broncos coat, mushing gloves, and pack boots, toting a space heater. I sit cross-legged under the red lamp with the humming heater in my lap for a couple of hours while the chickens gather around and jockey for position under my armpits.
What edges out the worry, of course, is the wonder. Because what could be better than 48 inches in 24 hours, than a young Irish wolfhound leaping through bottomless powder with a giant smile on his face, than a herd of 200 elk making their stately way through the pasture toward the river? What could be better than knowing the aquifer is getting replenished, that summer wildfire fear is assuaged, if not abated, that the rivers will be full of trout and the pastures full of wild irises come June?
What follows the storm is utter stillness, in which nothing is moving, every living being in the county is resting. It's a quiet so complete that I can hear when a car crosses the cattle guard 2 miles and three bends of river canyon away.
This is my home, a place where nature still controls how we spend our days and how we spend our lives. September is for filling the barn with hay; October for loading the porch with firewood. It's 6 degrees below zero, but according to The Weather Channel, it feels like minus 20. There's a pot of green chile stew in the oven, and the dogs are snoring by the woodstove. There's nothing I would trade this for. Now, let it snow.
Pam Houston is the author of five books, including Cowboys Are My Weakness and her latest, Contents May Have Shifted. She lives in Creede, Colorado.
Keep Reading: