8 secret gems in San Francisco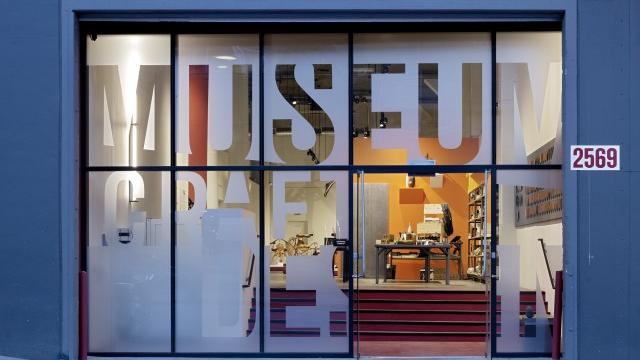 Although the original incarnation of the Museum of Craft and Design was located near Union Square, it always felt out of place in that carriage-trade district. In spring 2013, the museum reopened in its true home in Dogpatch, land of the Maker Movement. Exhibitions range widely, from the sunny postwar idealism of Herman Miller to, say, the surrealist carved and painted work of Holly Lane. In the equally well-curated store, look for the museum's own scent, custom-blended by the S.F.-based firm Heliotrope. $$; 2569 Third St.; sfmcd.org
2. Hotel Bohème
Settle into North Beach, one of the city's most colorfully historic neighborhoods, in this charming and intimate boutique hotel. It's all about drama and romance here—lavender and pumpkin walls, parasols on the ceilings—a nod to the neighborhood's bohemian Beat era in the '50s. It's fun, flouncy, and inviting. $$$; 444 Columbus Ave.; hotelboheme.com.
At the ocean-most fringes of Balboa Street, it always feels like 1962. The old movie theater marquee. The plastic laminate–counter restaurants and untrendy bars. The Outer Richmond is a place drifting through time at its own leisurely pace. But lately there's been a whiff of change in the fog. Maybe it began when the Balboa Theatre switched out its musty recliners for comfortable seats and started showing first-run flicks and a classics series, thanks to its new owner, the San Francisco Neighborhood Theater Foundation. $$; 3630 Balboa St.; cinemasf.com.
The 69 country-in-the-city acres of Glen Canyon Park were recently restored with a bright new playground of native plant species with names like coyote brush and sticky monkey flower. On the trails, wood-framed steps replaced the rocky scrambles up the slopes, and boardwalks span Islais Creek, one of the city's two remaining above-ground streams. Songbirds chat in the creek's willow, while in the distance, cars hum as faintly as insects. $; Elk St. at Chenery St.; sfrecpark.org.
Literally centuries' worth of food knowledge resides in this small shop, which occupies what used to be a Noe Valley butcher shop. Omnivore Books on Food specializes—not surprisingly, given its title—in new and used books about food, making it a must-visit for both book lovers and foodies. $; 3885a Cesar Chavez St.; omnivorebooks.com.
6. Chinese Historical Society of America
Inside the gorgeous landmark Chinatown YWCA building, designed by architect Julia Morgan, the museum does a knockout job with exhibits and programs related to Chinese culture. Be sure to see Frank Wong's miniature re-creations of homes he knew growing up in Chinatown decades ago—they are part of the permanent collection. $; 965 Clay St.; chsa.org.
7. Devil's Teeth Baking Company
For more than three years, Devil's Teeth Baking Company has been feeding hungry surfers with its monstrous breakfast sandwich of a homemade biscuit, eggs, pepper jack, lemon-garlic aioli, and bacon. But more recently, it's become a destination bakery for the made-to-order beignets on Sundays and seasonal pies, all meant to be consumed on its succulent-strewn Outer Sunset parklet, fog or shine. $; 3876 Noriega St.; devilsteethbakingcompany.com.
8. Cassava
Cassava is a tiny cafe that looks like a ladies' tearoom. Those sedate-sounding shrimp and avocado mini panini turn out to be doused with a piquant jerk sauce and fresh salsa way better than bridge-club fare, thanks to Tokyo-trained chef-owner Kristoffer Toliao. The housemade spiced honey makes at tea latte delicately delicious. $$; 3519 Balboa St.; cassavasf.com.
Keep Reading: