Salt- and Herb-Crusted Prime Rib with Fresh Horseradish Sauce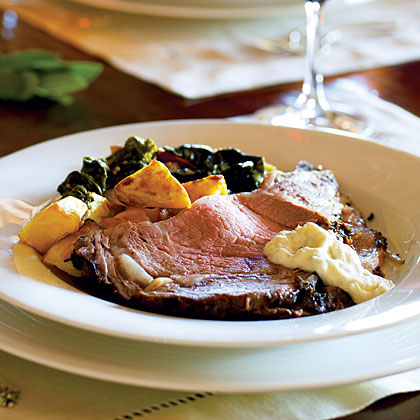 Photo: James Baigrie; Styling: Karen Shinto
Packing a
prime rib
roast in a salt crust keeps it moist and makes those richly seasoned end pieces hot items at the table. This herb-crusted prime rib looks gourmet and is full of flavor.
How to Make It
Step 1
1
Rinse roast and pat dry. With a small, sharp knife, make small slits all over the meat, and insert a piece of garlic in each.
Step 2
2
In a small bowl, combine olive oil, herbs, and pepper. Rub mixture all over meat, wrap airtight, and chill overnight.
Step 3
3
Remove beef from refrigerator 1 hour before roasting. Preheat oven to 450°. Set roast, fatty side up, in a roasting pan. In a small bowl, mix salt with 2 tbsp. cold water to moisten. Press mixture over the fatty side and the ends of meat.
Step 4
4
Roast for 25 minutes, then lower oven temperature to 350°. Continue roasting until a thermometer inserted into the center of thickest part of meat reaches 125° for rare (or 130° for medium-rare; the ends will be more done), 1 1/2 to 2 hours longer. Let rest in a warm place 30 to 40 minutes.
Step 5
5
Scrape as much salt off roast as you can. Cut string holding meat and bones together. Transfer roast to a cutting board, cut into 1/3- to 1/2-in.-thick slices, and arrange on a platter. Cut between bones and add them to platter. Serve with Fresh Horseradish Sauce.
Step 6
6
*For easy carving, have the butcher cut the rib-eye muscle from the bones, then tie the meat and bones back together for roasting.
Step 7
7
THE WINE: Serve Cabs in a range of prices (see Wine Picks, below), and play the high-low game: Have people choose their favorite and guess the price. You'll be surprised at what comes out on top.
Step 8
8
Wine Picks: Cab Choices for the Main Event:
Step 9
9
Robert Sinskey Vandal Cabernet Sauvignon 2004 (Los Carneros, Napa Valley; $48). Lively cassis and dark berries play over a foresty bed of juniper, cedar, and mocha flavors.
Step 10
10
Robert Sinskey "SLD" Cabernet Sauvignon 2004 (Stags Leap District, Napa Valley; $85). The winery's showcase wine-elegantly structured, with complex layers of dark plums and cherries, cedar, and espresso.
Step 11
11
Spottswoode "Lyndenhurst" Cabernet Sauvignon 2005 (St. Helena, Napa Valley; $60). A plush wine with classic cassis, dark chocolate, a touch of cedar, and fine tannins.
Step 12
12
The Girls in the Vineyard Cabernet Sauvignon 2005 (Red Hills, Lake County; $20). A great-value, fruit-driven Cab made by old friends of the Sinskeys. A little mint and a few herbs lurk under juicy black cherries.
Step 13
13
Note: Nutritional analysis is per 6-oz. serving without sauce.
Search All of Sunset's Recipes