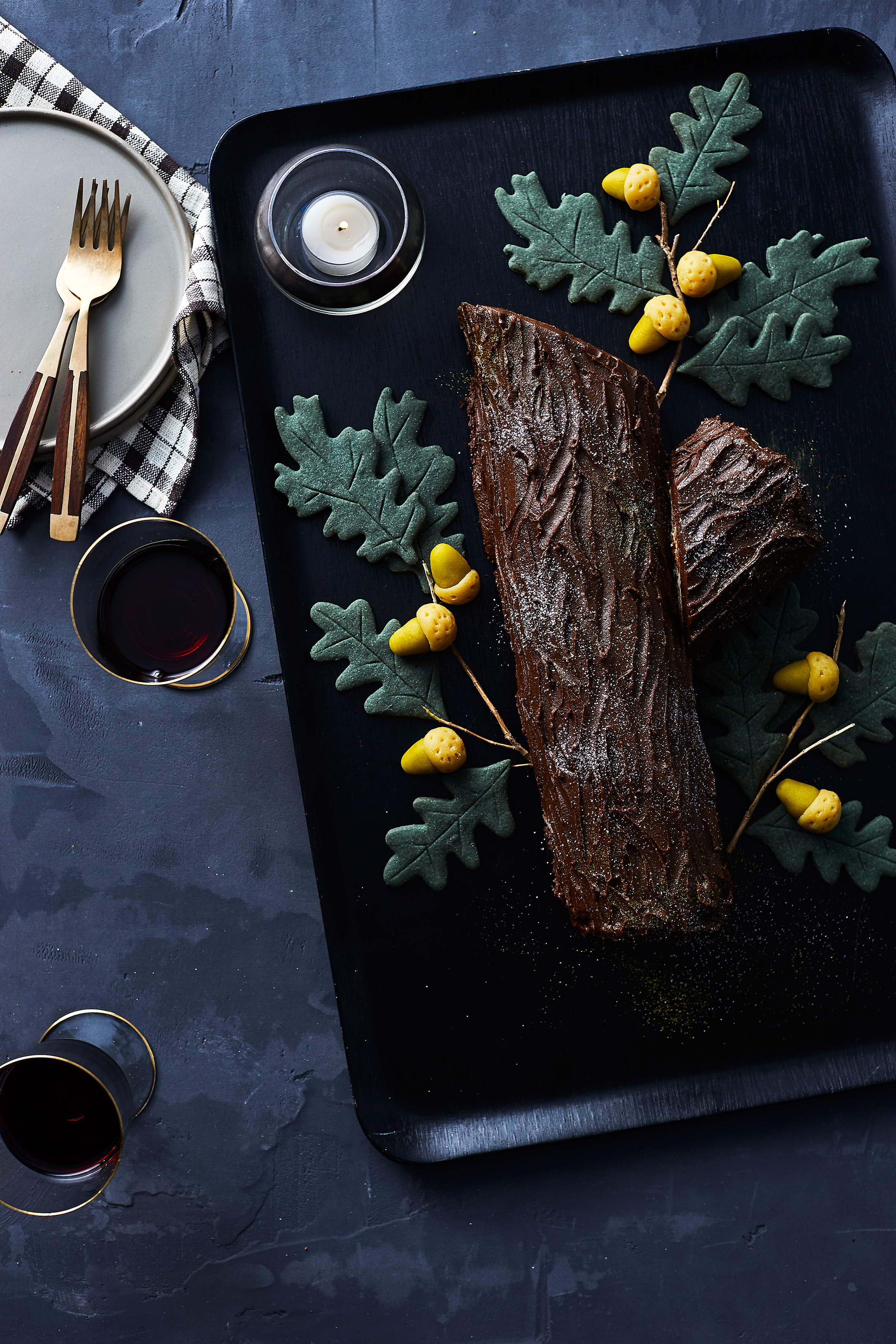 The valley oaks that dot central California's golden hills were the inspiration for this spin on the French holiday dessert. Guests are sure to be impressed, but the dessert is pretty easy to pull off if you start a day ahead. You'll need a jelly roll pan; a small offset spatula and small fine-mesh strainer are also helpful.
How to Make It
Step 1
1
Preheat oven to 350°. Make cake: Butter a jelly roll pan* (a 10- by 15-in. rimmed baking pan); line with parchment paper. Butter paper, then dust pan with 2 tsp. flour. In a large bowl, whip egg whites on medium-high speed with a mixer until they hold soft, distinct peaks, 1 1/2 to 2 minutes. Transfer to a medium bowl and set aside.
Step 2
2
In the large bowl with mixer on medium-high speed, whip egg yolks, gradually adding granulated sugar, until very light in color, about 5 minutes. Whip in vanil-la until incorporated, then add remaining 1/4 cup flour and whip to blend. Gently but thoroughly fold in egg whites.
Step 3
3
Pour batter into prepared pan and gently spread smooth. Bake until cake is golden brown and center springs back a bit when lightly pressed, 12 to 17 minutes.
Step 4
4
Let cake cool 3 to 4 minutes. Run a thin knife between cake and sides of pan. Turn out cake onto a smooth kitchen towel set on a work surface. Peel off parchment paper. Let cake cool completely on towel.
Step 5
5
Make filling: Brush cake with liqueur, then cover with plastic wrap to prevent drying. In a clean medium bowl, whip cream, vanilla, and powdered sugar with a mixer on medium speed until thick, 3 to 4 minutes. Fold in toffee bits and hazelnuts.
Step 6
6
Uncover cake and spread evenly with whipped cream. Lift towel on a long side and roll cake into a smooth, compact log. Cut 4 strips of parchment, each 2 to 3 in. wide, with 2 strips a little longer than cake and 2 a little wider. (These will keep board clean while you frost cake.) On a large board or flat platter about 14 in. by 20 in., arrange parchment strips in a rectangle a bit wider than cake. Lifting carefully, set cake seam-down on parchment.
Step 7
7
Make frosting: Wipe mixer bowl clean. Beat cream cheese and butter on medium speed until well blended. Add powdered sugar and cocoa and beat until smooth.
Step 8
8
Thickly spread frosting over top and sides of cake but not the ends, preferably using a small offset spatula. With edge of spatula, create irregular "bark" grooves in frosting. Run a knife along edge of cake to free frosting from parchment, but leave parchment in place. Chill cake, uncovered, until frosting firms, 45 minutes.
Step 9
9
With a serrated knife, cut through cake diagonally 3 to 4 in. from 1 end, but leave piece in place. Pour a little silver pearl dust into a fine strainer over a plate. Gently tap strainer over cake to create as much gray outer "bark" as you like. Repeat with lime-green color dust to create spots of "lichen."
Step 10
10
Carefully pull out parchment strips and discard. Lift short piece of cake with a wide spatula and fit diagonal end of cake piece against cake roll to create a forked log.
Step 11
11
Arrange rosemary branches so that they appear to be sprouting from log. Add about 10 cookie leaves and 8 acorns to branches. Slice cake crosswise and serve remaining cookies and acorns on the side.
MAKE AHEAD Through step 8, chilled, up to 1 day ahead (drape with plastic wrap after 2 hours).
*Find Wilton pearl dust and color dust at Michaels stores and on amazon.com. Find jelly roll pans at nordicware.com.