Cranberry Sticky Toffee Date Cake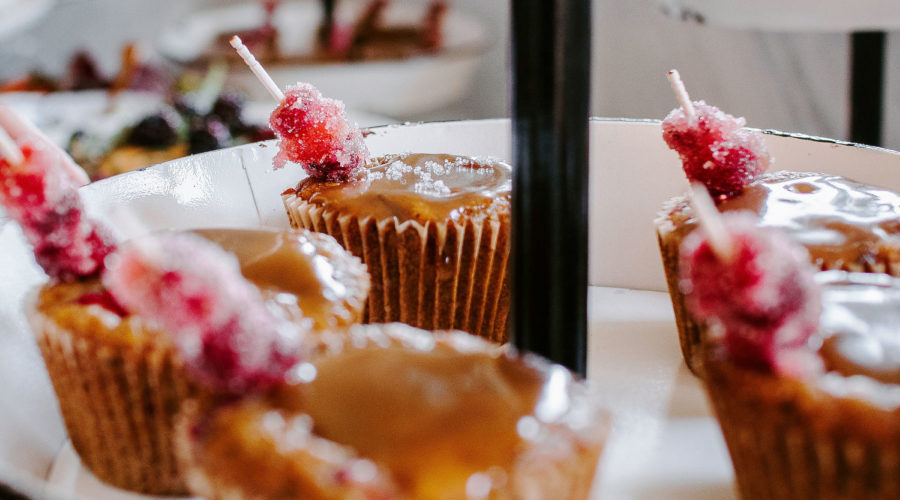 Melissa Gayle
For a holiday-inspired twist on the traditional tender cake, sweetened with dates and served with a warm buttery toffee sauce, simply add cranberries. We love that seasonal touch, as seen in Ashley Rodriguez's cookbook, Let's Stay In: More Than 120 Recipes to Nourish the People You Love. To make cupcakes as pictured, divide batter among 24 greased or sprayed standard-size cupcake wells. Bake 20 to 22 minutes. Serve with Salted Butterscotch Sauce.
How to Make It
1
Preheat the oven to 350°. Grease or spray an 8-inch cake pan, then line the bottom with parchment paper. Place the dates in a bowl and cover with 1 cup boiling water. Stir in baking soda and let sit until the dates are soft enough to easily break up with a fork, about 5 minutes. Mash them up a bit and set aside.
2
In a large bowl, stir together melted butter and brown sugar. Next, whisk in eggs, vanilla, and sea salt. Add flour, baking powder, and softened date mixture. Stir well to combine. Stir in chopped cranberries. Pour into prepared pan, and bake for 35 to 45 minutes, or until the cake springs back slowly when gently pressed in the center.
3
Remove from the oven and let the cake cool in the pan for 10 minutes. Remove the cake from the pan and let cool on a wire rack set over a sheet pan. Use a wooden skewer to poke about a dozen holes in the cooled cake. Pour half of the butterscotch sauce over the cake.
Search All of Sunset's Recipes