Bunk's Oregon Albacore Tuna Salad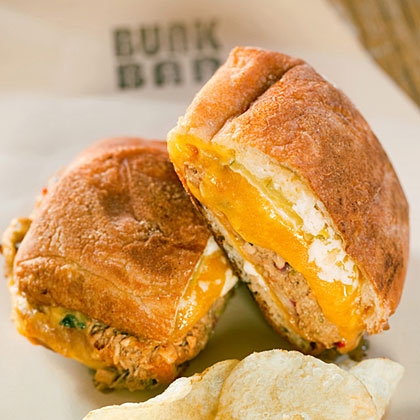 Photo: John Clark
The tuna melt at Bunk Sandwiches, in Portland, scores high marks for flavor—and all the ingredients except the condiments are local. Chef and co-owner Tommy Habetz puts the salad in ciabatta rolls spread with mayo and mustard, adds medium-sharp cheddar and sliced garlic dill pickles, and then grills the works in a panini press.
How to Make It
1
Mix all ingredients together.
Ingredients
2 cans (5 oz. each) local sustainable albacore tuna
1/4 cup extra-virgin olive oil
1 tablespoon balsamic vinegar
1 tablespoon minced fresh basil leaves
1/2 teaspoon red chile flakes
Directions
1
Mix all ingredients together.
Search All of Sunset's Recipes