From-Frozen Braise Roasted Turkey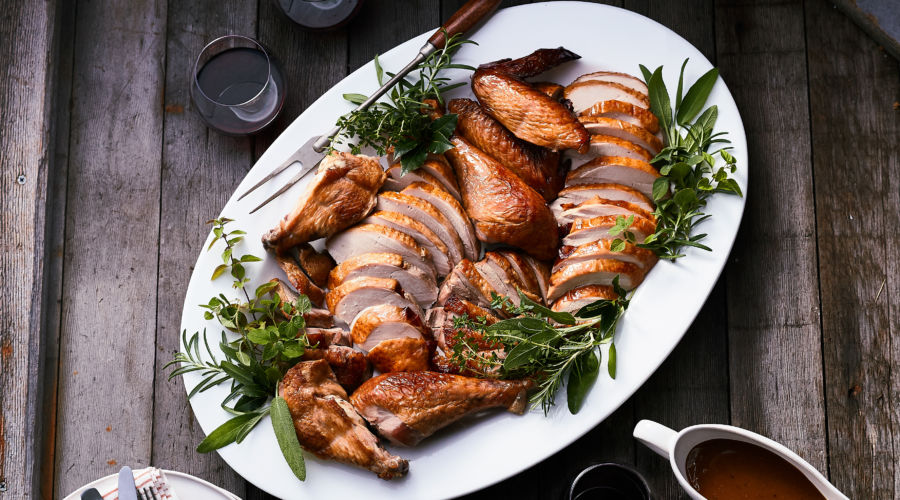 Iain Bagwell
It's the morning of the feast, and there's your turkey, still icy. Yikes. Normally it takes several hours to thaw in cold water and a couple more to roast, but dinner is at 5. What to do? You could run out and buy a cooked turkey (if you can even find one this late in the game)—or you could try this unusual method from Flip Wise, chef at The Way Home in Carbondale, Colorado.
You no longer have time to brine in advance. Instead, you'll braise the frozen bird right in the brine until you can pry the neck and giblets out of the cavity. Then roast to completion—all in about the same amount of time (or less) that it would have taken to thaw. Turkeys larger than 18 pounds may get splits in the skin during the longer braising time. But it's a small sacrifice for a truly tasty centerpiece that was subzero just hours before. And yes, the method is safe, according to the food-science experts we consulted.
Can you use the brine seasoning options for a fully thawed turkey, you ask? Of course. To do this, keep the salt amount the same but reduce other seasonings by half, and immerse the turkey in brine for 12 to 24 hours before roasting. We love the following three brine variations with this turkey cooking method: Garlic Thyme Brine-Roasted Turkey, Umami Braise-Roasted Turkey, and Molasses Spice Braise-Roasted Turkey.
For a super-quick gravy using any of the seasoning suggestions, click here.
How to Make It
Braise
1
Set a roasting pan across a pair of burners on stove. Peel wrapping off turkey, rinse away ice crystals, snip open plastic truss if there is one, and set bird in pan without rack, breast up.
2
Measure in enough room-temperature water to come 2/3 up side of pan, then lift turkey to a rimmed baking sheet. For each quart of water, add 1/4 cup plus 1 tbsp. kosher salt (45 g) to pan; stir to dissolve. Stir in your choice of brine seasonings (see below). Return turkey to pan, breast up. Cover tightly with a double thickness of foil and cook over lowest heat 30 minutes.
3
Using a dry kitchen towel, gently turn turkey over in brine so it's breast down (your goal is to avoid ripping the skin). Recover with foil and simmer over lowest heat 30 minutes more.
4
Turn turkey over again and simmer over lowest heat, breast up and covered with foil, for a final 30 minutes. (If your turkey weighs 18 pounds or more, turn it a fourth time, cooking breast down, covered, 30 minutes more.)
5
Transfer to a large bowl, wrapping a dry kitchen towel around ends of turkey legs and lifting straight up. Tip turkey so its central cavity rests against lip of bowl. Spoon hot brine into cavity, then cover turkey with foil and let rest 20 minutes. Meanwhile, preheat oven to 325°.
Dry
6
Tip liquid out and remove neck, tail if there is one, and giblet bag from inside the neck and central cavities. Set turkey on cleaned baking sheet and pat dry inside and out with paper towels. If it's still clammy, dry it with a hair dryer. No kidding. Your aim is to end up with crisp skin, and it won't get crisp if it's still wet from braising.
Roast
7
Apply your choice of roasting seasonings (see below) to turkey. Apart from a few herb branches, don't stuff the turkey; leave it open to the oven's heat.
8
Set a rack in pan. Place turkey, breast up, on rack. Roast, tenting with foil if browning too fast, until an instant-read thermometer inserted through thickest part of breast to bone registers 165° (175° when inserted deep into thigh, just above joint where thigh meets body). This will take 2 1/2 to 3 ½ hours, depending on size of bird.
Let Rest and Then Carve
9
Tip juices from inside turkey into pan (use for gravy if you like), then transfer turkey to a carving board. Let rest, uncovered, 20 to 30 minutes. When carving the turkey, you may find that it is not be evenly done. Set any pieces still pink at the joint back in the roasting pan (remove the rack) or use another pan with a bit of olive oil, and cook, joint side down, over medium heat until no longer pink, 4 to 5 minutes.
Brine and Roasting Seasonings to Choose From:
Search All of Sunset's Recipes