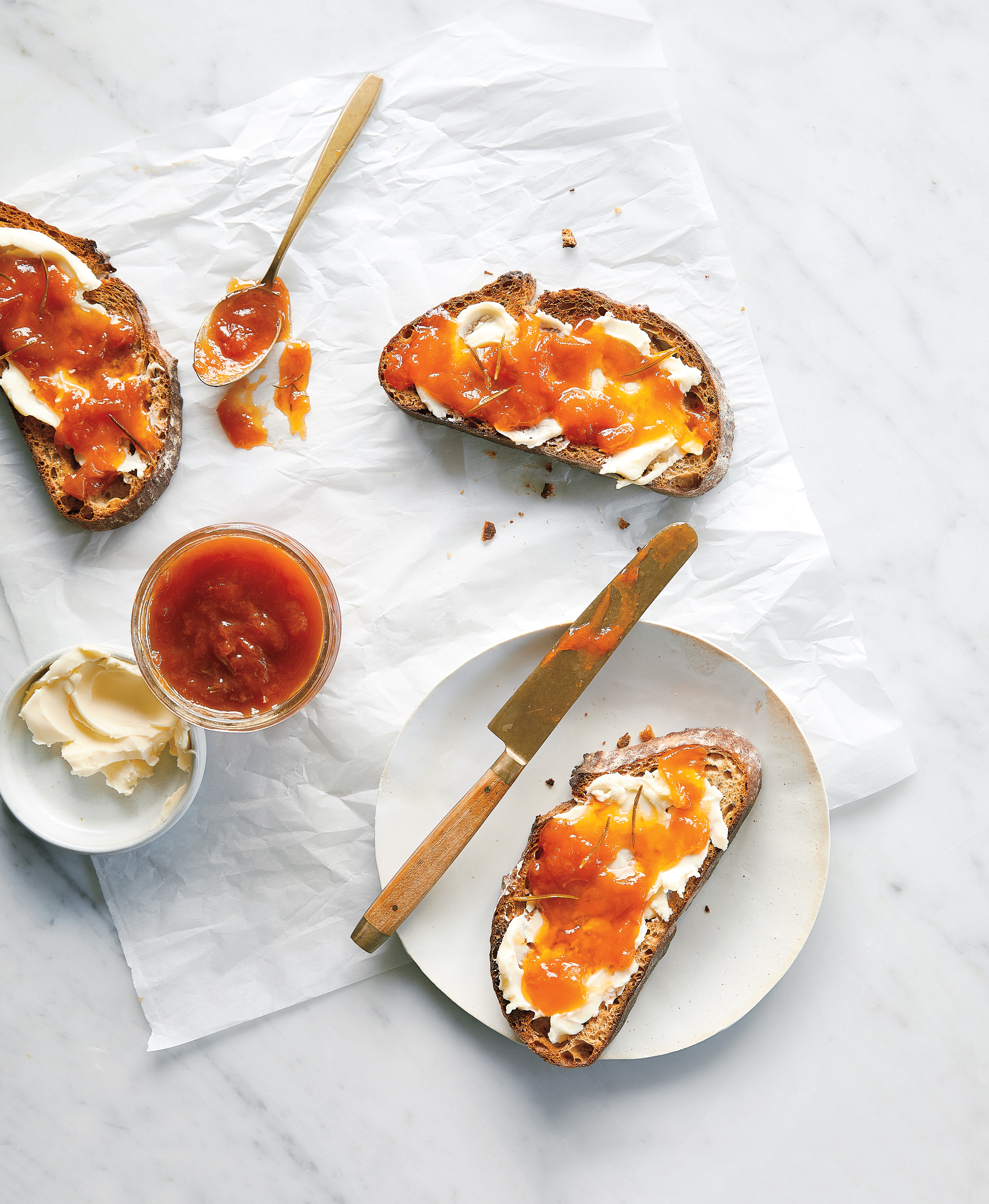 Photo: Aubrie Pick; Styling: Fanny Pan; Props: Kelly Allen
With exceptional jam, breakfast can be simple. Food blogger and jam-maker Amisha Gurbani (thejamlab.co) steeps fruit with sugar to bring out intense flavor—and adds minimal pectin for a flowing texture.
How to Make It
1
Halve and pit apricots, then quarter each half (for 5 1/2 to 6 cups). In a deep bowl, combine sugar and pectin. Gently stir in apricots and lemon juice, then rosemary, to mix well. Chill, covered, 12 to 24 hours for fruit to get juicy, stirring partway through.
2
Set a spoon on a small plate in freezer. Transfer apricot mixture to a deep 5- to 6-qt. pot. Cook over high heat, stirring occasionally, until boiling. Boil 8 minutes, reducing heat if needed to reduce spattering or prevent boil-over, and continuing to stir.
3
Reduce heat to medium. Mash fruit a couple of times with a potato masher to release some pulp. (It should still be chunky.) Discard rosemary sprigs but not loose leaves. Continue to cook, stirring to prevent sticking, until small bubbles form on top of jam and it's reduced to 4 1/4 cups, 5 to 10 minutes. Remove from heat. With a wide spoon, skim foam from top of jam.
4
Scoop a little jam onto spoon from freezer and return to freezer. Check after 3 to 4 minutes; when you tip the spoon, the jam should be thick and form a mound on the plate. If it's too thin, return jam pot to a boil and cook a few minutes longer, stirring.
5
Ladle jam into sterilized jars, filling to 1/4 in. from tops. Wipe rims clean. Attach rings and new lids, tightening firmly. Process jars in a boiling water bath (see sunset.com/canning) 5 minutes, or cool and chill up to 1 month. Let stand at least 24 hours before serving.
Search All of Sunset's Recipes