Sleep Expert Tips on How to Set Up Your Bedroom for a Better Night's Rest
These three experts share tips to help ease you into a sound night's snooze so you can wake up feeling refreshed
If tossing and turning is your typical prelude to sleep, then maybe it's time to reset your routine. The long list of factors that can upset a proper night of Z's is exhausting, ranging from the tidiness of your room to your pre-sleep screen time to whether your pillows are free of—yuck—microscopic dust mites. Take these simple steps for a better night's rest.
Intel from an Interior Designer
"Minimalism is key to creating a safe haven for good sleep in a bedroom," says Berkeley-based interior designer Clara Jung. "A room's decor dictates its mood, especially the bedroom, where each element can be crucial to a better night's sleep. Be thoughtful about the items you bring into the bedroom." 
Rethink Bedding
When revamping the Oakland home of Ayurvedic practitioner Sachi Doctor (pictured), Jung relied on textures and an understated palette for a soothing space. "I regularly recommend linen bedding, because it's a breathable fabric that keeps you cool in the summer and warm in the winter," she says.
Manage Natural Light
"The ability to control the amount of natural light coming into your bedroom is key to a restful night's sleep. Consider either blackout shades or light-filtering curtains, depending on whether you are ultra-sensitive to light or need a bit of light to wake up properly."
Eliminate Clutter
"I'm a firm believer that a clutter-free nightstand surface will give you a clear head to prepare you for
a restful sleep."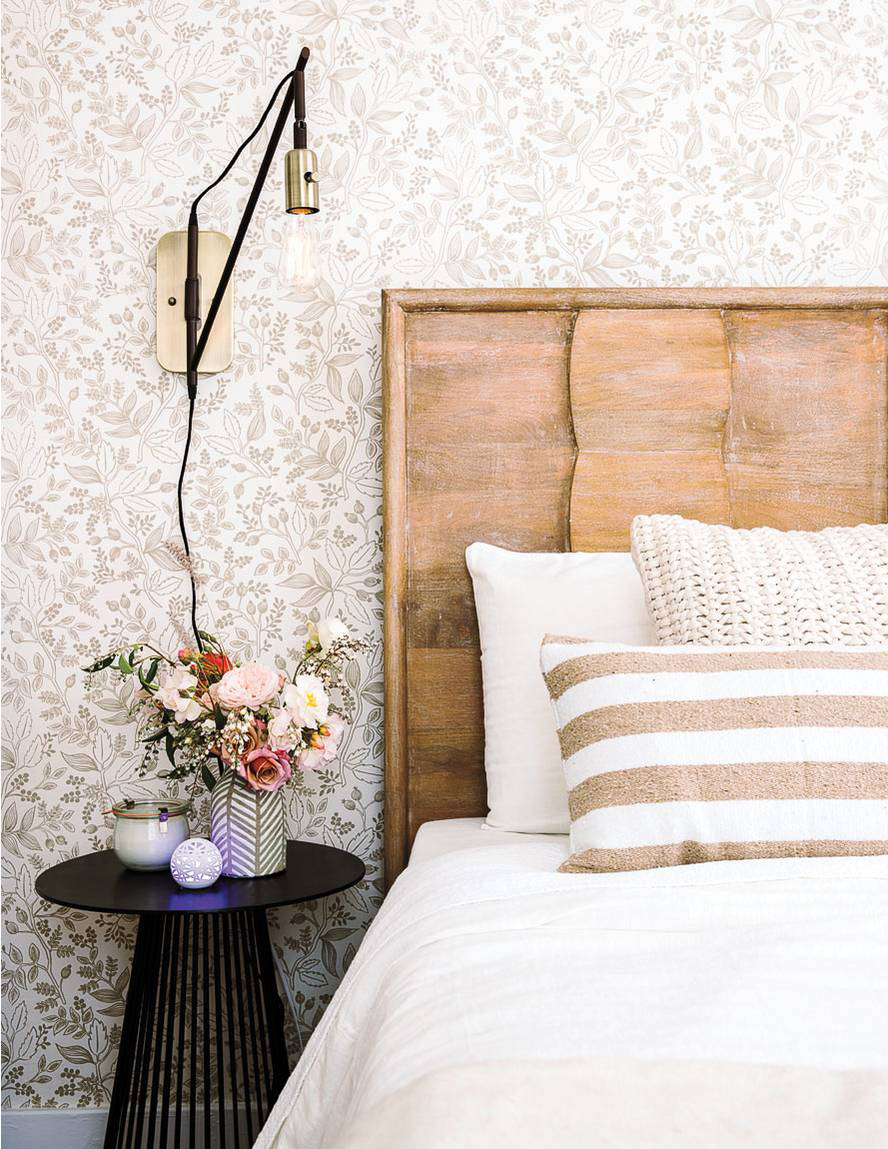 Tips from a Sleep Products Guru
As far as sleep deterrents go, smartphones are at the top of the list these days, says Mary Helen Rogers, vice president of marketing and communications for the International Sleep Products Association.
Adopt a Bedroom Cell-Phone Ban
That blue light slows the secretion of melatonin, affecting your ability to fall asleep. "It's counteractive to what you need at bedtime," says Rogers. She suggests setting an alarm at least one hour before bedtime to turn it off. "Put the phone in a drawer, then do some stretching, yoga, or meditate to help disengage from that always-on state."
Smarter Lighting
Smart bulbs (compatible with Google Home and Amazon Echo) can emit a warm light to help you relax in the evening, and brighten to help you wake.
Healthy Home Advice from a Medical Professional
Michele Pham, a health allergist, immunologist, and assistant professor of medicine at University of California, San Francisco, says allergy sufferers have barriers to a restful night's sleep. "They may go to bed and start having symptoms, and when they wake up, have more symptoms," she says.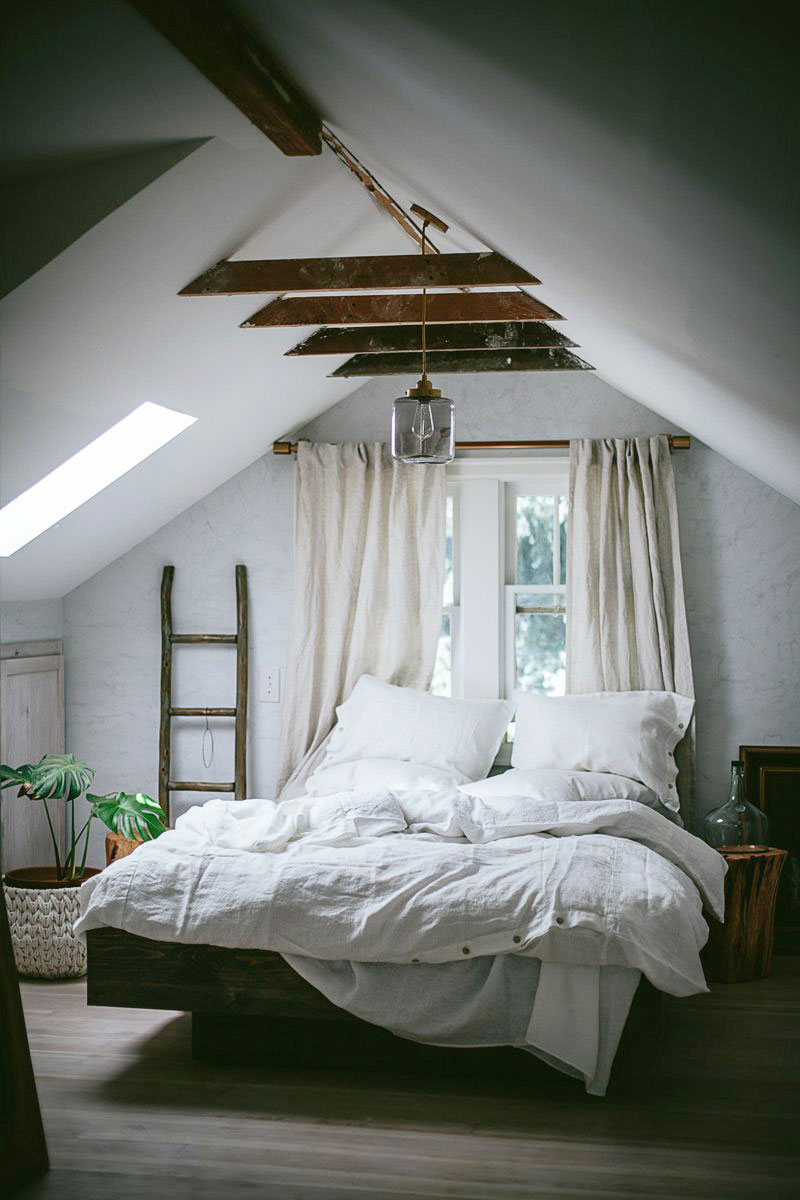 Dustproof Bedding
Major allergy sources in most bedrooms are dust and dust mites. "Millions of dust mites can live inside a pillow, increasing its weight by as much as 10 percent," she says. To reduce exposure, enclose pillows, mattresses, and duvets in dust-mite covers.
Tidy Up in the Morning
While air purifiers can filter out small particles like pet dander, dust settles on surfaces, she says. Don't clean before bed when it can stir up irritants.
Launder Bedding Regularly
Linens should be washed weekly in hot water, not warm water, says Pham. "Mattress pads, blankets, pillows, and comforters should be washed at least once a month."
Get the Look for Your Bedroom

Night Light
Finally, a bedside light that helps you fall asleep rather than keeping you awake. Using warm light, the Casper Glow naturally cues your body to wind down. It gradually dims to an off position, allowing for a gentle transition to sleep. You can also set it to gradually turn on in the morning to help you awaken more easily.
Soporific Scent
Aromatherapy is your secret (and natural!) weapon to help set the mood for bedtime. Dispense a couple drops of a sleep-inducing essential oil into this chic, minimalist device and it pumps out a gentle mist that won't overpower your space, but will help you unwind.
Soothing Sounds
White noise is a savior for nurseries and adult bedrooms alike. What sets this machine apart is that rather than utilizing a speaker, SNOOZ has a real fan inside that replicates the sound of a running fan but doesn't emanate cold air. It's also app-controllable and easy to take on vacation so you can sleep well wherever you are.
Supported Slumber
Designed to be firm in the middle for back support but soft at the edges for comfort, this mattress is  smartly and sustainably crafted.
Rest Your Head
For those who run hot in their sleep and also crave superb neck support, this pillow's for you. Its memory foam shapes into a custom fit that works best for your body, while the Nordic chill fiber provides a cooling effect that counters any overheating that may happen through the night. The combo of comfort and airflow makes for a super restful slumber.
Keep Your Cool
Another must-have for those whose body temperature affects their sleep? This cooling fan that doubles as an air purifier. That's a win-win in our book.
In the Dark
Some people complain about not wanting to wear something on their faces through the night. But those of us who know and love the benefits of an eye mask may also have found it difficult to land on just the right mask material (some can be itchy, not soft enough, or too cool or hot on the face). Enter Parachute Home's merino wool version. You might think the knit would make it itchy, but this ultra-soft number is so comfortable on the eyes. It's also the perfect accessory to take with you on your travels.
Relaxation Remedy
This CBD tincture is derived from cannabis but does not produce the "high" often associated with the plant (that comes from its psychoactive component of THC). However, the tincture will help you unwind by relaxing the body and diminishing feelings of stress or anxiety. Even though you won't feel like you're drifting on a cloud, your muscles will loosen up and make sleep easier to come by. Bonus: The flavor is mild and natural, combining sweet orange, bergamot, basil, and lavender (in other words, it doesn't have that typically "hempy" taste so often found in cannabis products).
Sleepytime Sip
A more affordable take on a CBD sleep-aid, this also works great for the bedtime-cuppa-tea set. One tea bag contains a light dose (5 mg) of destressing CBD as well as naturally calming chamomile, a recipe for sleep success. It's quick-acting, too, producing a sleepy feeling within 15 minutes of drinking and resulting in a well-rested wakeup come morning.

Courtesy of Schoolhouse Electric
Wake Up in Style
If you swoon for  minimalist Scandi style, this alarm clock was made for you. Designed by famed Danish architect Arene Jacobsen, the piece combines an old-school look with modern technology.
Keep Reading: