Top Wedding Floral Trends This Year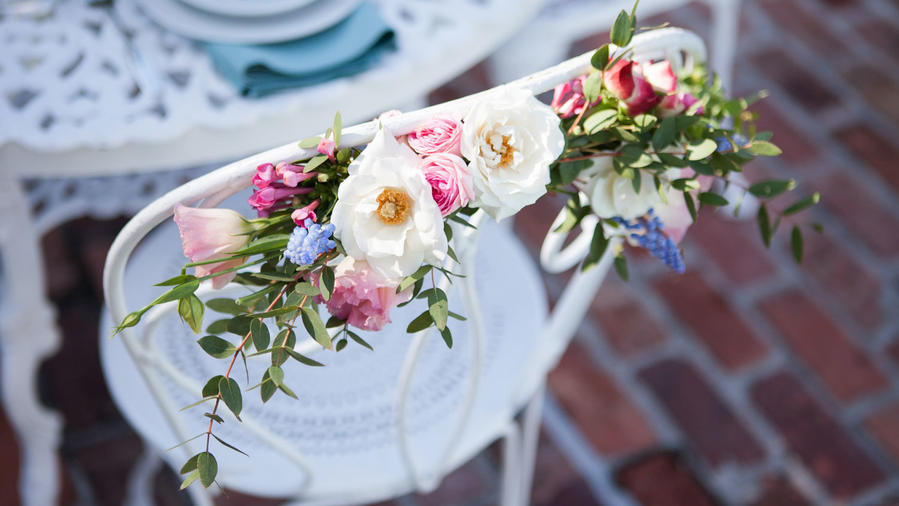 Floral designer and owner of B Floral, Bronwen Smith, shares the trends making the rounds at weddings this year
Wedding floral trends have been pushing the envelope and we at B Floral are loving it! Brides are no longer opting for just floral table centerpieces. Brides and event designers are utilizing flowers in unique and creative ways to bring weddings to the next level of design. From hanging installations at the reception to floral garlands adorning the end-of-the-aisle canopy, wedding flowers are really escaping the vase.
Special Seat
One unique to incorporate flowers is to brighten up the backs of your guests' seats with a little floral flair. Unexpected touches like floral chair accents will add a charming and playful ambiance to your venue. It should be noted that since these blooms will be out of water, you'll want to set up this element as close to the reception start time as possible so they stay fresh as long as possible.
Overhead Elegance
Hanging floral installations are also trending in the wedding industry. From chuppah flower garlands to extravagant reception floral chandeliers, hanging your flowers is an amazing way to add a whimsical wow-factor to your big day. Using hanging floral elements can also help to fill venues that are spacious or industrial.
Seeing Green
Brides this year are "going green" in terms of color palette. Pantone's 2017 color of the year, "greenery" has influenced brides and event designers alike. This wedding season, expect to see green table runners, succulent walls, and arrangements flourishing with eucalyptus, passion vine, and jasmine. Some brides are going all out when it comes to the fresh hue, carrying full greenery bouquets down the aisle. If you want to explore the greenery trend while still incorporating a floral element, we suggest using white and cream flowers as delicate accents.
Florals are often a topic of conversation at a wedding and this year will be no different. Brides and event designers are allowing florals to take center stage in unique and innovative ways. In addition to table centerpieces and bouquets, brides are using florals to create beautiful backdrops and eye-catching installations to create picture-perfect dream weddings.