Home Office in the Backyard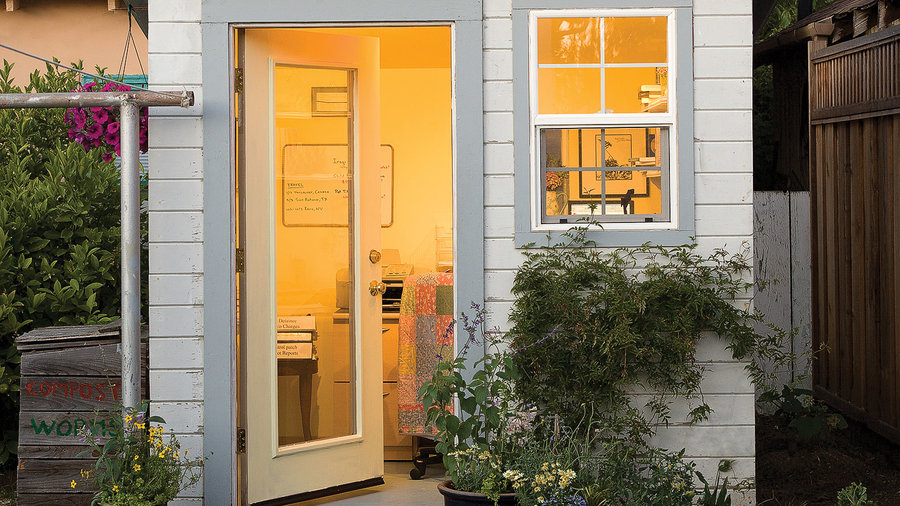 A Pulitzer Prize–winning writer creates a quiet workspace of her own just steps from her back door. Here's how you can too
"I'm going to work now," announces Martha Mendoza as she heads out the back door of her bungalow in Santa Cruz, California. "I'll be in the shed.''
Her four children, ages 3 to 15, know what that means: Although Mom may be visible through the shed's glass door, she's busy writing and is not to be disturbed.
Martha's days are filled with deadlines, after-school commitments, and other pressures. Yet the celebrated journalist, teacher, wife, and mother―who won a Pulitzer Prize at age 33 for an investigative series on the Korean War―leads a surprisingly balanced life.
Her secret? This tiny home office, housed in a converted potting shed in the backyard. Here she can steal away from her domestic responsibilities to write, study, and pursue breaking news stories for the Associated Press.
Here she can juggle her many roles in blessed quiet. "Being detached from the house is key," Martha says.
The humble shed is actually an improvement over her previous backyard office, which was tucked in a corner of the laundry room adjacent to the garage.
"I used to look out at the old garden shed, with its exposed studs and cement floor," she laughs. "It was filled with pots and potting soil, and I would march people over there, asking if they thought it could be an office."
To help her upgrade, Martha hired local carpenter Daniel Aguirre; he insulated and finished the structure's interior and installed double-pane windows and aframed-glass door.
Martha and friend Christina Glynn painted the walls sunny yellow and jazzed up the original floor with a coat of blue. Then Martha brought in a desk she found on Craigslist. Now the tools of her trade―including a DSL connection―are all at her fingertips.
"I can easily swing from one side to the other and reach everything I need," she says. Just outside, laundry hangs from a clothesline. Salad greens, strawberries, and sunflowers grow nearby.
Happy work-life balance
Finding time to steal away to the shed is no easy feat. To help her schedule run as smoothly as possible, Martha relies on a few key principles. Set an everyday routine Martha often arrives at her desk by 5:30 a.m., when the house is quiet and the children are still asleep.
Around 7, she returns to the house for breakfast and to help the kids get ready for school. By midmorning, she might take a jogging break with a neighbor. Then it's back to the office and story deadlines.
Establish ground rules Martha and her husband, Ray, have clear expectations for their children. "Isabel [the 3-year-old] knows she can't bother me, but whenever I walk into the house, I get a big hug and kiss from her," Martha says.
"Eleanor [age 7] can be trusted to stand quietly nearby when I'm on the phone. With the boys, Raymond and Thomas [ages 15 and 13], I'll let them listen to my interviews." Make time for family During the week, Martha wraps up her workday around 4 p.m., when the kids get home from school.
"We go to the beach together, or to the pool or soccer practices. We sit down for dinner around 6," she says. The family also blocks out time for trips, whether for surfing or mountain biking or to accompany Martha on studying or teaching fellowships―last year's visiting professorship at Princeton University, for example.
Indeed, keeping her family's needs close at hand is central to the success of this equation. While her young daughters play on the back lawn, Martha works― perhaps questioning a high-ranking Washington official by phone.
"And here I am," she says, "looking at my tomatoes."
Keep Reading: