Brighten up Your Kitchen Quickly and Easily
Turns out it is easy being green—or yellow, or any other bold hue. It just takes the right paint and a few key colorful pieces.
Interior designer Noz Nozawa did a complete overhaul of this kitchen in San Francisco. On determining the cabinetry color: "The client had been dreaming of a green kitchen, but wasn't sure how safe to play it—whether she should only paint the island green, or if she should tone it down to a dusty sage. I felt we needed to fully commit to all-green cabinetry, in a true Kelly green, and as soon as the first coat went on, we both knew it was going to be amazing….I'm pretty much all for color going all over a kitchen. Colorful cabinetry is such a high-impact visual treat because cabinetry takes up the most surface area in the kitchen." 
Rebecca Long Pyper on the design for her Idaho Falls, ID home: "My design philosophy is simple: I want a happy cottage. Yellow is the perfectly happy color, and I wanted my kids to start each morning with a healthy dose of it. The (custom) yellow patterned tile was inspired by my grandma's yellow linoleum floors. I loved them as a child and still do."
Steal the Look 
Paint Tips from the Pros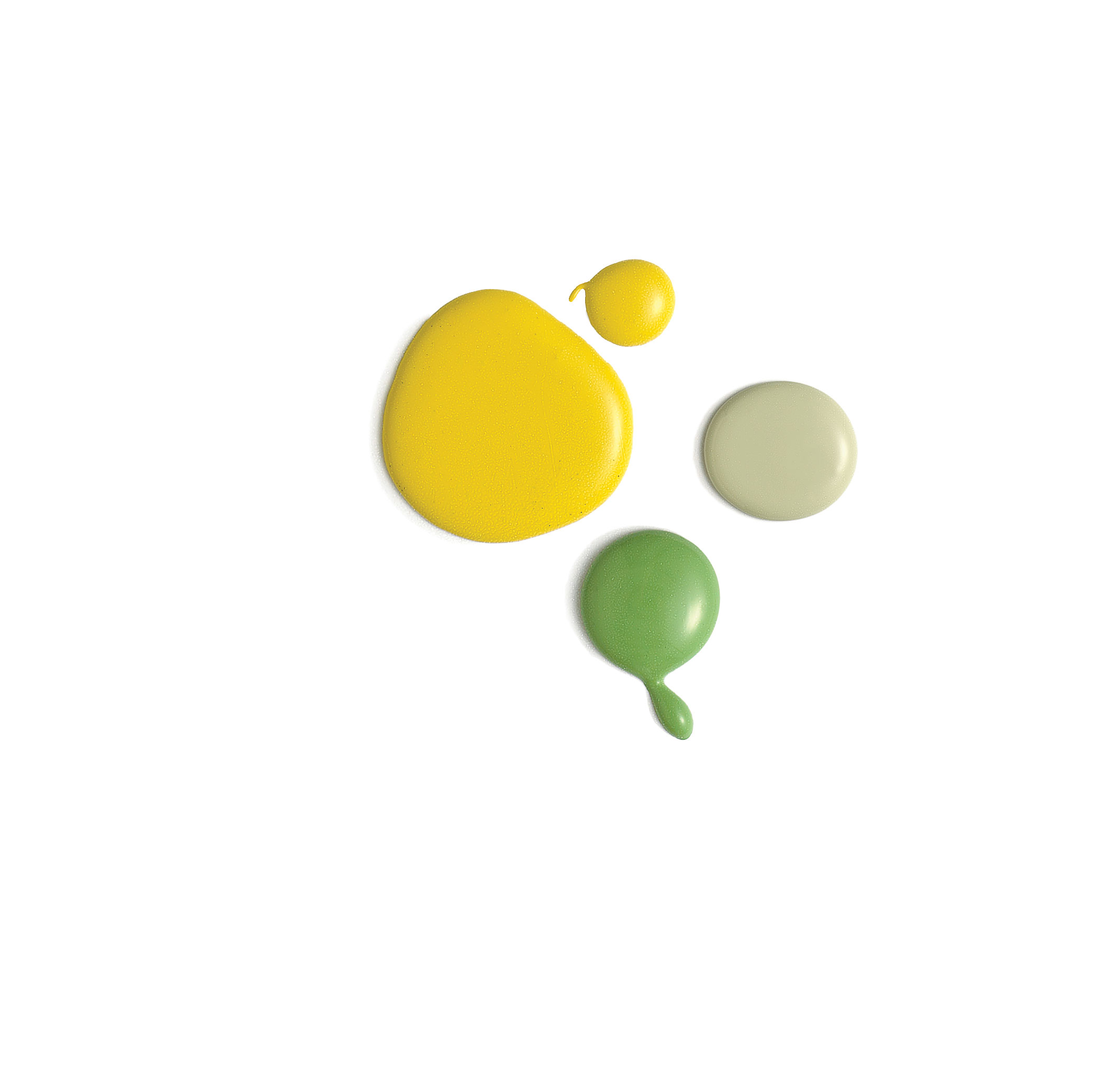 Nicole Gibbons, Founder and CEO of Clare Paint and Erika Woelfel, Vice President of Color & Creative Services at Behr both weigh in on picking paint colors for your kitchen.
If you want to add a little color to your kitchen, opting for a vibrant color on your island is a great idea," says Gibbons. She recommends trying a light blue-green with marble countertops. "It's a great way to add color to your kitchen without feeling overwhelming." 
From a paint standpoint, white, grays, and blues are classic. But bold colors like navy blue, forest green, and burgundy are really popular. 
"Upper and lower cabinets don't need to match. For a lighter feeling, go white or neutral on your uppers and opt for a bolder choice on the bottom. The contrast always feels very fresh," says Gibbons. 
"Remember that your ceilings are a canvas too," says Woelfel. "Painted ceilingsare an unexpected surprise—ceilings are the fifth wall. I love to flood a room a pop of unexpected color like yellow by painting the ceiling. It helps define the mood." 
This story originally appeared in our summer 2020 Outdoor Living issue.
To read: Click on the right and left arrows at the edge of the box to turn pages; to make the text larger click on the fullscreen icon in the lower-right corner.