Tips for Even Better Winter Flower Arrangements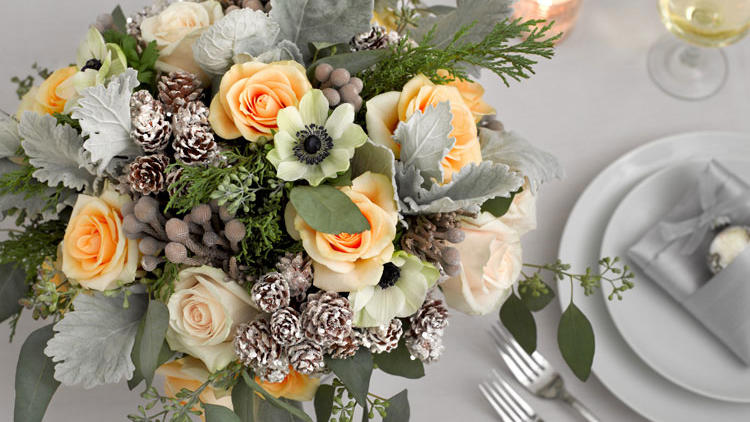 Add some spark to your winter centerpieces with pro tips from floral designer and owner of B Floral, Bronwen Smith
Winter floral arrangements will set a festive mood at seasonal events or as decor in any room in your home. To craft the perfect winter arrangement, it's important to focus on various eye-catching elements. You'll want each and every guest to see and feel the transformation of your space into a winter wonderland through the use of florals.
Depth
Texture is key if you're trying to evoke a sense of depth and volume. To add rich texture to your winter arrangement, try incorporating leaves or cool-season berries such as silver brunia and dusty miller. Both will add a frosted, wintery feel to your arrangement without the addition of unnatural fillers.
Using greenery and berries not only saves money but adds a natural feel while filling up empty spaces in your arrangement. If you're looking for a non-floral element to include in your centerpiece that still encompasses the aesthetic of the season, look for pinecones in various sizes and shapes.
Length
Another attention-grabbing winter trend is creating a floral table runner. You can make a robust one using big blooms, pine branches, and berries throughout the center of your table. Layer the florals and greenery to make sure there is depth throughout the entire runner. You can also disperse candlesticks alongside the runner to enhance the intimate, holiday ambiance.
Height
For an elegant winter statement piece, create a winter "tree" using florals and berries. Stick to varieties such as orchids, hydrangeas, and succulents as you design your tree atop a cone-shaped floral foam base. Work within a white and silver color palette to add an upscale wintery feel to your event. The addition of ornaments will further add a festive touch to the statement "tree."
From floral elements with rich texture to lively floral table runners, there are many ways to use florals to impress guests at a winter soirée or intimate dinner party. Besides florals in winter hues ranging from crisp whites to deep reds, heighten your event using non-floral elements such pinecones or monochromatic ornaments to add festive pops.