Purple coneflower (Echinacea purpurea)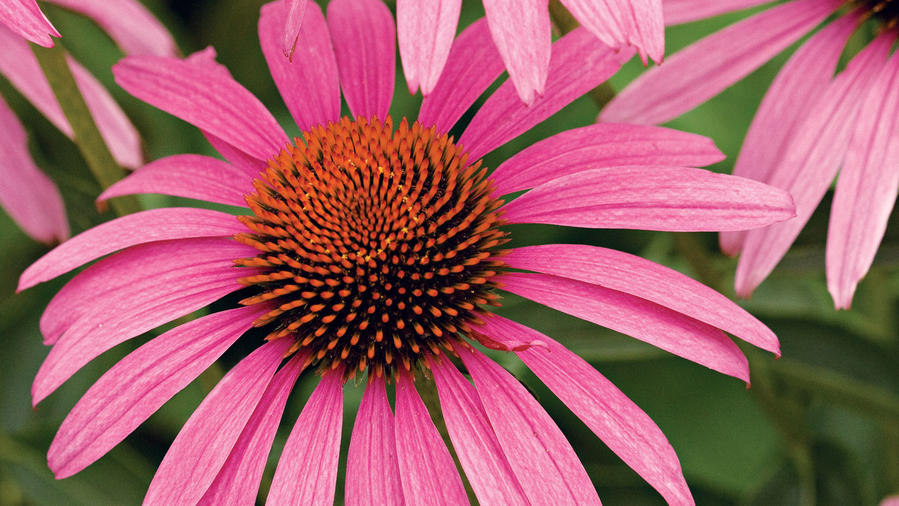 Quick facts and care essentials
Purple coneflower (Echinacea purpurea)
• Sunset zones 1-24, 26-45
• Full sun
• Moderate watering
Striking flowers and a long summer bloom season make purple coneflower (Echinacea purpurea) a carefree favorite in the garden. A North American native, it forms 1½-foot-wide clumps of hairy, rather coarse, deep green leaves that reach about 8 inches long.
Borne on stiff, 1½- to 3-foot stalks that never need staking, the 4-inch, daisylike flowers have rosy purple petals that droop slightly from a brownish orange, dome-shaped center; they're popular with butterflies. The bristly cones remain after the petals drop; some gardeners leave them in place to provide food for small birds.
Purple coneflower needs no special treatment, though it appreciates some shade in the hottest regions. It does well in ordinary garden soil.
It grows from a rhizomatous taproot and is better left undivided; because it grows slowly, individual plants can be left in place for a long period. To increase your supply of plants, take root cuttings in fall. The plant self-sows readily; remove seedlings if you don't want them or if they do not grow or bloom true to the parent.