The perfect cottage garden rose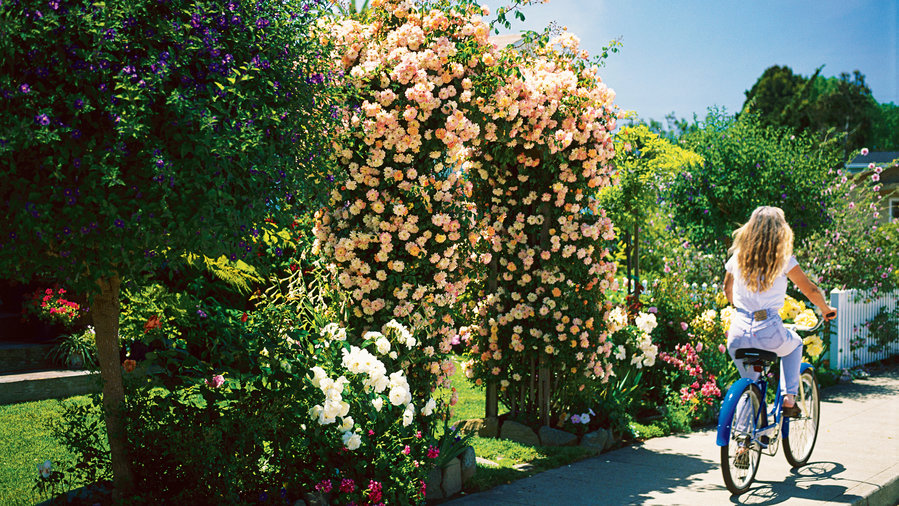 'Phyllis Bide' is a pretty, casual climber in this Santa Cruz garden
"It's a traffic stopper!" says landscape designer Lynn Robinson of the spectacular 'Phyllis Bide' rose in front of her Santa Cruz cottage. Each spring, clusters of dainty apricot to cream blooms open along the canes until the entry arbor is completely engulfed in a cloud of roses.
"I specifically sought out this rose after seeing it in a local garden," says Robinson. It's colorful, disease-resistant, and blooms all season long–even into December in Robinson's mild climate. It's also very casual-looking, she explains, because of the blowsy appearance of the flowers as they age. (You wouldn't want to choose this rose for a formal garden.)
The 10- to 12-foot-tall climber is easy to maintain. Robinson has no time for selective pruning, so she just shears it to the shape of the arbor in winter. The fertilizer regimen is equally simple. In late winter, she applies an organic mixture (usually alfalfa meal, compost, and epsom salts). After the first flush of bloom in spring, she sprays the foliage with a water-soluble fertilizer, such as Peters Professional Plant Food 20-20-20.
Since Robinson planted 'Phyllis Bide' seven years ago, she has made many new friends. "In spring when I see someone pulling over, I know they're stopping to look at the rose. I usually come out and say hi, because I know they want to know its name." 'Phyllis Bide' is available from Michael's Premier Roses (916/369-7673 or www.michaelsrose.com).