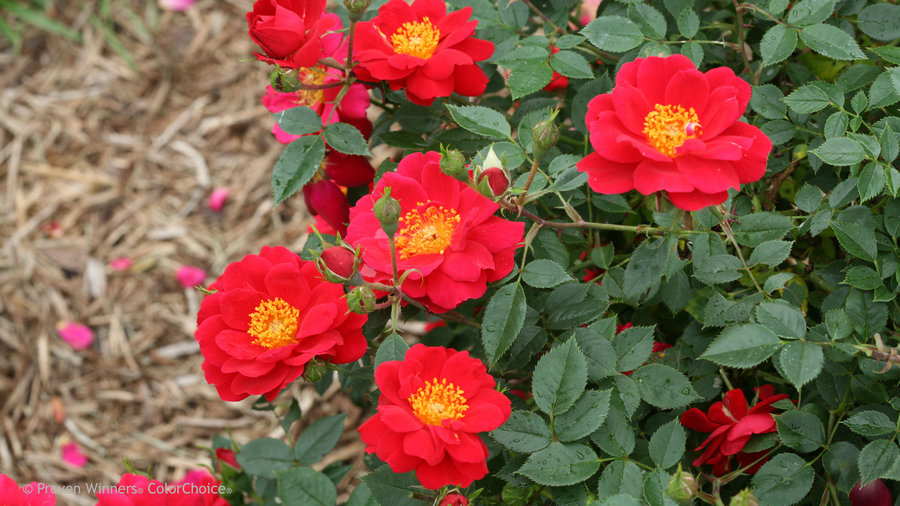 Quick facts and care essentials
Ground covers
• Evergreen, semideciduous, or deciduous shrubby ground cover
• Zones vary
• Full sun
• Regular water
In recent years, breeders have developed low-growing shrub roses (usually to about 2 feet tall) that are vigorous, disease resistant, and long blooming, perfect for covering slopes or forming a trafficproof cover on level ground.
Four good choices are 'Flower Carpet' (with clusters of semidouble dark pink flowers); 'White Flower Carpet' (with white blooms); 'Magic Carpet' (profuse clusters of small, semidouble lilac pink blossoms); and 'Red Ribbons' (clustered semidouble flowers in lipstick red). Beyond these, many other varieties are available; for more complete listings, consult a specialty catalog. These can be grown in all zones, but they'll need winter protection in the coldest areas. Space 8 feet apart.
Among species ground cover roses is Rosa wichuraiana, known as memorial rose. It's deciduous in Zones 3, 34, 35, and 39, evergreen or semievergreen in Zones 4-32. Trailing, prostrate stems root when they contact moist soil, spreading 10 to 12 feet in a single season. Single white flowers bloom only in late spring. Several hybrids between this species and various garden roses are also useful ground covers; among them are 'Alberic Barbier', with creamy white flowers, and 'Max Graf', with large pink blooms. Plant R. wichuraiana and its hybrids 10 feet apart.