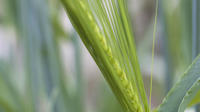 By Rick LaFrentz, Beerless leader Photos by Kimberley Burch "John Barleycorn must die." These are lyrics from a song I wou...
By Rick LaFrentz, Beerless leader
Photos by Kimberley Burch
"John Barleycorn must die."
These are lyrics from a song I would listen to in my wayward youth. It was about a group of men who set out to disrupt the planting of the evil barley seed.
Barley is such a vital commodity in our everyday life and an absolute necessity in the process of brewing, why would one want to prohibit its planting?
The barley that we planted several months ago for our homemade beer is, at last, setting seed. Break out the cigars.
We chose a fairly new variety of barley called Lacey that has 6 rows of seeds growing on the seed head. Barley either grows in 2 or 6 rows. From my research on the subject, the 2 row seed heads are the most preferred by the brewing industry because they contain less protein, which will cloud the appearance of beer, but Lacey was developed for its plight in the brewing process.
We also had planted white wheat (shown left). I had planted the seeds rather thick not knowing what the germination rate would be and to our delight almost all of the seeds had germinated. We thinned a few rows at a time to avoid over crowding and allow for less competition but to our surprise the rows that had not been thinned actually grew taller and had deeper lush green colored foliage.
It's an enigma.
This is the time of year when hop rhizomes arrive at your local brewing outlet. Hops are another vital ingredient in the brewing process.
We chose 3 different varieties, out of dozens, that we feel would grow without difficulty in our climate. Cascade, which is a very popular variety with the micro brewing community, gives a citrus-floral character. Another hop we chose is Centennial, which is very similar to cascade, but is more intense and will add bitterness to the beer. The third variety is Nugget, which again will add bitterness, but has an herbal spicy note. (Finding yourself captivated by hops varieties? Wikipedia has a nice roundup.)
During the growing season, hops have a tendency to attract spider mites and mildew so I guess we can count on these exquisite little inconveniences to add complexity to the final product.
Which hops and to what extent they will be used in our brew will be decided by committee.
Our next step in the home brewing process will be to wait until the barley seeds have dried and then try to malt the seeds to produce a product that we will be able to ferment. Wish us luck.
Keep Reading: