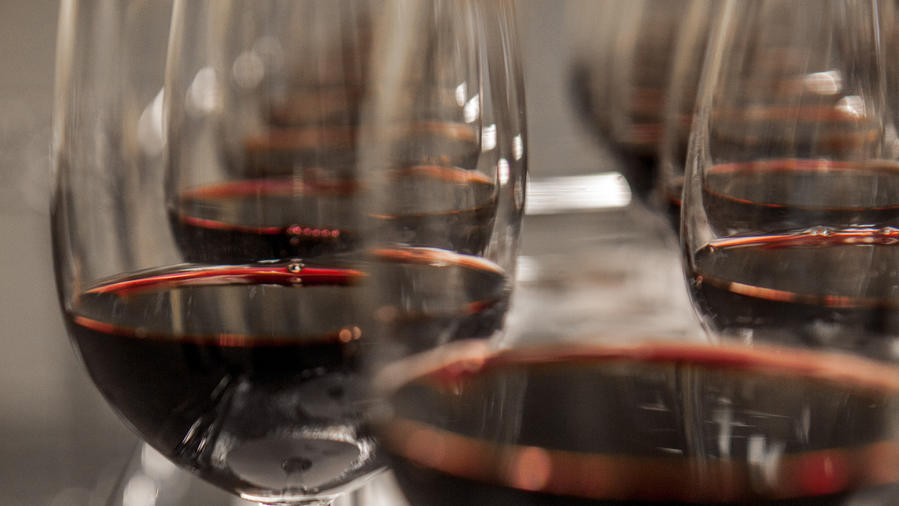 Get tips for crafting your own vino
All wine lovers dream of fleeing the big city, buying a few acres, planting some grapes, and living out the rest of their lazy days swirling and sipping under the sun.
Keep dreaming. Meanwhile, there's Gallaghers' Where-U-Brew, just 15 miles away from Seattle in Edmonds. A popular beer- and winemaking facility, Gallaghers' plays host to home crafters of all sorts: from fun-loving first-timers to semipros customizing their own recipes to, most recently, a growing number of root beer fans.
When Dennis Gallagher and his wife, Sandy, opened Gallaghers' in 1995, the operation mostly drew beer buffs interested in demystifying the microbrewery process but unwilling to invest in the equipment needed to seriously hone their hobby.
Soon, folks were popping in for one of six pints on tap in the tasting room, and brides-to-be came calling to create their own wedding-day ales. Yet only occasionally would the Gallaghers get customers curious about the crush.
Today, Gallaghers' is one of the only DIY winemaking facilities this side of the Cascades. Amateur vintners make an average of 100 lots of wine a month and can choose from about 25 kinds of grapes ― from California Cab to Sangiovese from Chianti.
A CASE OF OUR OWN
My friends and I sure drink enough wine. One rainy evening over a bottle of red, we think, Why not try making it?
Gallaghers' entrance area is crowded with wine kits, some bearing gold or silver stamps indicating the award-winning status of the grapes inside. Australian Shiraz, California Chardonnay, Italian Pinot Grigio, and everything in between.
We are soon in a quandary. Four people agreeing on one grape, we realize, will not be easy. It's a cold, wintry day, so we decide to go with a big red. Nick likes Cabs, but Todd prefers Merlots. Juliette and I shrug, overwhelmed by so many choices.
Dennis Gallagher grins. "If you choose a white grape," he offers, "it might be ready to drink by summer." Apparently, big red wines can take as long as three years. It's okay, we're down with delayed gratification.
Dennis laughs and turns to help a group that are, uh, a bit further along in the process. They're already bottling.
The air is dense with a not unpleasant aroma of steamy hops and fermenting grapes. Because of the tasting room, Gallaghers' doesn't allow children on the premises (not even to make root beer). Still, the place has a family feel, with nearly equal numbers of men and women working like mad scientists, bent over vats of liquids.
There's lots of laughter, much of it led by Dennis, who strolls around the room like a lab professor. "The winemaking kits have become so much more sophisticated; it's hard to screw it up, " Dennis assures us. "It's not like we're growing and stomping grapes here, but you really can make an outstanding wine."
That's what we're counting on. We go for broke and pick the 2004 Merlot from Napa's Stags Leap District. Can't hurt to start with the good stuff ― even though Dennis warns us it will require a good year in the basement before the first bottle is drinkable, and another one to two years before the case is truly aged to perfection.
Undeterred, we forge ahead to the next step: getting our fermentation going. Sounds technical, but surprisingly (thanks to Gallaghers' handy-dandy kits), it's a relatively easy process that takes just 20 minutes under the supervision of an experienced employee. First, we pour the crushed grapes into a large, sturdy white bucket. Next, we add individual packets of yeast and mysterious compounds such as bentonite (a claylike dirt that helps settle the wine), plus a brilliant addition for the amateur: oak chips, which emulate the flavor that comes from aging in French oak barrels. (Far cheaper too.)
We leave the rest of the fermentation process for the staff to keep an eye on (about a week), and then let our wine settle for another six weeks in a back room at Gallaghers' before we return for the bottling. This is the fun part, as we quaff Gallaghers' ale and take turns sitting around an old-fashioned corking machine, siphoning wine into bottles and sealing them one by one.
And then, we cart our case home ― where it still sits a year later, tucked away in a cool spot in the back of my closet. As Dennis predicted, delayed gratification isn't all it's cracked up to be.
In the end, though, we paid a little more than $200 for 28 bottles of our very own "Reggae Red" (named after Todd's beloved mutt, and emblazoned with an image of his cute, cock-eared face). Averaging less than $7.50 per bottle, it's quite a steal. Whether it tastes any good remains to be seen, of course. Regardless, it's the bragging rights to our custom wine that we really look forward to ― in 2009.

WINEMAKING 101: WHAT EVERY FIRST-TIME SHOULD KNOW
1. Start young
Choosing a long-aging wine like a big Cabernet is a buzz kill, says Dennis Gallagher, because the payoff is years away. "I don't recommend long-aging wines to first-time winemakers. You want to enjoy your first wine as soon as possible."
2. Stay grounded
Even Mouton Rothschild probably botched a few early batches, so don't expect a 99-pointer and a call from Robert Parker on your first try. Choose an easy-to-craft grape, such as a white that doesn't need to age, and have fun tinkering with the process for each subsequent batch.
3. Make space
You need a cool, dark storage spot to keep your wine sound while you wait. A constant temperature ― whether on the low or high end of 55° to 65° ― is key, as fluctuations make for dodgy flavor. Bottles should be kept out of sunlight and lie undisturbed on their side throughout the aging process; a low cupboard or cool closet works fine if you don't have a basement.
4. Relax …
"This environment isn't conducive with stress," Dennis says, "so don't bring any." He and his team supervise all the winemaking. "There's no reason to worry about wine," he says. "Just learn to enjoy it and drink up."
5. Give a gift
The holidays are fast approaching, and Gallaghers' ice wines and ports take only six weeks to age.
A GUIDE TO GALLAGHERS' WINES
The shop offers more than two dozen juices for crafting DIY wines. To help you understand the qualities of the grapes, here are a few facts behind some of the couple's favorite and more popular fruit.
Cabernet Sauvignon
This big, tannic red grape should usually age for several years to soften and bring out its complex, rich flavors.
Chardonnay
America's most popular white grape ranges in taste from apple to mushrooms to vanilla to butterscotch. It usually takes only six months to age.
Corvina Classico di Veneto
The couple's all-time favorite, this intense ruby red wine made from a northern Italian grape, Corvina, has gripping red tannins, a cherry aroma, and beautiful color. It needs to sit for at least a year, preferably two or three.
Merlot
Available from many regions around the world, this medium- to full-bodied red wine tastes like plums, black currants, chocolate, or leather, and can be drunk after a year of aging.
Riesling
Pale in color with aromas of honey, apples, citrus, peaches, and petrol, this refreshingly crisp white wine can age in as little as six months.
INFO: Gallaghers' Where-U-Brew (closed Sun-Mon; winemaking kits from $135, bottles $1 each or BYO; 120 Fifth Ave. S., Edmonds; 425/776-4209)
MORE: Read about winemaking in Sunset's One-block Diet blog »
Keep Reading: