Where to go this weekend: Temecula, CA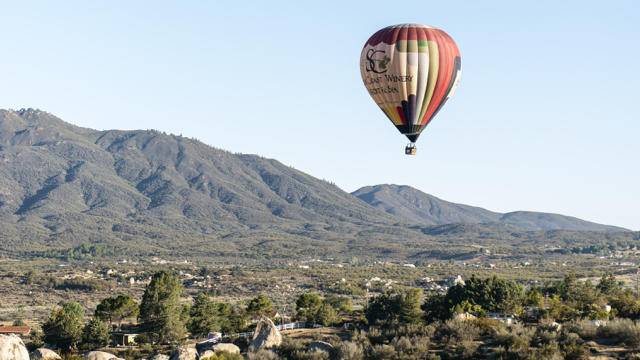 Fairy-tale vineyards, farm-to-table eateries, and hot-air balloon adventures elevatethis emerging SoCal wine region. Archana Ram gives us a taste of Temecula. Disneyland for adultsIn the 1970s, when this sunny pocket of Riverside County was still ranching country, an artisan named Beldon Fields left his job at Disneyland and came to build his sweetheart a getaway. The former Fantasy­land designer didn't veer far from his roots: He created a life-size replica of Snow White's cottage on 20 acres, in the shade of a 100-year-old olive tree. Today, that cottage anchors Briar Rose Winery, one of more than 30 wineries in the Temecula Valley and a storybook place to launch a sipping tour. At Briar Rose, suds lovers will appreciate the Talking Frog, a bubbly wine made with hefeweizen beer. Move on to reds at nearby Vindemia Winery—the friendly staff, outdoor tasting bar, and savory 2013 Syrah merit at least an hour's stay—before continuing to Ponte Family Estate Winery. Visit on a weekend and you'll likely see a wedding on the scenic 310-acre grounds (the barn-style tasting room, in particular, is a Pinterest fan's dream).
Farm-fresh eats …The best place to grab a bite in wine country is the patio at Ponte Vineyard Inn's Bouquet Restaurant. Besides the panoramic views of vines and the Santa Ana Mountains beyond, there are expertly seared plates of swordfish and steak, plus sugar-dusted zeppole with Nutella for dessert. (If you need a post-tasting pick-me-up, there's also French press coffee.) In town, you'll notice lines outside farm-to-table E.A.T. Marketplace (E.A.T. stands for "extraordinary artisan table"). Locals are loyal to chef-founder Leah Delyte's seasonal sandwiches, vegan doughnuts, and homemade coconut milk. The nearby Goat & Vine specializes in stone-hearth pizzas, but we favor the soft pretzels—freshly baked and served with a spicy-sweet homemade mustard.
… and buysGrapes aren't the only things that thrive in the fertile land around Temecula. You can sample the rest of the valley's bounty in the 12-block Old Town district. Temecula Lavender Co. sells bath products, candles, and spices (the lavender pepper is great on white-meat chicken) made with lavender from a local family-run farm. Down the block, Temecula Olive Oil Company offers free tastings of (you guessed it) locally grown cured olives and extra-virgin olive oil, and on Saturdays, more than 40 SoCal growers bring their produce to the Old Town Temecula Certified Farmers' Market. Look for ruby red grapefruit and persimmons in November.
More than a lot of hot airGreet the day from 1,500 feet in the sky on a sunrise flight with A Balloon Adventure by California Dreamin'. The venerable outfit is owned by Vindemia Winery, and trips include breakfast and sparkling wine there afterward. Plan on an early-morning arrival (in November, the rainbow-bright balloons take flight about 5:15). Ponte Vineyard Inn gets high marks for its VIP vibe at a reasonable price: All 60 rooms have private patios or balconies overlooking the vineyards, and some are dog-friendly.
Keep Reading: