Where to go this weekend: Pismo Beach, CA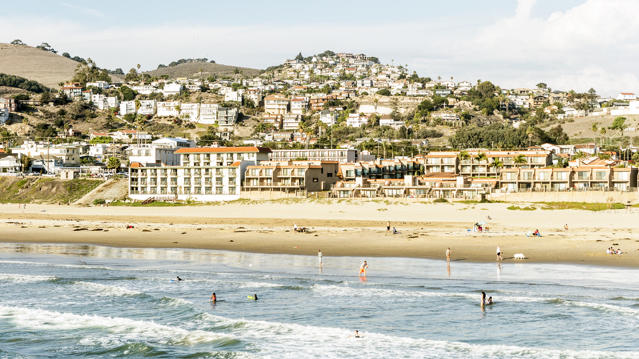 This Central Coast charmer feels like SoCal 40 years ago: friendly, casual, and all about fun on the waterfront. Robin Jones reveals the best of Pismo Beach.
The butterfly effectIn January, Pismo Beach hosts more than 30,000 migrating butterflies just south of town at the seaside Monarch Butterfly Grove, the biggest gathering of the winged beauties in California. At the height of the season, monarchs cover the stands of eucalyptus trees in "a flurry of orange, yellow, and black," says Central Coast local Kristin Huebner. You can get out and wander the manicured paths anytime on your own, but we suggest sticking around for a free, fact-filled, docent-led tour, held twice daily during the season at 11 a.m. and 2 p.m. You'll get enough cocktail-party fodder for years.
A prehistoric paddleAny kayaker worth her oars will tell you that the best paddle in Pismo is north of town at Dinosaur Caves—a series of deep grottoes named for the massive dinosaur sculpture that once stood on the bluffs. Central Coast Kayaks leads paddling tours, where this time of year you can expect to see whales, dolphins, sea otters, and sea lions. Refuel with locally roasted coffee and a breakfast burrito at nearby Steaming Bean, a funky cafe with a well-stocked lending library and chipper baristas.
Sweet-and-salty treatsPismo has its fair share of ice cream parlors, fro-yo shops, and fish-and-chips stands,but two newish spots are elevating beach treats to another realm. Tiny Chipwrecked tickles your grub bone with homemade chips and dips. The owners bake fresh potato chips daily, then top them with everything from cilantro to strawberries. Around the corner, Surfside Donuts dresses up a daily array of artisanal doughnuts. Every morning, crowds line up out the door for the salted caramel and Dirt Surf crumb doughnuts and Stumptown coffee.
Garden to plateTwo blocks from the bustle of the shore, a more sophisticated retail district is taking root on Price Street. Local institution Pismo Garden Art just expanded into a former hardware store—filling it with colorful pots, garden tools, whimsical statues, birdhouses, and stone benches. New additions to the food scene include The Moose Deli & Brew, a gourmet sandwich shop with a dog-friendly patio; Chop Street, which serves potpies, the best fish tacos in town, and a long list of local craft beers on tap; and Tastes of the Valleys, a wine bar that offers hundreds of Central Coast wines by the glass.
This land is your land—againUntil just last year, the 880-acre parcel of green space that makes up Pismo Preserve was slated for development. But thanks to a grassroots effort by the Land Conservancy of San Luis Obispo, which raised $12.3 million to buy the acreage, the former ranch will be protected permanently as open space for everyone to enjoy. Now the Land Conservancy is busy building restrooms, picnic areas, and nearly 12 miles of trails for hiking, mountain biking, and horseback riding and hopes to open the preserve to the public by this summer. Until then, you can get a preview—and speed things up—by volunteering to help build trails.
Keep Reading: