Try purslane Mexican-style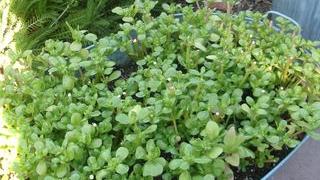 Have you brought back a food experience from a trip that gets you excited about a whole new kind of cooking? That's what happened …
Have you brought back a food experience from a trip that gets you excited about a whole new kind of cooking? That's what happened to me when I was in Ixtapa and Zihuatanejo, Mexico this spring for Food & Wine's Food of Mexico festival and learned how Mexicans cook with garden vegetables like purslane, a lemony tasting plant that we're now growing in the Sunset test garden.
After the festival, which was amazing, I joined chef Edgar Navarro of Zi Restaurant at Club Intrawest for a guided tour* through the open-air market in Zihua. He introduced us to a slew of local ingredients, including verdolagas. I'd tried purslane before, but never realized how popular it is in Mexican food.
Back at Sunset, I was so inspired that I convinced Johanna, our test garden coordinator, to try out some Mexican kitchen garden plants. She put in this golden purslane.
Golden purslane, planted in a tub
Purslane comes up like a weed, and chances are good you already have it growing in your garden.
As for the cooking part, below is my first experiment, Mexican-style. The purslane adds a nice tangy note to this homey stew—which is blasting hot, by the way—so feel free to use fewer chiles.
Are there more ways you like to cook with purslane, or food souvenirs you've brought back from your travels? Let me know!
Spicy Mexican purslane and tomatillo potato stew
Inspired by a recipe from Rick Bayless's Mexican Kitchen.
1 lb. tomatillos, husked and rinsed
3 large serrano chiles
1 white onion, cut into thick slices
3 large garlic cloves, unpeeled
1/3  cup cilantro sprigs, plus chopped cilantro for garnish
About 3/4 tsp. sea salt
1 tbsp. olive oil
1 lb. small Yukon Gold potatoes, quartered
1 1/2 cups small purslane sprigs
1. Broil tomatillos, serranos, onion, and garlic, turning as needed, until blackened. Peel the garlic, peel and stem the chiles, then purée all the broiled vegetables in a food processor with 1/2 cup water, cilantro sprigs, and salt.
2. Heat oil in a large saucepan over medium-high heat. Add tomatillo mixture and sauté for about 5 minutes. Stir in potatoes, then simmer, covered, until potatoes are tender, about 15 minutes; stir every so often.
3. Stir in purslane and cook a few minutes until wilted. Add chopped cilantro and more salt if you like.
Spicy Mexican purslane and tomatillo potato stew
 *Chef Edgar Navarro leads guests and non-guests of Club Intrawest on tours of the Zihua market every Tuesday at 10 AM with a cooking class to follow. Reserve in advance by contacting the restaurant through Facebook. Cost of $99 per person includes lunch.
Keep Reading: