The Beach Tractors feast on land and at sea with two One-Block parties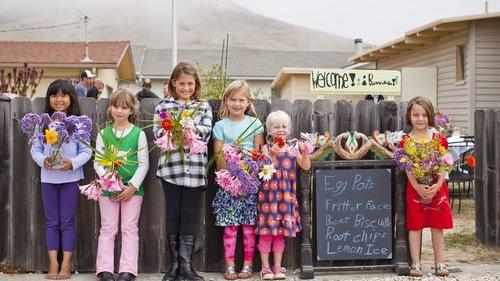 The Beach Tractors are a group of young families in Morro Bay, on California's central coast. Over the course of this One-Block Party con...
The Beach Tractors are a group of young families in Morro Bay, on California's central coast. Over the course of this One-Block Party contest, they've replaced concrete slab yards with edible gardens, seeded an oyster bed, and planted a rooftop garden; raised meat chickens and laying hens; and borrowed goats for milk. Rather than just one party, they decided to do two: one for the adults and one for the children, featuring a whole separate children's menu, grown in gardens the children have tended themselves. Throughout, they have kept their own active blog. This post describes their party weekend of August 28 and 29. For their incredible efforts and transformative effect on their neighborhood, Team Beach Tractors won our One-Block Party contest. The prize was announced on October 2.
"Don't cry because it is over. Smile because it happened."
Whoever coined that phrase had the Beach Tractors in mind. Each one of us was a bit blue to see this summer's Sunset experience come to a close. But there was no doubt that our feast weekend was an absolute celebration of homegrown food, of our bountiful environment, and of family and community.
The smiles were as plentiful as the food.
—FRIDAY—
Feast weekend began Friday in Morro Bay, literally in the water, as we harvested over 350 well-shaken oysters that all Tractor families tended over the summer.
After drying off and icing down our haul, all families met in the Children's Garden for harvest time. The children picked what they'd need for cooking their feast the next day.
"
—SATURDAY—We met at "Chicken Dave"'s house, where his hens had been busy laying eggs for the children's meal. Each child was allowed to pick an egg from the coop and bring it back to the garden for cooking in the adjoining house.
"With eggs in tow (and all in one basket!), all the families rode bikes from the coop to the children's garden, where the kids cooked eggs in pots (little individual egg-and-vegetable dishes) and made zucchini fritter faces.
The food was ready. One by one, the four oldest children (the leadership team) gave toasts about what they had learned this summer, accompanied by a karaoke machine. Common themes were fun, friendship, silly experiences like runaway goats, and the happiness of being outside with responsibilities.The children sat at their own tables, eating the dinner that they themselves had cooked. Even the littlest ones were still for at least an hour, while we adults watched from the perimeter. To say the children's feast was a success is truly an understatement.
—SUNDAY—
We ended our amazing One-Block Feast journey by dining on the 72' luxury yacht "PapaGallo II". The boat was once owned by the head of Gallo Salame, which added a bit of humorous irony to our feast; while the ingredients of processed salame are typically questionable, there was no questioning the source of ingredients for our feast. In fact, the beautifully arranged oysters waiting to be eaten on the bow of the yacht, showcasing three different 100% home-grown and homemade sauces, had started their lives directly beneath us on the floor of Morro Bay.
Let me back up a bit and explain how we ended up on the PapaGallo II.
The Beach Tractors have an "any excuse for a party" view of life. We like to get together right here in our neighborhood.  But we are not only about fun. Someone once referred to our group as a 'bunch of over-committers'. It's true. Walk into any community meeting in Morro Bay and you're likely to find a Beach Tractor involved in some action, event, or activity.  However, after being picked by Sunset Magazine for the One-Block Party contest, we knew we had to celebrate the once-in-a-lifetime contest with a once-in-a-lifetime party. So, that's why we didn't just plan one feast. We planned two—one for our children and one for the adults.
Our menu had been tailored around the ocean, not only with seafood but with vegetables and fruits that could survive the cold, windy, foggy summers we experience on the Central Coast. When Len and Midge, the owners of the PapaGallo II, offered us their boat as our feast location, we couldn't say no. It fit with our menu theme and provided us with the singular opportunity we were looking for. It also allowed for an adult-only event that would relieve us of "kid duty" and allow equal participation from everyone.
Preparations on the day of the event were almost as exhausting as growing and making the food all summer. The old "running around like a chicken with its head cut off" analogy probably wouldn't be appropriate considering our main course…so let's just say we were busy.
Milking the goat and gathering bouquets for the tables.
We milled wheat, collected vegetables and eggs, and thawed the chickens we had slaughtered a few weeks prior. We milked goats and cut flowers for table decorations. We cooked and cooked. I'm sure I'm forgetting at least ten more things we did, but you get the point.
And, then, somehow, it all came together.  Somehow, all 15 of us managed to settle our collective 16 kids for the night with sitters and we arrived at the boat (which we had  tastefully decorated that morning) dressed festively, hair and makeup in place, and with warm food and cold beer ready to be enjoyed.
While we sipped our cocktails, we were entertained by local surfboard shaper and musician Shane Stoneman. Shane strummed his guitar and sang his own original gentle melodies as the PapaGallo II took us leisurely around Morro Bay Harbor.
This was our first opportunity to slow down and absorb what we had accomplished. This was the first time we could look around at our teammates, all smiling ear to ear, and embrace the fact that we had come together in April with a plan—a crazy plan—and here we were, just five months later, actually fulfilling almost every single crazy idea outlined in our plan.
So what were the crazy food ideas? We had a surf & turf concept. We ate oysters we'd raised in Morro Bay with the local rock cod we'd caught and made into ceviche, and paired them with chickens we'd raised and mindfully slaughtered at a Beach Tractor home. Homegrown vegetables and fruits (citrus) that grow well in Morro Bay were also on the menu. We made and ate wheat rolls, an All-Tractor garden salad, corn succotash, and goat cheese frittata. The dessert was pavlova, with backyard chicken eggs; we garnished it with the ollalaberries, strawberries, and blueberries we'd grown.  A few even used the homemade sugar we'd manage to extract from homegrown sugar cane.
Ceviche, left, and a plate with everything, right.
All of this was washed down with a choice of three beverages: lemon ginger beer; wheat beer seasoned with coriander, orange peel and chamomile; or wine from Beach Tractor Josh Becket's own hands, as he is the winemaker at both Chronic Cellars and Peachy Canyon (in nearby Paso Robles). We made the two beers, and had attempted to make wine, but wine grapes throughout California were still not ripe by feast day.
John Diodati makes the first of many toasts.We ate. We feasted. And while we savored our food, we got up and toasted each other like Russians on New Year's Eve. Finally, the PapaGallo II returned to its dock.
However, you must know that we weren't sad, because we decided to take the party, along with our wheat and ginger beer, back to the Beach Tract—where it all started—and continued to celebrate all that we had accomplished.
We celebrated the Children's Feast, knowing that our children had learned a rare lesson about food and community-building that they will carry in their hearts and minds for the rest of their lives. We celebrated Morro Bay, this treasured little part of California that we call home. But, most importantly, we celebrated the simple fact that even in this chaotic, distracted, and detached culture of the 21st century, we humans are still capable of slowing down, coming together as a group, and connecting with our land, our food, and one another.
RECIPES FROM THE FEASTS
Zucchini Fritter Faces
Serves 4
1 lb. (about 2 medium) zucchini or squash
3 or 4 potatoes
1 tsp. salt
1 tbsp. freshly grated lemon zest
2 large eggs, lightly beaten
1/2 cup wheat flour
About 2 tbsp. extra-virgin olive oil
Lettuce, sliced carrot rounds and carrot sticks, sliced pepper sticks, sliced cucumber rounds and cucumber sticks, halved cherry tomatoes, sliced radishes — all for decorating
1. Using the large holes of a box grater, shred zucchini and potatoes into a medium bowl. Add salt, lemon zest, and eggs. Mix well to combine. Slowly add flour, stirring so no lumps form.
2. Heat 2 tbsp. oil in a large pan over medium-high heat until oil sizzles when you drop a small amount of mixture into the pan. Carefully drop about 2 tbsp. mixture into pan; repeat, spacing fritters a few inches apart.
3. Cook fritters until golden underneath, 2 to 3 minutes. Reduce heat to medium. Turn fritters over and continue cooking until golden on second side, 2 to 3 minutes more. Transfer fritters to a plate; set aside in a warm place. Cook remaining mixture, adding more oil to pan if necessary.
4. Decorate each fritter with various freshly cut vegetables to make a funny face unique to that child.
Lemon Ice in Lemon Cups
Makes 8 to 10 servings
3 to 4 lemons
3/4 cup sugar or stevia liquid sweetener
1. Wash the lemons. Show children how to grate the peel of two of the lemons, then combine the lemon zest, 3 cups water, and sugar in a medium saucepan.
2. Bring the liquid to a simmer and continue simmering it, stirring occasionally, until the sugar has dissolved (about 3 minutes). Remove the pan from the heat and let the mixture cool. Pour the cooled liquid through a mesh strainer into a medium mixing bowl. Discard the zest left in the strainer.
3. Halve the lemons and, with a lemon reamer or citrus juicer, juice enough of them to make 2/3 cup juice. (If you plan to serve the ice in the empty halves, store them in the refrigerator until you're ready to use.)
4. Stir the juice into the sugar water. Then pour the mixture into a large, shallow baking dish and place in your freezer. (Note: if the liquid is still warm, chill it for 1 hour first so you don't defrost your freezer!)
5. When the mixture starts to freeze around the edge, stir and mash it with a fork to break up the ice. Repeat this periodically until the ice is firm (3 to 5 hours). Spoon into cleaned-out lemon halves or small bowls to serve.
Rock Cod Ceviche
1-2 lbs. fresh rock cod
Sea salt
1-2 cups fresh lime juice
2 finely chopped cucumbers
2  finely chopped small jalapeños, with seeds
1 finely chopped cilantro plant (leaves and tender stems)
4 finely chopped tomatoes
2 finely chopped onions
Wash fish and sprinkle with sea salt to taste. Chop into small cubes. Put cubes in a bowl and add lime juice, making sure to cover fish completely with juice. Store overnight.
Drain juice and add vegetables. Serve in cowboy-size oyster shells (at least 5 inches long).
Fritatta with Potatoes and Goat Cheese
2 cups potatoes, thinly sliced
2 tbsp. extra-virgin olive oil
2 tsp. sea salt, plus more to taste
12 eggs, beaten  
½ cup heavy whipping cream
8-12 oz. fresh goat cheese
2 tsp. thyme
Pepper to taste
Preheat oven to 375°. Toss potatoes with olive and 2 tsp. salt.  Roast until lightly browned and tender, about 20 minutes. Whip eggs with cream. Arrange potatoes in a large non-stick frying pan, then add egg mixture and top with goat cheese, salt, pepper, and thyme. Bake frittata until lightly browned and puffy on top, 20 to 25 minutes. Cool and serve warm or room temperature.
By John Diodati, Team Leader
Photographs by Thomas J. Story
Keep Reading: