Thanksgiving Potluck: Winter Jewel Upside-Down Cake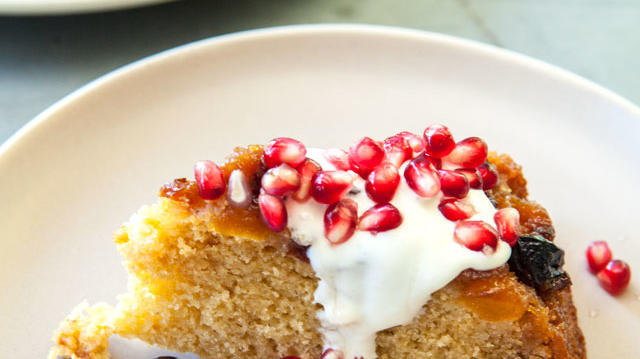 This month, we're cooking our way through Deborah Madison's freshly revised New Vegetarian Cooking For Everyone. Here, photo editor ...
This month, we're cooking our way through Deborah Madison's freshly revised New Vegetarian Cooking For Everyone. Here, photo editor Yvonne Stender tries her hand at dessert.
I am a confident cook but definitely a less confident baker. Even though I bake a lot, I know you can't exactly improvise unless you're a qualified pastry chef or a person who works in the Sunset food department. Would it be weird if I didn't make my go-to pumpkin cheesecake for the holidays this year? Absolutely. But it's time I gave something new a whirl.
Why this recipe? 
I'm a big fan of upside-down cakes, given how easy they are to make. Plus, the recipes usually work. (With other cakes, I tend to over mix and create something that resembles a brick.) I also prefer my desserts on the less sweet side—simple in flavor with not too many things going on.
What's it like to make? 
The recipe is very straightforward and easy to follow. The only thing I would change is to make the fruit mixture first. Let it cool while you melt the butter and sugar. (Madison has you melt the butter and sugar first, which hardened to a crust while I made the fruit.)
I also prefer my desserts just a tad less sweet than most people, so I reduced both sugars by 1/4 cup and loved the results.
In my oven—and yours will likely be different—my cake was browned in 25 minutes and the toothpick came out clean at that point, too. I turned off the heat and left it in there for the remaining 10 minutes the recipe called for. Keep an eye on your cake in those last 10 minutes in case you need to make time adjustments.
How did it turn out? 
This cake is amazing. It did not disappoint.  My husband nearly ate a third slice! I was tempted to buy already-shelled pomegranate seeds, but I'm glad I didn't. The fresh seeds made such a difference, since they were so juicy and tart they added a nice balance to the sweetness of the dried fruit and gooey, caramelized sugar topping.
Will I make it again? 
Most definitely. This one will be coming to Thanksgiving with me this year. This cake will also work well without the compote and whipped cream if you just want a simple weekend cake. But it's worth the extra effort to make the compote and whipped cream if time permits.
Winter Jewel Upside-Down Cake with Pomegranate Compote
Fruit
3 tablespoons butter
1 cup light brown sugar
2/3 cup dried apricots
1/3 cup dried prunes
2 tablespoons each dark raisins, golden raisins and dried cranberrie
Batter
1 cup cake flour
1 cup all purpose flour
1 teaspoon baking powder
1 teaspoon baking soda
3/8 teaspoon sea salt
1Ž2 cup butter
1 cup sugar
1 1Ž2 teaspoons vanilla extract
1/8 teaspoon almond extract
2 eggs room temperature
1 cup buttermilk
Compote
Seeds of 1 pomegranate
1 tablespoon sugar
1 teaspoon orange-flower water
Whipped cream flavored with 2 teaspoons grated orange zest for serving
Melt the butter in a 10-inch cast-iron pan over medium heat. Stir in the sugar, cook until it's dissolved, then remove the pan from the heat.
Cut some of the apricots into quarters and leave the rest whole. Put all the dried fruits in a saucepan, add water to cover, and simmer until softened, about 15 minutes. Drain, gently squeezing out the moisture. Arrange them over the bottom of the pan.
Preheat the oven to 375 F. Mix the dry ingredients for the cake batter together. Cream the butter with the sugar until light and fluffy. Add the vanilla and almond extracts, then beat in the eggs one at a time until smooth. Scrape down the bowl, stir again to blend in any bits of butter, then stir in the buttermilk. Add the dry ingredients in thirds to the butter mixture. (If using a mixer, this can be done on low speed.) Scrape up the batter from the bottom of the bowl to make sure it's well mixed. Smooth the batter over the e fruit.
Bake in the center of the oven until springy to the touch and beginning to pull away from the pan, about 35 minutes.  Let cool for a few minutes, then invert onto a cake plate.  While the cake is baking, sprinkle the pomegranate sees with a tablespoon sugar and the orange-flower water. Refrigerate.  Sweeten the whipped cream to taste, and add the orange zest.  Serve the cake warm with the chilled pomegranates seeds and whipped cream.
Keep Reading: