Thanksgiving Potluck: Semolina Coins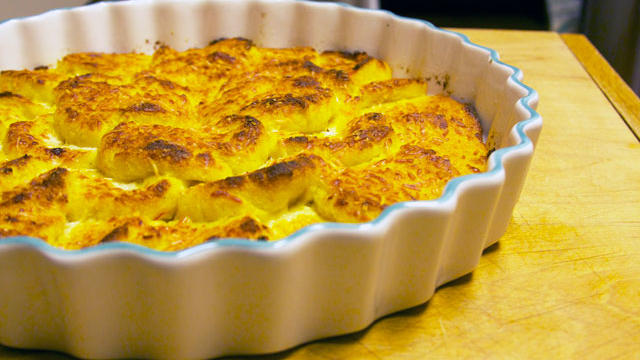 This month, we're cooking our way through Deborah Madison's freshly revised New Vegetarian Cooking For Everyone. In the process of bakin...
This month, we're cooking our way through Deborah Madison's freshly revised New Vegetarian Cooking For Everyone. In the process of baking these semolina coins, Production Coordinator Margaret Sloan found her inner kid.
Why this recipe?
I chose this recipe because I had semolina flour left over from a brief infatuation with a Persian rosewater cake recipe. You know how it is after a food crush; ingredients remain to remind you of your previous love. Frugality insists that you use them.
How is it made?
This is a pretty straightforward concoction. Pour the ingredients in a pan, stir until the spoon will stand by itself, let the mixture set overnight to firm up, then make the "coins."
Except that my niece (ours is a multi-generational household) decided that she also had a couple recipes she wanted to experiment with that night. And who am I to discourage any kitchen-based research?
But that meant that there were two of us cooking, plus my mom hovering to "see if you girls need any help…no! don't turn the burner on high. You'll burn up the pan!" And occasional appearances by my father, who thought I was making his favorite, fried cornmeal mush (it was yellow, you see…) and offered advice about how his mother made it. Four adults in what can best be described as a one-butt-kitchen. 
So I'm sure you'll understand why 1/8 of a teaspoon of nutmeg specifed in the recipe, with all the confusion, turned into, oh, I don't know, maybe a teaspoon of nutmeg, maybe a little more, since I couldn't find the teaspoon and had to measure the spice in my hand. My niece, upon tasting the nutmeggy and saffron-infused batter said, "That's okay, Tia, it tastes kind of like Christmas. Like the Dickens Fair smells." Since she hates the way the Dickens Fair smells, there was cold comfort there. My mother sighed and said, "Let's just cook it and see what happens."
The stiff batter gets rolled flat on a cookie sheet and chills overnight (we spent fifteen minutes clearing a space big enough for a whole cookie sheet in our reefer). The next evening, with plenty of advice from my father, I tried to cut "coins" from it, cookie cutter fashion, with the rim of a water glass. That was a mess, with batter sticking to the glass every time I pressed it into the dough, so I finally resorted to making the coins by hand, shaping them like little thick tortillas, which freed my inner Play-Doh artist and was more fun that constantly scraping clean a water glass rim.
How did it turn out?
Once baked, the dough was transformed. The nutmeg-blasted batter became a soft custardy cake with just whispers of spice, and the cheese sprinkled over the top browned beautifully to create a contrasting crunch. My father said, "This is like fried mush, only better," and had a second helping.
Will I make it again?
Yes. It would make me a hero at a potluck. It's that good, and it is beautiful to look at, as well. It's a dish that would be perfect for a winter party: warm, lovely and comforting, especially if you could pull it—bubbly and hot—from the oven just before serving. And I suggest adding the extra nutmeg to make it taste like Christmas.
Semolina Coins3.5 cups milk2 pinches saffron threads, optional1 tsp. sea salt1 cup plus 2 Tbs. semolina1/4 cup butter3 eggs, or 2 whole eggs and 2 egg yolks1/2 cup grated Gruyere1/2 cup freshly grated parmesan1/8 tsp. grated nutmeg2 Tbs. melted butter
1. Lightly butter a sheet pan and an 9-12-cup gratin dish.
2. Heat the milk in a spacious saucepan, crumble in the saffron, and add the salt. When it's almost boiling, whisk in the semolina, adding it in a fine, steady stream. Stir constantly as the milk comes to a boil, then cook until stiff enough to support a spoon, about 3 minutes. Remove from the heat. Beat in the butter and then the eggs, one at a time. Then stir in the Gruyere, half the parmesan, and the nutmeg. Pour the mixture on to the sheet pan and spread it out to a thickness of 1/3 inch. It will cover about half the pan. Let stand until set, about 2 hours or overnight. Cover with plastic wrap if longer than 2 hours.
3. Preheat the over to 375 degrees. Using a juice glass or wine glass, cut our 2-inch circles of the firm semolina, pick them up with a spatula, and overlap them in the baking dish. (Mine never look very even at this point, but they end up just fine.) Reserve the scraps. With the scraps, you can form oval dumplings by scooping it up in one teaspoon and shaping it with a second, then baking them in a gratin dish. Or pack the scraps into buttered ramekins and bake them later, then turn them onto a plate with a little tomato sauce, sauteed mushrooms, or surrounded by a vegetable stew. Drizzle the melted butter and scatter over the rest of the parmesan.
4. Bake until hot, bubbling, and beginning to color on top, 20 to 25 minutes. Run them under the broiler at the end until the top is golden.
Keep Reading: