San Francisco's Best Pizza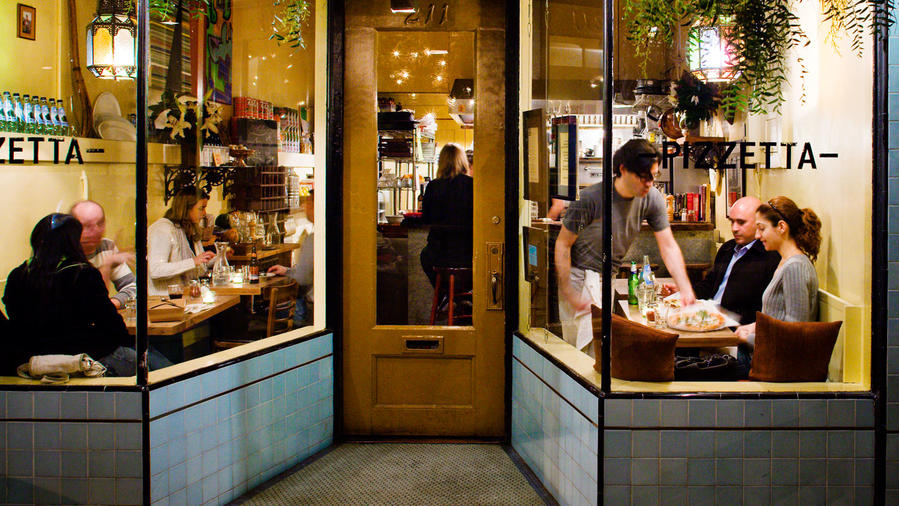 It's official: pizza is the new night out, especially in San Francisco, where hand-stretched pies have become haute cuisine. Here, our picks for the best in the Bay
1. Pizzetta 211: Best Margherita pie
What's special: This is the sweetest little restaurant in all of San Francisco, with just four wooden tables inside, a scattering of sidewalk seats, and blankets for bundling up in the fog while you wait beneath a tree strung with white lights. Pizzetta 211 has left people swooning since 1999―long before artisanal pizza was the trend that it is today.
Pie to try: That Margherita―tomato, mozzarella, and basil; adding pepperoni might bring you to tears. Get the recipe
Insider tip: Go for lunch. It's less busy. $$; cash only; 211 23rd Ave., San Francisco; 415/379-9880. –R.L.
2. Emilia's Pizzeria: New cult favorite
What's special: Chef-owner Keith Freilich has tossed dough at some of the best places, including New Jersey's beloved Grimaldi's. His new storefront-of-a-parlor has folks clamoring for his thin, stretchy crust.
Pie to try: There's only one―the oversize Margherita with mozzarella, basil, and fresh tomato sauce―followed by a shower of parmesan when it comes out of the gas oven. If you must gild the lily, choose from the brief list of toppings.
Insider tip: You have to be fast; whenever the dough runs out, Freilich closes. Check Twitter for updates. $; cash only; closed Sun–Mon; 2995 Shattuck Ave., Berkeley; 510/ 704-1794. –Jan Newberry
3. Flour + Water
What's special: This noisy new restaurant has everyone trekking to an otherwise abandoned corner of the Mission, for dough peppered with flavor from the fire, dressed with whip-fresh tomato sauce and worthy of worship.
Pie to try: The blistered radicchio with chiles and pancetta.
Insider tip: When they unlock the door at 5:30, be there to snag a chair at the bar built from reclaimed redwood. $$; 2401 Harrison St., San Francisco; 415/826-7000. –Christine Richard
4. Tony's Pizza Napoletana
What's special: Tony Gemignani is the only American winner of the World Pizza Cup in Naples, and he knows how to flaunt it. But we'll stomach the oversize menus trumpeting his awards, for the American-, Italian-, Neapolitan-, Roman-, and Sicilian-style pies coming out of his four ovens.
Pie to try: The Margherita is the house specialty. Gemignani always makes 73 a day―no more, no fewer.
Insider tip: Four words: deep-fried meatball calzone. $$; closed Mon–Tue; 1570 Stockton St., San Francisco; 415/835-9888. –Amy Machnak
5. Pizzeria Picco
What's special: Ingredients come from local farms, mozz is hand-pulled in-house, and you can get peppery arugula salad piled on any pizza. Plus, crusts are exceptionally flavorful. Mario Batali, no slouch in the pizza department, once declared Picco's the best pizza in the country.
Pie to try: The Cannondale, with homemade sausage and roasted red peppers and red onions.
Insider tip: Pick up the flash-frozen to-go pizzas and reheat them at home (order 24 hours ahead). $$; 316 Magnolia Ave., Larkspur, CA; 415/945-8900. –M.T.
6. Pizzeria Delfina: Tastiest crust
What's special: Craig Stoll elevated the pizza scene in San Francisco when he opened his first to-die-for pizzeria in 2005. Lines formed out the door for his thin-crust pies baked at 770° in a gas-fired brick oven. He opened a second location in 2008, with a third―a pop-up-style stall―slated to open this summer in Hayes Valley.
Pie to try: The broccoli rabe―a thing of blistered beauty topped with the leafy green from Star Route Farms, plus black olives, fresh mozz, caciocavallo cheese straight from Campania, and just enough red chile flakes. Get the recipe
Insider tip: If the wait is unbearable, grab a ball of dough for $3.50 and re-create the magic at home. $$; two San Francisco locations: 3611 18th St. (415/437-6800) and 2406 California St. (415/440-1189). –R.L.
7. Gialina
What's special: Chef-owner Sharon Ardiana's ethereally thin crusts adorned with local ingredients like Niman Ranch pork belly have put this neighborhood spot on the national radar.
Pie to try: Wild nettles with pancetta, aged provolone, mushrooms, and slivers of red onion.
Insider tip: Save room for dessert: cappuccino Italian ice and a salty-sweet dessert pizza, spread with Nutella. $$; 2842 Diamond St., San Francisco; 415/239-8500. –R.L.
8. Pulcinella
What's special: Over-the-top Italianness, with a Bay of Naples mural, a small band playing "O Sole Mio," flirtatious service―but with pizza cred. Owner Luigi Pucci hails from the Caputo family, makers of Italy's premium pizza flour.
Pie to try: Soft, creamy eggplant and zucchini slices fried and scattered over a crust made with that peerless flour.
Insider tip: You can actually make reservations. $$; closed Mon; 641 Vallejo St., San Francisco; 415/829-7312. –M.T.
9. Howie's Artisan Pizza
What's special: Finally, South Bay suburbanites have an artisanal pizza place they can call their own. Welcome Howie's, which opened in November with a sleek bamboo-wood interior, a gas-fired oven, puffy-edged crusts, and a commitment to local, seasonal ingredients―even a website that aims to educate.
Pie to try: The housemade pancetta, red onion, and mozzarella, spiked with red chiles. $; 855 El Camino Real, Ste. 60, Palo Alto, CA; 650/327-4992. –R.L.
10. Pizzaiolo: Best atmosphere
What's special: Pizzaiolo has been an Oakland classic since Charlie Hallowell quit the Chez Panisse kitchen to create this airy, exposed-brick restaurant. People pile in for the housemade pastas, famous meatballs― and pizzas pulled from the wood-fired oven. His new Oakland pizza spot, Boot and Shoe Shine Service ($$; closed Sun–Mon; 510/763- 2668), opened in December and is already a hit.
Pie to try: The smoky Monterey Bay squid, with slightly charred cherry tomatoes and garlicky aioli.
Insider tip: Doors open at 8 a.m. for doughnuts (cross your fingers for custard-filled with chocolate icing) and Blue Bottle Coffee. $$; closed Sun; 5008 Telegraph Ave., Oakland; 510/652-4888. –Lisa Trottier 
Keep Reading: