Team Bees' Knees reels in trout, puts up pickles, brews fancy beer, and—yes—harvests honey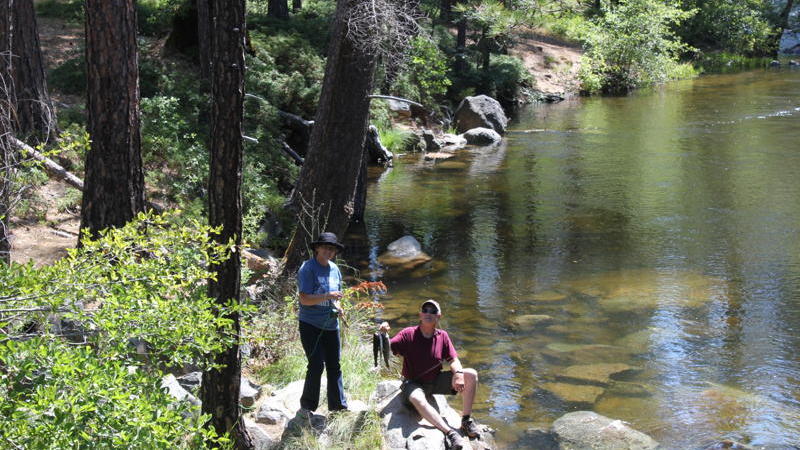 The Bees' Knees are based in Campbell, CA, a suburb of San Jose. They all like to cook and garden, and they enjoy taking on food pro...
The Bees' Knees are based in Campbell, CA, a suburb of San Jose. They all like to cook and garden, and they enjoy taking on food projects—everything from chicken-raising to mushroom hunting, brewing, cheesemaking, and especially beekeeping (hence their name). Their objective in entering our One-Block Party contest, in team leader Tina Keller's words, "is to dedicate the time to share expertise and create local, homegrown, homemade, thoughtful, crafted food." Here's what they've been up to in the past month or so.
Fishing Practice
David and Katie Arken with their freshly caught trout at San Jose Family Camp. They will be catching and smoking trout for our dinner. 
Lizanne Oliver and I tested a smoked trout soufflé recipe using just-laid chicken eggs from my hens—and it was great.
The yolks and the just-beaten whites, for the trout soufflé.
Pickle Masters at Work
Herta Hoggatt is growing Persian cucumbers, among other things, and has made some bread and butter pickles for us.  
Herta making her bread-and-butter pickles.
More Fermentation Frenzy: Kimchi

The ingredients for Nate Cartmell's kimchi (including his homemade chili paste)…
…and the kimchi itself.
Yet More Fermentation (the Drinkable Kind)
Nate also brewed us a batch of Dunkleweisen beer.  
The different types of barleys, malted and roasted, that Nate used for his beer. Left to right: Carafa; Belgian Special "B"; Briess 2 row caramel. The book in the background is Brewing Classic Styles, by champion homebrewers Jamil Zainasheff and John Palmer. (Palmer's book How to Brew is a classic guide for homebrewers—and you can access it free on his website).
Here Nate is steeping those grains, wrapped in cheesecloth,
in hot water to create the wort, the sweet liquid that will become beer.
Nate's Dunkelweizen. Look at the beautiful head of foam on that glass.
Nate describes the beer this way: "Aroma is estery [[that is, banana-like]] with a small amount of smokiness. The mouthfeel is full and malty, but not heavy. The wheat comes through in the taste and is paired with more esters and floral hints from the hallertau hops. The beer finishes clean with a nice spicy note. It's very refreshing. Despite the way it looks, it's actually very light."
A Tour of Our Gardens
Part of Stacey Smith's garden. He is growing edible flowers, herbs, and tomatoes.

Lizanne and Fred Oliver's front yard. Her grandson, Matthew Schroeder, helped us
pluck some carrots and jewel radishes. We made sautéed carrots and radishes with
fresh herbs to go along with the smoked trout soufflé.
In the Arkens' garden, melons are ripening.

Lemon and persian cucumber plants in our backyard. Our bees love the cucumber blossoms.
And Speaking of Bees…
Thomas harvesting honey. Behind him, you can see that most of our corn plants
survived the attack of chicken Clara a few months ago.  
Here's what you get when you don't space your queen excluder just right: the bees built a bunch of burr comb beneath and above the excluder.  It was quite a sticky mess.  
We leave you at our tomato bed, with the chickens (even Clara, in front) behaving themselves.
By Tina Keller, Team Leader
Posted and edited by Margo True, Sunset Food Editor
Keep Reading: