Team Organic Donors produces its first edible gifts for charity, ferments vinegar, and bravely brews batch after batch of beer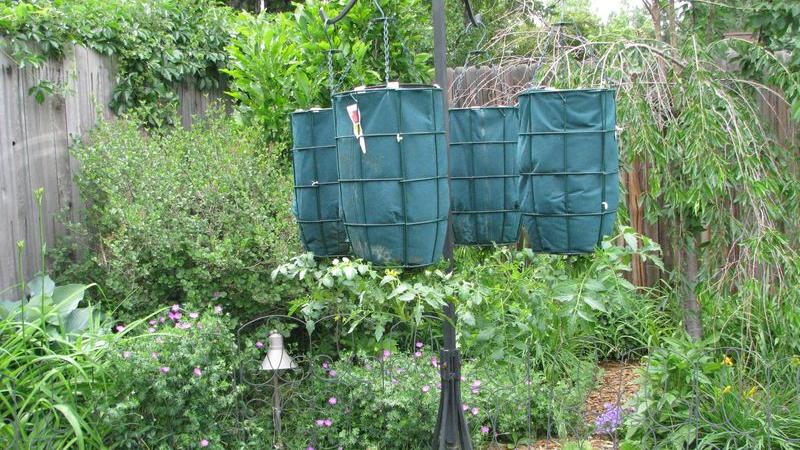 Organic Donors, so named because the team's dream is to grow enough food to donate to food banks, is based in Aurora, near Denver. At 5,680...
Organic Donors, so named because the team's dream is to grow enough food to donate to food banks, is based in Aurora, near Denver. At 5,680 feet above sea level, its elevation poses challenges not faced by any of the other teams in this One-Block Party contest—including subzero weather this summer! Among its many members are cheesemakers, beekeepers, vinegar-brewers and chicken-raisers. What follows below is the team's July update; tomorrow we'll post their final pre-party account, from late August.

Happy upside-down tomatoes (photo: Mary Walsh)
So much for our semi-arid climate. For weeks we had almost daily downpours that flooded the streets but saved us from having to water the gardens.
This week the dry heat arrived, and the plants seem very happy. Two tomato plants growing in containers are looking superb, with many tomato fruits set on and ongoing flowers.  The zucchini have also been flowering and there are fruit setting on there as well.
We have quite a few spaghetti squash forming, and even a few fruit on the butternut and heirloom "pink banana" squash. The pumpkin plants have really taken off and have finally been trained over the edge of their planter to grow into the rocky corner of the garden.
However, we may need a plan B for the raspberries. The bush is huge, had a ton of flowers, but so far just two tiny berries. We have our fingers crossed, but we may pick some berries at a local organic farm just in case.

Lonely, tiny rasbperry. (photo: Jon and Laura Kukic)
We might need to use our backup plan for watermelon, too. So far, we have one small watermelon forming. I'm no longer sure if it is the yellow watermelon or the super sweet red one. Both vines are from seeds we saved from amazing heirloom melons we ate last year. I'm holding out hope for more melons; however, the Kukic family attends a church with a community garden, and Laura Kukic told me they have watermelon growing there if we need it.
And what's up with these apples? (photo: Jon and Laura Kukic)
The apple tree is iffy. While the fruit looks good, many of the apples have simply fallen off the tree. We aren't sure what's causing that.
One family in our team, the Votodians, built their first vegetable garden this year, and Katie Votodian reports that her biggest challenge is knowing when to harvest. She says, "Expecting that my broccoli head would become full and nearly spherical like the ones at the grocery store, I waited to harvest it—only to discover that the broccoli had begun to flower. The flavor was not very appealing. I harvested my first head of cauliflower too late also. The white had begun to get the black look of cauliflower that is going bad. I attribute this mostly to the fact that I had a hard time getting the leaves to securely cover the head (the blanching process). Hopefully I'll be able to keep a closer eye on the other heads of cauliflower and harvest them more appropriately so we can enjoy eating them."
We Grow Enough to Give

 
July brought our teams' first produce donation—a pound and a half of lettuce to a local emergency assistance organization that provides food, rent assistance, and other services to people in need. The staff there were very excited to be able to distribute fresh produce to their clients. We expect to return with squash and chard soon.

Claire Staton prepping the lettuce donation.
(Photo: Elizabeth Staton)
Our donation in progress. (Photo: Elizabeth Staton)
Report from the vinegar front
Pasteurizing the vinegar. Yes, that's a
hot plate. (Photo: Elizabeth Staton)
Good news on the vinegar: It is indeed red wine vinegar. Bad news: There isn't much. We pasteurized it (keeping it at 155° for 30 minutes) and then bottled it. To our dismay, about a third of it ran onto the counter through a mysterious hole somewhere in the bottle. That fiasco, combined with the passive evaporation and whatever went into the air as it was pasteurized, left us with about a pint and a quarter of red wine vinegar. Disappointing yield, but good stuff—it was excellent in salad dressing, and we're looking forward to tasting in on a simple cucumber and dill salad. We may be able to dilute it a bit, too.
We still had the mother left in the fermenting crock, so we fed it more wine. This time we added a 2009 Cabernet Franc from Garfield Estates, a winery on the Western Slope of Colorado. I'm hoping I didn't wait too long to feed the bacteria. We'll see if we have more vinegar in a few weeks.
Our newest project is fizzing in the basement
And lastly, we've added a new food project: beer! All this super-local food production inspired our team to brew their first gallons of beer. They selected an IPA, and as of mid-July, fermentation is underway. We're excited to see how it comes out. It should be ready by the time we gather for our One-Block Party.  
[youtube=
] 
 Two previously under-involved team members get their brew on.  
[youtube=
] 
 Beermaking, take two.
[youtube=
] 
Beer appears to have been made!
By Elizabeth Staton, Team Leader
Posted and edited by Margo True, Sunset Food Editor
Keep Reading: