Team No Gardeners Left Behind dries umpteen apricots and makes orange marmalade, strawberry Meyer lemon jam, and peach preserves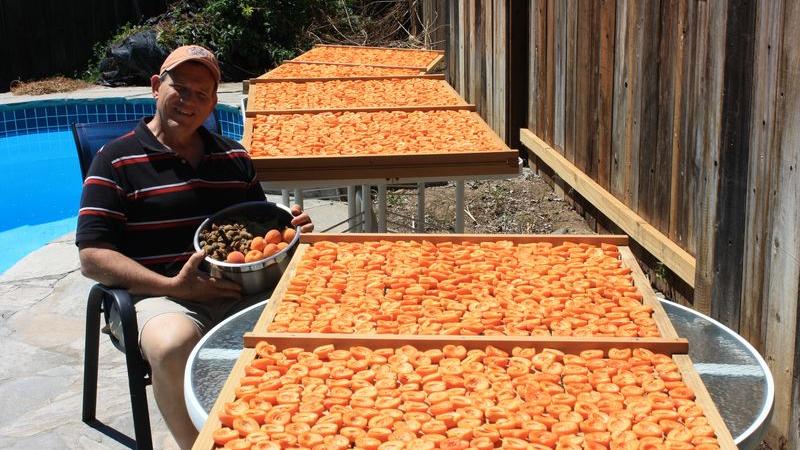 In California's Central Valley ag country, No Gardeners Left Behind-a group of teachers at Yolo Middle School, in Newman-have…
In California's Central Valley ag country, No Gardeners Left Behind—a group of teachers at Yolo Middle School, in Newman—have combined forces to enter our One-Block Party Contest. They're growing vegetables, herbs, and fruits in their collective gardens, raising chickens for eggs, and learning from one another all summer long—veteran gardeners are teaching novices. They're getting students involved, too. And if they win, they've decided to donate the $500 to a deserving student group  in what team leader Karen March calls "a satisfying pay-it-forward gesture."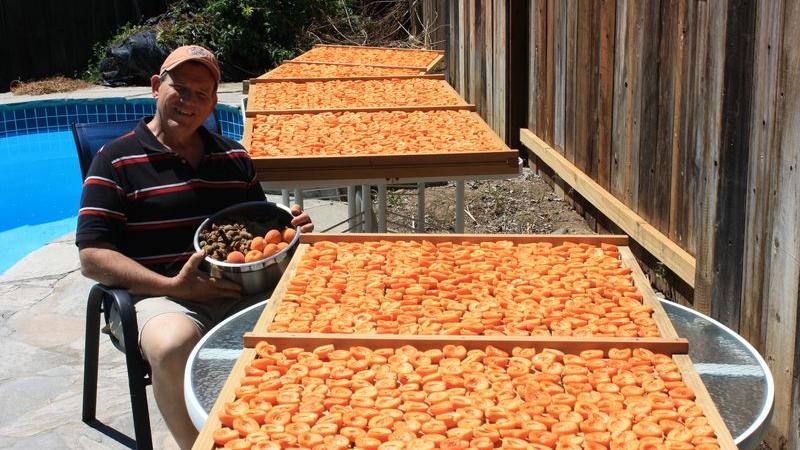 John Paiva and flats of drying Westley apricots, which he hand-picked and hand-pitted.
No Gardeners Left Behind finally have some produce to show for their efforts. John just finished teaching summer school and got busy drying apricots. He lives up the road in Patterson, which bills itself as the apricot capital of the world. From these beautiful 'cots—grown by his sister and brother-in-law, who live in Patterson too—you can see why!  
His sister and brother-in-law grow three varieties, but John always dries the Westley apricot, because it has what he describes as "a tropical flavor like no other… [a blend] of kiwi and pineapple and sometimes even mango." The apricots you see here represent about 120 pounds of fresh fruit. John does not sulfur the fruit.  He stores his dried apricots in the freezer.
One of his plans is to try making apricot wine with 45 pounds of these Westleys, some sugar, some yeast, and a few other ingredients.  After a month, he expects 15 gallons of very dry wine.  Two months later he will filter and bottle the wine then wait for a year to drink it.  Sadly it won't be ready for our feast. But there will still be plenty left for us to play with.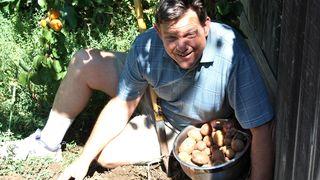 John with his potatoes.
John also recently harvested his potatoes and plans to make sourdough potato-onion bread! John frequently shares his homemade bread with the Yolo staff and it is awesome.
Here is his exact step-by-step process:
Potato-onion bread, part 1: Making and kneading the dough
Part 2: Letting it rise nice and slow
Part 3: Shaping the loaves; the second rise.
Back to the Garden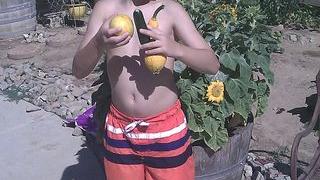 Cheryl's grandson with a lemon cucumber, a zucchini,
and yellow crockneck squash
Cheryl's grandson proudly shows off the fruits of labor at his grandparents' house. He enjoys harvesting, and he planted the sunflowers as well.
As for me, I've been busy in the kitchen making orange marmalade with the last of my oranges, strawberry meyer lemon jam (using the OneBlockDiet.com recipe that was posted a bit ago), and most recently peach pie preserves made from peaches from our school orchard. (We have apple and plum trees at school too.)
Top to bottom: Orange marmalade, strawberry meyer lemon jam, and peach preserves.
Keep growing!
By Karen March, Team Leader
Posted and edited by Margo True, Sunset Food Editor
Keep Reading: