Team Dances With Legumes: a pregnant cow, searching for lamb, outwitting chickens, harvesting honey, and gardens that give and give—despite the weather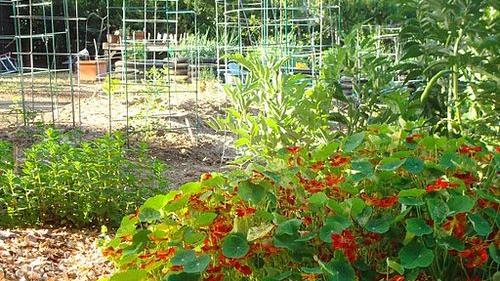 Team Dances With Legumes, based on the San Francisco peninsula, came together long before this One-Block Party contest ever began—...
Team Dances With Legumes, based on the San Francisco peninsula, came together long before this One-Block Party contest ever began—back in the fall of 2008. Inspired by Sunset's August 2008 story about our magazine's efforts to grow an end-of-summer dinner, team leader Maryanne Welton and her friends and neighbors decided they'd launch their own series of grown-from-scratch dinners. For years now, this group of about two dozen people (kids included) have been getting together for regular seasonal feasts, using mainly what they've raised or made. This post covers the team's activities from mid-May through mid-June.

Behind the nasturtiums, cages waiting for tomatoes to fill them up.

 
Will summer ever start? While all us gardeners in the Bay Area have been grateful for the late spring rains, we'd happily embrace them if there was just a bit more sunshine and warmth interspersed between the showers. And if we must have gray clouds for days on end, couldn't it at least be a little bit warmer?
Then I remember: We only see snow occasionally up on the highest ridges, the hills stayed vibrant green longer than normal, the wildflowers were spectacular, and at least we can dig up our garden plots and plant. There are many reasons we live here—and the just-about-ideal year-round weather is one of those reasons.
Lucy the cow
The mother-to-be.

 
Our gardens may be slow, but we're all busy on the animal management front. The Jensens have confirmed that yes, Lucy is pregnant—check out the photo of her bulging belly.  She's dried up now so she's no longer producing milk or cream, but look how happy she is out there in her field of fresh green grass. Her due date is a week before our One-Block harvest dinner, so we can probably count on colostrum pudding. Luckily, Lisa Herndon and her family have a goat herd-share at a small farm in San Jose, so we'll have raw goat milk for our butter, cheese, and ice cream.
The quest for meat
As for the lamb, my connection fell through and everyone kept questioning how I was going to actually raise a lamb (which has to be one of the cutest animal babies ever!) and then butcher and eat it. I'm still trying to find a farmer to buy a lamb from.
In the meantime, we're planning a fishing expedition, and the Jensens have offered some of the meat from last year's calf. I have a bi-monthly chicken share from a Santa Cruz farm that pastures its chickens, so I may use one or two for our feast.
Beans and salt 
Lisa and her children came over to cut down some bamboo from our yard. They dragged it around the block to their garden and made teepees for beans, which are now happily winding their way skyward.
Lisa has plans to ferment cucumbers and beans for our harvest dinner. She'll need salt, so we're planning a group beach excursion to harvest salt again. Producing salt from the ocean in small batches has an incredibly large carbon footprint—and it really only tastes like salt—but we're trying to make as many of the ingredients as we can for our harvest dinner.
The joy of honey
Kirk searches for the queen.
My husband, Kirk, and I took a beekeeping workshop and went into our hives last weekend to test for varroa mites, which introduce viruses that contribute to declining and dying hives. Out of our four hives, one has lost its queen. We combined it with another one, so now we're down to three hives. We extracted our first spring honey flow, and it is completely different in color and flavor than our summer poppy honey, much more delicate and refined.  I figure it will work better for flavoring honey lemon ice cream – make that honey lemon goat milk ice cream!  
A tour of our gardens 
Julie's gorgeous 'Forellenschluss' lettuce.
One of the benefits of being a team is visiting each other's gardens and seeing what everyone's up to. 
Gwyn is busy getting her extensive gardens ready for a local edible gardens tour. With her prolific green thumb, she's filled not only just about every square foot of her property, but nurtured the strip of previously barren ground at the curb and turned a long-neglected traffic roundabout in the street into a patch of full-blown food production. Right now she's harvesting chayote, cactus petals, and a bumper crop of blueberries. 
Gwyn's house and garden(s) as seen from the street.
Gwyn has chickens, geese and ducks, too, and has started raising a rabbit. Whether they end up in the pot for the harvest dinner remains to be seen. She says she's trying to figure out how to get rid of all their poop—there's only so much the compost pile can take.  If anyone wants some, she has plenty to share.
Nancy, despite her sprained ankle, is producing and enjoying horseradish and potatoes. And the Vanderlips have planted their garden with seeds they'd saved from previous harvests, and are thrilled that after 13 years of gardening, they've finally found the sweet spot.
 Tay Vanderlip's squash blossoms.
Here's what Tay just did with her squash blossoms:
"I mixed ricotta, egg, butter, parmesan, flour, and salt together, fill the blossoms (after finding all bugs), and poached them. Pretty good!"
She's also been fending off her chickens from eating the eggs of the family duck, Isabel. So she's strategically planted wooden duck eggs painted white to see if she can make the chickens think Isabel's eggs are not for eating.
Isabel, a khaki campbell. We're hoping the egg decoy works.
Julie's community garden plot is finally starting to take off – she has a couple of tomatoes fruited, beautiful lettuce, and some walking kale. We went to gather mustard seeds one day to make mustard for our one-block feast, but the seed pods hadn't fully formed. We're hoping this recent warm weather finally pushes them over the hump.

Julie and mustard flowers, which we gathered instead of seeds—
just for bouquets.
At last month's dinner at the Lerch's, there was some definite chicken-coop and raised-bed envy stirred up (John is a contractor, and his beds are absolutely gopher-proof). They've added two new chicks to their brood—Sasha and Malia—and some of the older ones wrought havoc in the vegetable garden.  
   Gopher-proof beds at the Lerch's.
In our garden, potato towers are going gangbusters. Sometimes the vines grow over a foot a week. The sunflowers (which we hope to press into oil) and the quinoa are about to bloom, and the wheat is starting to turn golden.
Wheat ripening and sunflowers on the verge of blooming.
One of our chickens got loose and took a dirt bath in the middle of the squash patch and mashed several of my carefully nurtured seedlings. Our group saves and shares seeds, and I had been looking forward to one labeled simply "the best melon ever."  
Edible gardening = happiness
We're harvesting cherries, blackberries, strawberries, and raspberries right now. There is nothing quite like picking sun-warmed berries and eating them in the heart of the garden with the sound of the bees buzzing and the chickens clucking! 
Blackberries, poppies, and peacefully humming hives.
By Maryanne Welton, Team Leader
Posted and edited by Margo True, Sunset Food Editor
Keep Reading: