Schwenking is for Swingers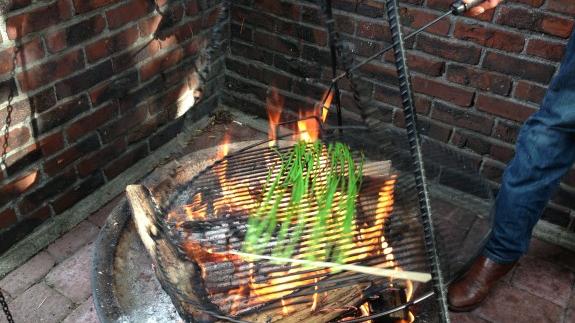 You're an open-minded person. But are you ready to try schwenking?
You're an open-minded person. Are you ready to try schwenking?
The schwenker (or schwenk) is a portable, swinging grill for cooking meat, chives, or what have you over a live fire. A schwenk meister raises and lowers the grill from its tripod using a pulley system to get the food at just the right distance from the heat.
Portlanders have been embracing this German-style grilling technique in a series of summer dinners hosted by local restaurants and Barnaby and Olga Tuttle, owners of Teutonic Wine Company.
The Tuttles first discovered the schwenker on a wine-buying trip to the Mosel Valley, where cooks marinate meat 3 days with chopped onions and often, Riesling, then grill it. The couple were so taken with schwenking they decided to create their own grills and take them on tour in Portland.
Each restaurant creates a special schwenk dish and pairs it with Riesling. And there's still time to join in the fun: schwenkpdx.com
Photos by Olga Tuttle, Teutonic Wine Company
Keep Reading: