When stomping and pressing grapes, purple reigns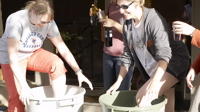 By Erika Ehmsen, Sunset copy chief Winemaking is a full-body experience. Sure, the nose knows a good bouquet (at least wine edito...
By Erika Ehmsen, Sunset copy chief
Winemaking is a full-body experience. Sure, the nose knows a good bouquet (at least wine editor Sara Schneider's does). And swishing and swirling wine across your palate definitely makes the mouth feel good.
But for weeks, I've been sporting purple tattoos from my own contact with the grapes. With all the Willy Wonka–like crushing and pressing equipment around and my purplish feet and hands, I've been feeling a bit like Violet Beauregarde ("Violet, you're turning violet, Violet!"). Red wine definitely stains more than clothes.
When we brought in our quarter-ton of Syrah grapes, most of our coworkers didn't think food editor (and One-Block Diet doyenne) Margo True and I would seriously jump in and get stomping. Neither of us had really thought through the logistics of what we'd stomp in (functional and clean but not Italian-villa-glamorous trashcans) or how we'd clean up afterward (an icy-cold jet of water from a sadistic garden hose). We just kicked off our shoes, donned shorts and grins, and clambered over the cans' wobbly plastic sides into whole clusters of grapes piled 2 feet deep.
At first I just stood there, letting the sensations (and my feet) sink in: gently prickly stems and firm, round berries that silently popped and released cool juice as gravity pulled me into them.
Trying to wriggle my feet loose and start stomping in earnest, I lost my balance and grabbed hold of the top of the trashcan, which threatened to buckle (and since we'd borrowed most of our equipment from home winemaker Dan Brenzel, I had his teasing "You break it, you buy it" warning echoing in my head).
I realized that I was going to have to jog in place while remaining as upright as possible, which, now that I think about it, is a bit like using our gym's stair climber without the benefit of my hands. Oof.
I tried to be methodical about stomping every berry that I could discern, but then researcher (and Team Chicken member) Elizabeth Jardina prodded, "You do realize that Margo's lapping you, right?" and I got competitive, kicking my legs into overdrive and asking Elizabeth to dump more grapes on my feet. (I got in touch with my abs too: I couldn't stop laughing the whole time, and I felt it the next morning.)
It was quite the workout, and I resembled a giant bouffant of cotton candy afterward, but that fuzzy stickiness came out of my fleece jacket, and the splashes of purple juice washed off my legs, leaving me with what looked like bruised soles—the trademark tattoo of pressed grape skins, coloring me like they would our wine in the weeks to come.
They got me again when we pressed our wine, taking it off its cap of skins. After many round-trips on the bucket brigade (not as messy as it sounds—we were careful not to slosh our precious Syrah), I paused for a few sips from the press's spigot. I wanted to compare the gravity-fed "free run" wine to the "press run" that Dan had coaxed the cap into releasing; he accomplished this by using a garden hose to inflate his basket press's hot-water-bottle-like bladder to a fairly gentle 15 psi. (Verdict: The free run was jammy boysenberry, but the press run's more vegetal quality made me pucker—we may want to add oak to that batch.)
Then photo style coordinator (and Team Wine sanitation guru) Sara Jamison and I dug into the cap, now packed tightly against the walls of the press, plopping huge handfuls into still more of Dan's buckets so he could use our "pumice" (the pressed-dry skins and seeds and, admittedly, a few stems) to press off the red he has going in his garage.
Sara J. was smart enough to slip on gloves, but I hadn't learned my lesson. When my bare hands emerged from scraping the last bits off the press, they were royal purple. And again remained lavender-tinged for weeks, despite quite a few scrubbings.
Ah well, que Syrah Syrah.
Keep Reading: