Lebkuchen: A make-ahead gingerbread cookie that stays chewy for weeks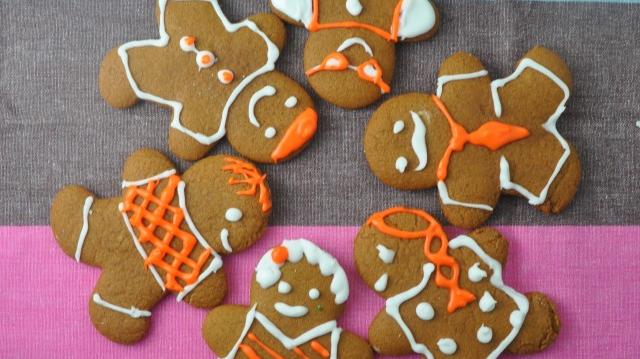 Rich with cinnamon, ginger, and molasses, Lebkuchen cookies keep for weeks and improve with age, letting you do holiday baking early.
It's not holiday baking without a heavy dose of cinnamon, ginger, and molasses, classic flavors that really get you into that festive spirit. Our cookie-baking list almost always includes crisp gingersnaps; soft, cakey gingerbread; and these traditional German Lebkuchen. This particular recipe is from the great aunt of one of Stacie's childhood friends. Baking them has been a treasured holiday tradition for many generations of her family—and now it's a tradition for both of ours.
What's especially wonderful about Lebkuchen is that it actually improves with age, which makes it a great choice for kicking off your holiday baking well before the busiest weeks of the holidays. The old German technique for Lebkuchen is actually to age the dough before baking, to allow the flavors to develop. Store dough in an airtight container in the refrigerator for several days—or several weeks if you can plan ahead.
We also recommend letting the cookies age after baking, for at least a few days. The flavor of these cookies continues to improve, and the texture becomes wonderfully chewy after a bit of time in the tin. Just tuck in an apple slice when you store them to help keep them soft.
These cookies keep for up to 6 weeks—even 8 weeks. Make them in December, and you can enjoy them into the new year.
---
Lebkuchen cookiesMakes about 2-3 dozen medium-size gingerbread people
Ingredients
1/3 cup honey
1/3 cup molasses
2/3 cup brown sugar
1 egg, lightly beaten
1 tsp. finely grated lemon zest (optional)
1/3 cup finely chopped candied ginger (or candied citron peel)
1 tsp. baking soda dissolved in 1 tsp. white distilled vinegar
1/3 cup finely ground almonds
2 2/3 cups flour
1 tsp. cinnamon
1 tsp. ground ginger
1/2 tsp. cloves
1/2 tsp. finely ground black pepper
1/2 tsp. allspice
1/8 tsp. nutmeg
1/4 tsp. salt
In a bowl of a stand mixer, add the honey, molasses, brown sugar, egg, lemon zest, candied ginger, and baking soda–vinegar mixture. Stir all ingredients to combine well.
In a separate bowl, add the dry ingredients: ground almonds, flour, cinnamon, ginger, cloves, pepper, allspice, nutmeg, and salt. Stir all ingredients to combine well.
Using the paddle attachment and the lowest speed setting on your mixer, add the dry ingredients to the honey-molasses mixture a half-cup at a time. Mix until the dough comes together in a ball. The dough will be sticky.
Form the dough into 2 discs. Wrap each disc in plastic wrap and refrigerate overnight or up to several weeks.
When ready to bake, preheat oven to 300°. Line several cookie sheets with parchment paper and set aside.
Lightly flour your work surface and rolling pin. Working with one disc at a time, roll dough out to 1/8 in. to 1/4 in. thick. Dough will be sticky, so dust more flour on the dough and your work surface as needed—but try to use as little as you can.
Cut shapes with cookie cutters and place on parchment-lined cookie sheets. Re-roll scraps, adding more flour to your work surface as needed.
Use a pastry brush to dust off any excess flour on the surface of the cookies before baking. Bake 10 minutes, rotating cookie sheets halfway through baking.
Cool cookies on a wire rack, then move to an airtight tin and store for up to 6 to 8 weeks. If desired, you can decorate the cookies with your favorite royal icing after baking; just make sure to let the icing dry completely before storing them. To help keep the cookies moist, tuck in an apple slice when you store them. (Replace with a new apple slice as needed.)
Keep Reading: