How to Grow & Cook with Rau Ram (Vietnamese Coriander)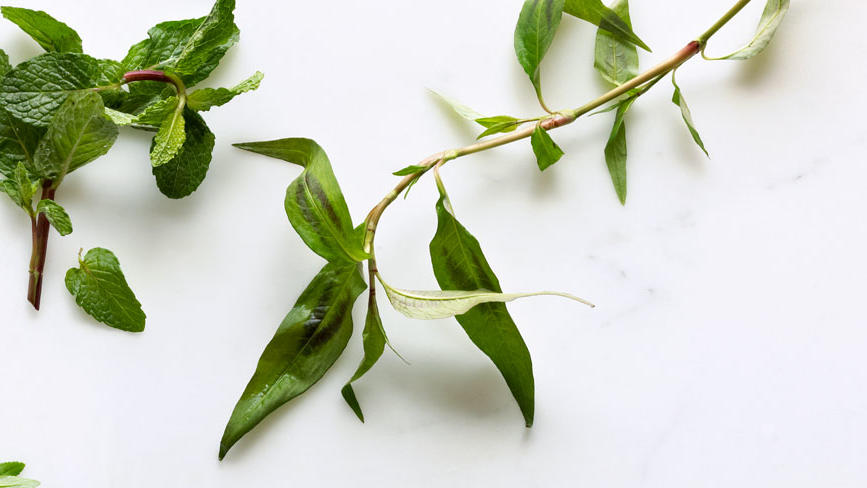 Photo by Annabelle Breakey
Liven up your garden with this hard-to-find (but easy-to-grow) Asian herb
Rau Ram in Your Garden
Also known as Vietnamese cilantro or Vietnamese coriander, rau ram makes an unusual, and pretty, addition to your herb garden. (Its bright green leaves have maroon "inkblots.") The plant is a perennial in warm, frost-free regions; buy organic seedlings from Mountain Valley Growers (mountainvalleygrowers.com).
Plant
Grow Vietnamese coriander seedlings in full or filtered sun (and afternoon shade where possible) in a large pot or in the ground. Rau ram grows fast—one plant may be all you need.
Care
Rau ram is thirsty, so keep the soil moist. If the plant stops producing new leaves in midseason, cut it back almost to the base to promote new growth. If it's growing in a container, you might need to repot it into a bigger one—or divide it and replant in the same pot—a couple of times a season.
Rau Ram in Your Kitchen
Similar in flavor to cilantro that has bolted, rau ram has a slightly peppery, aromatic, almost soapy taste. It's best when served with other strongly flavored foods, especially Southeast Asian ones.
Harvest
Pull young leaves from stems, rinse, and dry in a salad spinner. Store clean leaves, layered between slightly damp paper towels, in an unsealed plastic bag. Soak any wilted leaves in ice water briefly to refresh them.
Recipes 
Try the delicious Red Curry Fish Stew with Rau Ram (pictured above). The savory stew only takes 30 minutes to prepare and can be customized to the level of spice you prefer.
3 More Easy Ideas for Cooking with Rau Ram
Omelet: Sauté Vietnamese cilantro leaves with chopped green onion, garlic, and shelled cooked crab in a little butter. Fill an omelet with crab mixture and a few dollops of cream cheese.
Salad: Mix fish sauce, lime juice, vegetable oil, and sugar. Pour over chopped cabbage, rau ram leaves, carrot ribbons, chopped green onion, sliced serrano chile, and shredded chicken.
Sandwich: Fill a slit baguette with cold roasted pork, sliced red onion, rau ram leaves, cilantro sprigs, and a drizzle of hoisin sauce.
Keep Reading: