Where to Find Delicious Indian Street Food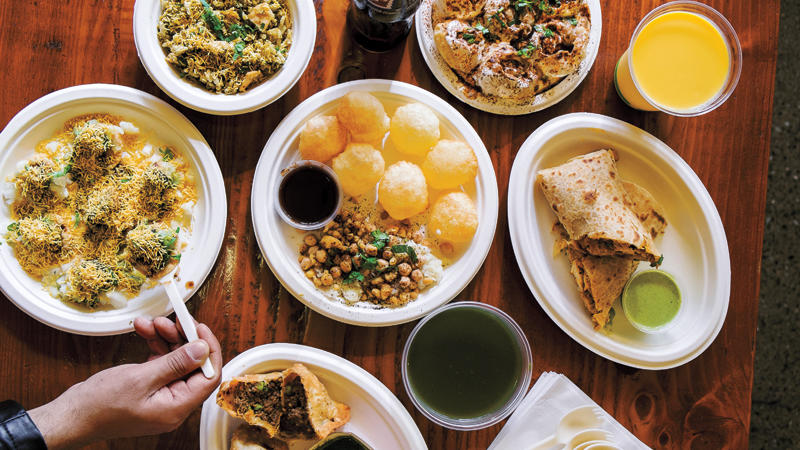 Although you can find street snacks at many restaurants in the West, not all are good. These are reliably excellent places—some are traditionally Indian; some take a fresh, modern approach.
Chicken tikka masala is delightful, but Indian street snacks—especially the fried-dough type called chaat, drizzled with chutneys, yogurt, and spices—take you to a world beyond curry. As I was researching our May 2014 story about Indian street food, I ate snacks galore. Their appeal? Nakul Mahendro, co-owner of Badmaash restaurant in LA, describes it well: "A good chaat will have a few textures: crunchy, creamy, starchy. It will have savoriness, an herbal pop from the mint chutney, sweetness from the tamarind one, and give you a cooling sensation. It's like an Indian 5-Hour Energy shot."
Although you can find street snacks at many restaurants in the West, not all are good. The ones that follow are reliably excellent. Some are traditional; some, identified with an asterisk, take a fresh, modern approach—either in the décor or the kitchen or both.
Los Angeles
Badmaash* Owned by Nakul Mahendro, his brother Arjun, and his father, Pawan (who is also the chef), this sleek spot offers sassy, tasty twists on Indian street food (like chicken tikka poutine and the two-bite fried fish), a great local beer list, and Bollywood vintage films flickering on the wall. $$; 108 W. Second St.
Bollywood Bites It's more than a little over-the-top—the entry is plastered with photos of owner Sanjay Patel and the various stars he's catered for, and the website proclaims that Patel "inspires with culinary masterpieces." But the chicken Frankie wrap, awash in a mildly spicy tomato-cream sauce, and the convenient location just down the street from UCLA make this a fine place for a quick snack. $$; 1051 Gayley Ave.
Jay Bharat A much-loved purveyor of sweets and street-food snacks since 1988, Jay Bharat offers some unusual specialties, like patra (taro leaves layered with spiced chickpea-flour batter), as well as all the delightful usual suspects like samosas. $; 18701 Pioneer Blvd., Artesia (and in the San Francisco Bay Area at 39203 Cedar Blvd., Newark).
San Diego
Surati Farsan Mart Deep in a vibrant Indian neighborhood with a Hindu temple next door, Surati Farsan Mart was founded in 1986 by a Gujarati family and does a booming online business in sweets and snacks. Although its main location is in Los Angeles, this branch—with its tender khaman dhokla (steamed chickpea-flour squares, seasoned with black mustard and sesame seeds)—is the best place for street snacks in the San Diego area. $; 9494 Black Mountain Rd.
San Francisco Bay Area
Amber Café Indian Bits 'n' Bites The most casual outpost of the Amber India restaurant group, its menu lists a dizzying, tantalizing array of street snacks from all over the subcontinent. Try the succulent Bombay Lamb Frankie—like a slender burrito—or the pav bhaji, a thick, mild vegetable stew with a buttered bun for scooping. $; 600 W. El Camino Real, Mountain View.
Chaat Bhavan Spacious and family friendly, this vegetarian restaurant has an extensive menu of snacks—marked with symbols for vegan, gluten free, and Jain (Jains follow a particularly rigorous form of vegetarianism). The samosas are shatter-crisp and utterly delicious, as is the vada pav (fried potato patty on buttered bun). $; 5355 Mowry Ave., Fremont.
Curry Up Now* Akash Kapoor and his wife, Rana, inspired by the Korean taco phenomenon, invented their own cross-cultural smash hit: the chicken tikka masala burrito, sold from trucks. Now the Kapoors have a mini empire built on Indian-Mexican fusion fun: seven trucks, three restaurants, and a bar. $; curryupnow.com for locations.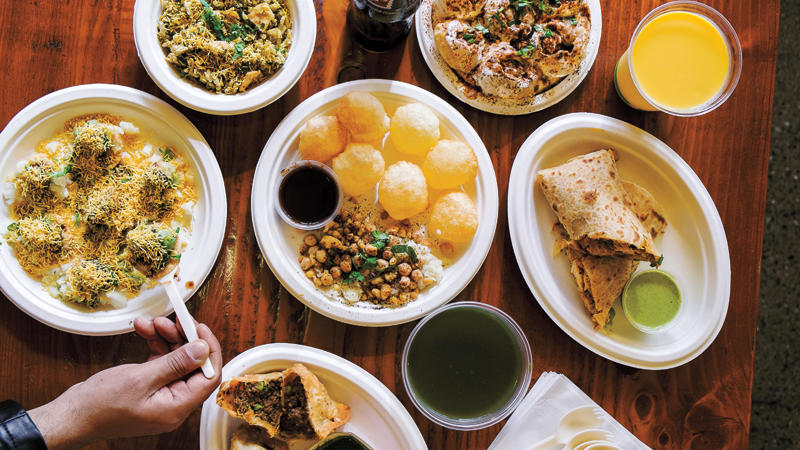 Vik's Chaat Corner* Legendary in Berkeley for its devotion to authentic Indian street food, Vik's newest building—light, bright, and palpably eco-friendly—makes it even more approachable. Don't miss the superb samosas or the pani puri. $; 2390 Fourth St., Berkeley. Portland
Bollywood Theater* Every aspect of the place evokes chef-owner Troy MacLarty's poetic vision of India: chaotic, colorful, enduring, and so layered that you almost don't notice the Indian movies playing near the entry. MacLarty's fresh renditions of classic snacks are made with such skill and care that they often surpass the originals. His Kathi roll deserves the adulation it's received, but don't skip the papri chaat, a crunchy, tangy layered snack based on homemade wheat crackers. $$; 2039 N.E. Alberta St. and 3010 S.E. Division St.
Can't get to these restaurants? Try your hand at one of their specialties at home: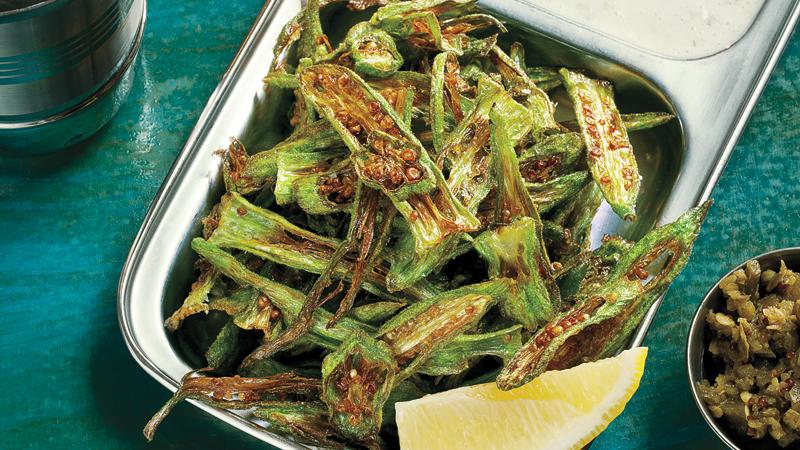 Crisp Chile-Lime Okra from Portland's Bollywood Theater
Lamb Samosas from Vik's Chaat Corner, in Berkeley, these pastries have a crisp, thin crust and a spicy lamb filling (keema) mixed with a few sweet peas. They're served with hot cilantro-mint chutney.
VIDEO: Margo True, Sunset Food Editor, shows you how to perfectly shape samosas before frying.
Cilantro Mint Chutney at Vik's Chaat Corner, this zingy chutney offsets the deep-fried richness of the samosas. Seed the chiles if you'd like it less hot, and add the yogurt for a more mellow flavor.
Crispy Indian-style Fried Okra at Bollywood Theater in Portland, Troy MacClarty fries thin slices of okra to crisp wisps, tosses them in a tangy-spicy salt and serves them with refreshing raita (spiced yogurt; recipe follows). You'll need a food processor with a slicing disk, or a handheld slicer such as a Benriner. It's also helpful to have a fine-meshed metal skimmer for frying.
Double Cucumber Raita (Spiced Yogurt)MacClarty serves this creamy raita with fried okra, but it's a delicious accompaniment to nearly any Indian meal. To approximate the milder flavor of yogurt in India, he drains yogurt overnight, but you can skip this step if you're in a hurry.
Black Cardamom Beef Sliders (Holy Cow Pav) at her now-closed Juhu Beach Club in Oakland, California, chef Preeti Mistry braised short ribs for hours with cardamom, ginger, chiles, and other spices, then sandwiches it on a buttered bun with spiced yogurt (raita). If you like more of a kick, add extra minced chile to the meat and sauce in step 7 and simmer briefly. You'll need a spice grinder or clean coffee grinder for grinding the cardamom and fennel.
Chai (Spiced Indian-style Tea) from Badmaash restaurant in Los Angeles, this aromatic tea, called "cutting chai" in India, is served in small glasses because it's so strong ("cutting" is the transliteration of the Hindi word for "half"). The black cardamom gives it a smoky, earthy flavor; we recommend starting with the lower amount.
---
Read the 2021 Harvest Issue Right Here
Get one year of Sunset—and all kinds of bonuses—for just $24.95. Subscribe now!
Keep Reading: