Gluten-Free Vegan Banana Chocolate Muffins from Huckleberry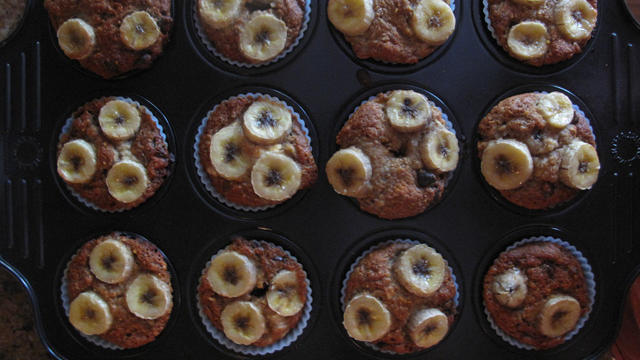 With this recipe, Associate Art Director Soni Obinger—ardent lover of dairy, mother to a baby who is not—took a stab at gluten-free v...
With this recipe, Associate Art Director Soni Obinger—ardent lover of dairy, mother to a baby who is not—took a stab at gluten-free vegan baking.
Why this recipe? I'm the furthest thing from a gluten-free vegan, which makes my choice so out of the blue for those who know me. The recipes in this book were so tempting, from Chocolate Chocolate Teacake to the Brussel Sprouts and Bacon Frittata.But, alas, my 6 month-old daughter is quite sensitive to what I eat and unfortunately for this cheese lover, I've had to give up dairy (along with limiting eggs and soy) while nursing her. Which leads me to this recipe—one of the two vegan recipes in this cookbook that happens to also be gluten-free.
What was it like to make it? It was fun and easy to actually make it, but the process of buying six different types of flours/starches/meals was a bit tedious. I was at the local Whole Foods in front of their bulk bins measuring out the flours for about 20 minutes. I decided to use the bulk bins because I don't really need to have a ton of random flours around the house, but unfortunately I couldn't find potato starch in bulk, so now I have 16 ounces of it. The recipe was standard—mix dry, mix wet, combine—which is nice to be able to do when you have a crying child in the next room!
How did it turn out? The muffins tasted really yummy—a bit on the sweet side—but it was hard to get them out of the muffin tins because they were quite mushy and the texture was not appetizing. After talking with Margo, our food editor, I realized what I had done wrong! I was following the weight measurements on the flours and thought there was a typo, so I adjusted the amount of oat flour to what I thought was correct, but that was my mistake! Also, I was using the convection setting rather than the regular bake setting on my oven, which probably had something to do with the mushiness as well, since it cooks food faster on the outside (although I will say that I did adjust the time based on everything that the Internet says about using a convection oven). I wanted to leave them in longer to get rid of the mushiness, but I didn't want them to burn on the top! Also, I ended up with 15 muffins rather than 12 for some reason.
Will I make it again? I may take another stab at it with the correct measurements of flour, but I think that buying all the flours again would be super tedious. And since I'm not gluten-free, it's not a huge deal to me to make a different recipe that uses all-purpose flour. But once I start eating dairy and eggs again, I can't wait to try some of the other recipes in this cookbook!
---
GLUTEN-FREE VEGAN BANANA CHOCOLATE MUFFINS
Makes 12 muffins
"There is nothing I hate more than a gummy pastry," writes Zoe Nathan. "For that reason, I don't like most gluten-free pastries out there, and I find it especially challenging to find a delicious gluten-free and vegan pastry. But once I realized you don't have to use xantham gum to make one of those said pastries hold together, I got hooked on the challenge of making this stuff actually taste good. This was the first gluten-free and vegan recipe I made that I really liked. And honestly, sometimes I prefer it to the white flour, butter-heavy devils I usually make."
Ingredients:
1 cup + 2 tbsp. (140 g.) Huckleberry Gluten-Free Flour Mix (recipe below)
6 tbsp. (35 g.) almond flour
2 tsp. baking powder
2 tsp. baking soda
¾ tsp. kosher salt
½ tsp. cinnamon
3 tbsp. flax seed meal
6 tbsp. (90 ml.) canola oil
7 tbsp. (100 ml.) agave syrup
6 tbsp. (90 ml.) coconut milk
2 tsp. vanilla extract
6 ripe bananas; 4 mashed, 2 sliced
3 tbsp. walnuts, toasted and ground
1 cup (130 g.) chopped dark chocolate, 60 to 70% cacao
Position a rack near the top of your oven and preheat to 350ºF (180ºC). Line one 12-cup muffin pan with 12 paper liners.
In a large bowl, whisk the flour mix, almond flour, baking powder, baking soda, salt, cinnamon, and flax seed meal to remove any lumps. In a small bowl or pitcher, combine the canola oil, 5 tbsp (75 ml.) of the agave syrup, coconut milk, and vanilla. Whisk to combine.
Pour the wet mixture into the dry mixture and whisk together by hand just until combined. Fold in the mashed bananas, walnuts, and chocolate.
Lightly toss the sliced bananas with the remaining 2 tbsp. agave syrup. Fill the muffin cups almost all the way to the top. Top with about 3 banana slices per muffin.
Bake for about 25 minutes, until the muffins are browned and spring back slightly to the touch.
These muffins keep very well, tightly wrapped at room temperature, for up to 3 days.
HUCKLEBERRY GLUTEN-FREE FLOUR MIX
Makes 6 ½ cups (815 g)
"If you like to bake gluten-free, " writes Zoe Nathan," whip up a big batch of this mix and keep it on hand. It lasts forever. You can use a store-bought gluten-free flour mix if you must, but your pastry will not taste nearly as good. I cannot stress enough what a difference this mix makes in both flavor and texture. If you don't like the graininess of the cornmeal, you can always omit it and use a little more of the oat flour or potato starch."
2 ¾ cups (430 g.) brown rice flour1 ¾ cups (430 g.) oat flour
1 ¾ cups (230 g.) potato starch
½ cup (90 g.) cornmeal
Combine all the ingredients in a bowl and whisk until thoroughly blended.
This keeps indefinitely at room temperature.
Keep Reading: