In Search of the Real Fish Taco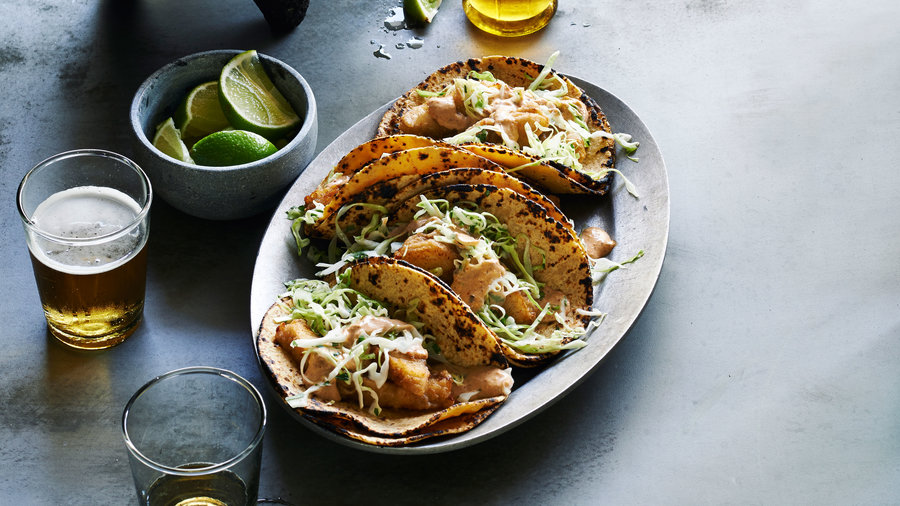 Dan Goldberg. Styling: Karen Shinto
And now, a brief cultural history of the tastiest export to come out of Baja since cerveza
On an elemental level, the fish taco can be reduced to a very simple equation: Fish + Tortilla = Fish Taco.
From this perspective, there is little question that people have been eating fish tacos in the coastal areas of Mexico for an awfully long time. It probably goes back thousands of years to when indigenous North American peoples first wrapped the plentiful offshore catch into stone-ground-corn tortillas.
More recently, somewhere in Baja California, sometime in the last 40 or 50 years, someone concocted what is generally considered to be the prototypical fish taco. According to aficionados ― call them the codnoscenti ― this humble delicacy consists of a lightly battered mild white fish that is deep-fried, then served in a corn tortilla (often two) with shredded cabbage, a thin sour-cream- or mayonnaise-based sauce, a bit of salsa, and a most vital spritzito of lime.
Sunset  Recipe: Baja Fish Tacos
On this everyone agrees. What everyone doesn't agree on is where in Baja the archetype originated. San Diego fish-taco mogul Ralph Rubio, whose chain of stores makes him the great white shark of the fish-taco world, cites San Felipe as the source. But the señoras hustling and hawking virtually identical fish tacos at virtually identical stands at Ensenada's fish market won't stand for that. They say their port town is the fish taco's true home, dating at least from the opening of the Ensenada mercado, in 1958.
The truth is out there ― somewhere. In the meantime, this Baja export has become the border cuisine of the moment.
A fish story
Though many Americans are only now learning about the simple virtues of fish tacos, surfers and seasoned Mexico travelers have long considered fish tacos an integral part of the Baja experience.
As fish tacos reached El Norte, they went upscale ― out of the fryer and onto the grill. These new heart-friendly tacos may be more healthful, but they tend to lose their soul along with the fat. Done right, however, grilled fish tacos can taste mighty good, authenticity issues notwithstanding.
All of which means that Ralph Rubio made the right call in 1974 when he decided not to stay home and study during spring break.
That was the first year Rubio and friends at San Diego State went down to San Felipe on the Sea of Cortés. In addition to cerveza, fish tacos at local stands proved to be their main sustenance, and became one of the prime reasons they would return to San Felipe each spring.
Rubio was particularly fond of the fresh fish tacos made by a vendor named Carlos. One night Rubio suggested that Carlos open up a stand in San Diego. Carlos, making a decision that he can only hope his wife never hears about, replied that he didn't want to leave Mexico. "I vividly remember the conversation," says Rubio today. "It was late at night, I'm drinking Coronas with my buddies, and the thought hit me: If he doesn't want to open a stand, why don't I just get the recipe?"
Carlos provided Rubio with a recipe, though he didn't specify exact amounts of ingredients. Eventually Rubio figured out a recipe that worked, and with the backing of his father, opened his first restaurant in 1983 in an old, failed hamburger stand near Mission Bay.
Not long after the opening, Rubio returned to San Felipe to see the legendary Carlos and give him some money as thanks. But Carlos had moved ― some said to the rival fish-taco center of Ensenada. No one knew for sure.
Today Carlos's old San Felipe stand still operates, but under different ownership. Rubio's is a multimillion-dollar company.
"It was one of those rare moments of inspiration," says Rubio of that fateful night. "Besides, I wasn't the only gringo in San Felipe with a business major."
Keep Reading: