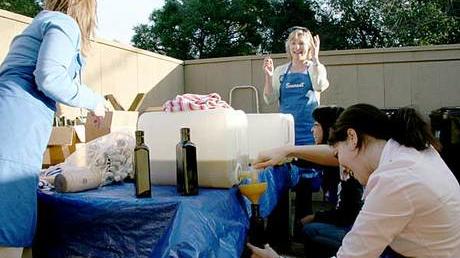 By Amy Machnak, Sunset food writer Finally our olive oil is ready to be bottled after sitting in darkness to let the sediment settl...
By Amy Machnak, Sunset food writer
Finally our olive oil is ready to be bottled after sitting in darkness to let the sediment settle.
It took us a while to get started, but once we did we had quite the assembly line. Team Olive set up a spot behind the offices to transfer our olive oil from 20-gallon plastic jugs to individual 250-ml bottles. As we were getting started, we kept having to run into the kitchen to get another tool (we hadn't quite thought things through). After we finally got all the required supplies and our line working smoothly, almost 2 hours had passed and we were barely 1 jug done with 3 more to go. We hadn't really expected it to take us so long to pour from one container to the other, but it did. We eventually had to call it quits as the sun went down.
When we reconvened to finish our task, we made sure we had our equipment. Since having the right gear makes the process much faster, we have compiled a quick list for you before you start bottling yourself.
Supplies:
aprons, one per person
power drill fitted with a small bit (for making a ventilation hole in plastic jugs)
olive bottles and corks
funnel
towels or rags
mallet or small hammer
tarps to spread under area or over valuables
large drip pans (turkey roasting pan will do)
permanent marker for labeling
bucket of hot soapy water
Here's how we did it:
We found it easier for one person to fill the bottles at each spigot (we had 2 going simultaneously) and for a third person to push/hammer in the corks. A fourth person wiped off the oil that inevitably dripped down the bottles' sides with warm water and a rag, then put them into the boxes that the bottles came in.
Our labeled boxes of bottled oil are currently sitting in organized rows in our temperature controlled work shed. Before the weather warms, we'll move them to the wine cellar to keep them cool and dark (heat and light are two enemies of oil). At some point, we'll need to devise the best way to adhere (aka melt) the gold plastic seals over the top of each bottle.
Does anyone have a quality hair dryer we could borrow?
Keep Reading: