So simple. So good. Figs with Gorgonzola & Honey from Homegrown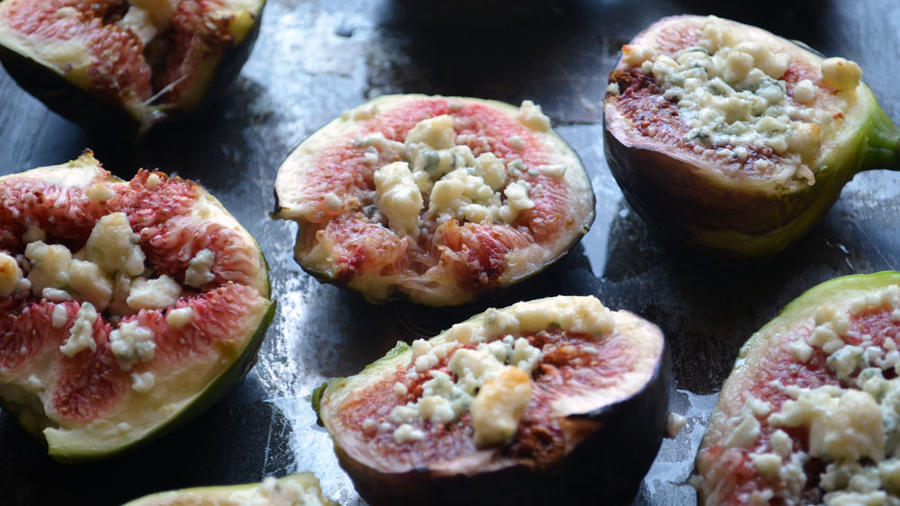 Senior Travel Editor Andrea Minarcek loved the Figs with Gorgonzola and Honey so much, she's ready to plant her own fig tree! I do love...
Senior Travel Editor Andrea Minarcek loved the Figs with Gorgonzola and Honey so much, she's ready to plant her own fig tree!
I do love to cook. In fact, I've become much more ambitious and creative in the kitchen since I started working at Sunset. But in the summer? Puhlease. The simpler the recipe, the better.
Not only does the warm, pretty weather entice me outdoors—and out of the kitchen—but with so much gorgeous produce ripening right now (especially in the Bay Area), fresh ingredients shine brightly on their own, without a lot of culinary meddling from me. Chopped salads, gazpachos, smoothies—dishes that don't interfere much with the fruit and veggies appeal most to me in the summer.
Why this recipe?
I chose this recipe because I love fresh ingredients, and because we have a few fig trees in Sunset's test garden—and my pal Lauren Dunec Hoang (our Associate Garden Editor and general test-garden guru) is always generous with the pickings. In fact, she's been kind enough to teach me how to properly harvest figs. The key? Wait until they nearly burst open with ripeness.
What was it like to grow the ingredients for your recipe?Ermmm… From what Lauren said? Easy enough. I lucked out in that we had some fig trees onsite. We don't keep honeybees at Sunset anymore, so I picked up a local clover honey from a market, along with some Gorgonzola.
What was it like to make this dish?Easy peasy. Truly, the recipe couldn't be simpler.
The only thing I'd do differently next time, perhaps, is to use a muffin pan rather than a flat baking sheet. My figs wanted to roll around a bit in the oven and lose their cheese—and, of course (egads!), we couldn't have that. I had to carry the tray very carefully from the work station to the oven. I wished I had a muffin pan to nestle them in securely.
How did it turn out?Divine. The earthy tang of the Gorgonzola kicked up the rich sweetness of the figs, and the river of honey on top tied it all together.
The recipe didn't specify whether to use purple or green figs, so I tried some of both. The consensus was that the purple figs worked a bit better in this dish.
Finally, I haven't tried it yet with the prosciutto that Hardison recommends in the addendum to the recipe. You better believe I'm using that as an excuse to make this again soon!
Will I make this dish again?Indeed I will—actually, I already did. After bringing it work for others to taste, I made the dish again that very night for dessert. (I used my fiancé as my excuse in this case: He hadn't tried it yet. And, yes, he raved about it, too.)
When I eventually (hopefully) get an apartment or house with a yard—or even a sunny, ample patio—I do aspire to get a fig tree. And a Meyer lemon tree. And some tomato plants… In the meantime, I'll continue to haunt the farmers markets—and Lauren's desk.
---
Figs with Gorgonzola & Honey from HomegrownServes 6 to 8.
"This is a simple appetizer that comes together very quickly. Fresh figs are a thing of beauty and the Gorgonzola and honey accompany but don't overpower the delicate figs."
12 ripe figs3 ounces (90 g) crumbled Gorgonzola cheese¼ cup (85 g) honey (choose a light floral honey, like clover)
Preheat the broiler. Slice each fig in half lengthwise. Place the figs cut side up in a baking pan. Divide the Gorgonzola evenly among the figs, placing a chunk on top of each. Put the pan under the broiler for 5 minutes, until the figs are warm and the cheese is melted. Drizzle the honey over the figs and serve.
NOTE:Try wrapping a grilled fig with a small, thin slice of prosciutto, securing it with a toothpick. It really steps up the flavor.
Excerpted from Homegrown by Heather Hardison (Stewart, Tabori, & Chang, 2015). 
Keep Reading: