Spicy Thai Fried Rice with Shrimp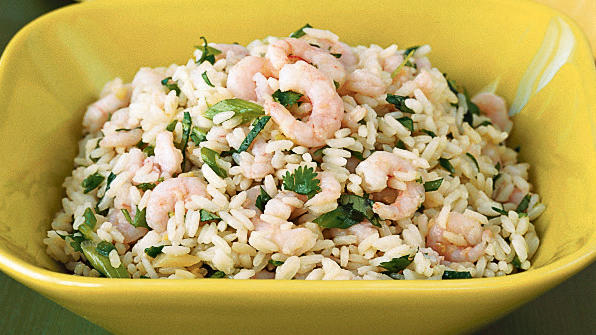 Anne Biedel, Kihei, HI
Day-old leftover rice gives Anne Biedel's fragrant fried rice the best texture, but you can also make it with rice cooked and cooled the same day. She thinks the fish sauce adds a barely detectable pungency, similar to anchovies in Caesar salad. It's available in most well-stocked supermarkets.
PREP AND COOK TIME: About 35 minutes
MAKES: 4 servings
2 tablespoons olive oil
1 1/2 teaspoons minced garlic
1/2 cup thinly sliced green onions
4 teaspoons minced seeded fresh jalapeño chiles
3 cups cooked jasmine or long-grain white rice, cold
1 to 2 tablespoons sugar
2 tablespoons soy sauce
2 tablespoons Asian fish sauce
1 1/4 cups shelled, cooked tiny shrimp or diced cooked pork or chicken (about 8 oz.)
1 cup chopped fresh cilantro
1 cup chopped fresh basil leaves
1 teaspoon toasted sesame oil
1. Pour olive oil into a 12-inch nonstick frying pan over medium-high heat; add garlic, onions, and chiles and stir often until limp, 2 to 4 minutes.
2. Add rice, sugar to taste, soy sauce, and fish sauce; reduce heat to medium and stir often until ingredients are well coated and hot to touch, 3 to 4 minutes.
3. Add shrimp, cilantro, basil, and sesame oil; stir often until shrimp are hot to touch, about 3 minutes.
Per serving: 345 cal., 25% (86 cal.) from fat; 18 g protein; 9.5 g fat (1.4 g sat.); 50 g carbo (1.4 g fiber); 953 mg sodium; 111 mg chol.
Keep Reading: