Eat Fresh, Day 2: Juicing with Superfoods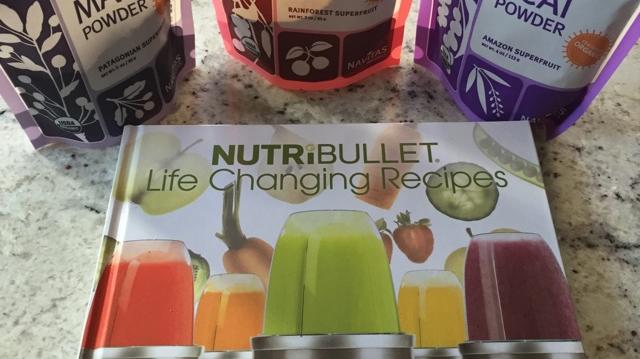 Who: Erika Ehmsen, Managing Editor of Sunset's Digital Editions (for your iPad, Android, etc.). This year, I'm determined to...
Who: Erika Ehmsen, Managing Editor of Sunset's Digital Editions (for your iPad, Android, etc.).
This year, I'm determined to: Hop on the juicing bandwagon. And to pack superfoods like spinach and goji berries into each freshly blended fruit-and-veggie concoction.
I chose this because: I need to kick my bar habit. Not my nighttime one. My daily intake of a gooey, nutty, chocolate-glazed breakfast bar. Yes, daily. I've been feeling rundown and was recently diagnosed with vitamin D and iron deficiencies, so I clearly need to change up my diet, starting with my breakfast routine.
My biggest obstacle: Time is not on my side. On weekday mornings, my new juicing habit may be doomed if I don't chop and measure all ingredients the night before.
My biggest temptation to cheat: I have a whole drawer full of KIND bars, which pack some protein, resemble real food, and don't require any prep work.
Coping mechanisms: Friends who know what they're doing. I'm leaning on coworkers who don't count calories yet swear by their NutriBullets (I just bought one, basically for the convenience of blending in a to-go cup) plus my super-crunchy friend in Portland who is on a superfood-smoothies kick.
I'm feeling: Exhausted and unprepared, having started this new habit on New Year's Day after a sangria-fueled New Year's Eve spent dancing in that other kind of bar. (Wince.) I didn't crack open any juicing cookbooks ahead of time, and I don't have any raw spinach or other leafy greens (which most new-age juicing recipes call for). At least I have a juicer and some browning bananas on my counter. And a pantry with honey, dates, raw almonds, coconut water … and chia, goji berries, and cacao beans (don't laugh; these were post-Portland-visit superfood-indoctrination purchases).
A recipe I'm really digging:
The Not-Bad* New Year's Day Smoothie
(*As pronounced by my husband, who doesn't believe that daily juicing can be tasty or practical. This recipe was inspired by David Wolfe's Best Day Ever Blast.)
1 large or 2 small ripe bananas, peeled
18 raw almonds
5 pitted dates
6 cacao beans
Small handful of goji berries
2 Tbsp. honey and a pinch of cinnamon (I used cinnamon spun honey from San Marcos Farms)
1 1/4 cups unsweetened coconut water
3/4 cup ice (if desired)
1 tsp. each chia and ground flaxseed (if desired)
Put all ingredients into a blender (a Large cup if you're using a NutriBullet).
Pulse for 45 seconds, then check to make sure dates and goji berries have been fully puréed (pulse a bit longer if they are still chunky).
Follow me on Twitter @esquared415 and Instagram @esquared415. And please share your favorite veggie/fruit juice combos (really—I could use your help) by tagging your posts with #SunsetEatFresh on FB/Twitter/Insta.
Keep Reading: