Eat Fresh, Day 11: A Worthy Splurge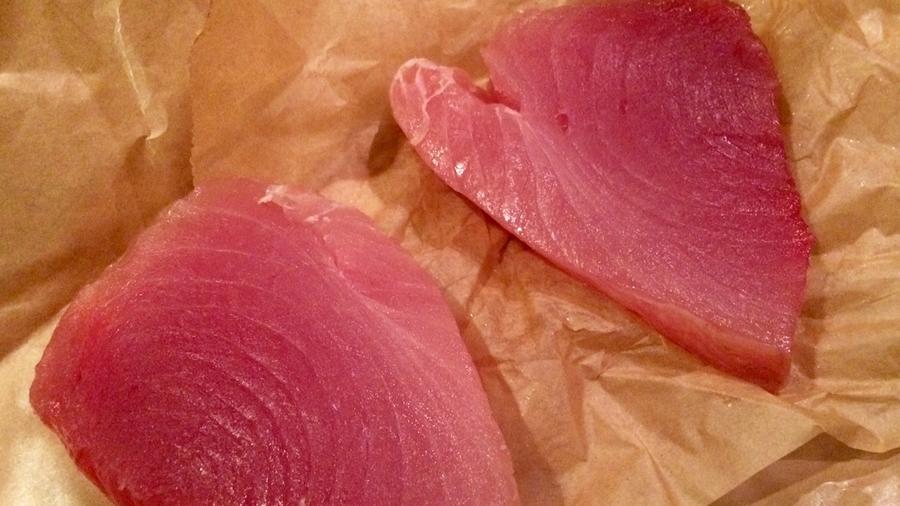 Who: Jessica Mordo, Senior Editor, Sunset.com This year, I resolved to: Eat more fish. I aimed for about 4 servings a week for the durati...
Who: Jessica Mordo, Senior Editor, Sunset.com
This year, I resolved to: Eat more fish. I aimed for about 4 servings a week for the duration of this challenge.
Even though this challenge is almost done, I still struggle with: The oh-so-noticeable difference between a quality piece of fresh fish ($$$) and defrosted frozen fish ($). It's not sustainable to cook fresh fish every time.
Coping mechanism(s): I felt that I had to splurge at least once during the two-week challenge. I won't disclose how much I spent on the gorgeous filets of wild-caught Hawaiian tombo tuna (pictured above), but let's just say that for one item, it comprised a significant percentage of my regular weekly grocery bill. However, it really was worth it! I was nervous about wrecking the tuna, but I chose a successful recipe and the results (pictured below) were stellar. My husband loved it, too. You really can taste the difference between fresh and frozen—it's not even close.
I'm feelin': Still a bit wary of the cost vs. quality issue, but encouraged to make more of an effort throughout the rest of the year to eat more fish.
My takeaways: My goal for the challenge—to eat about 4 servings of fish per week—was a bit lofty. I knew ahead of time that would probably be the case, but that I'd power through the two weeks so I could experiment with a variety of ways to get fish into my weekly meal planning. I had some hits and some misses, but moving forward I'm going to have to lower my weekly intake. I think 1-2 servings a week would be more manageable, and that doesn't always have to mean cooking fish for family dinner. Smoked salmon in my breakfast, a scoop of tuna salad (yup, good, old-fashioned canned tuna) in my lunch, opting for fish when eating out, whatever—I have options that don't involve foisting fish on my husband and kids. Also, I can't justify spending so much money on a quality piece of fresh fish for each weekly serving, but I can swing it once a month. If I keep hitting the dishes out of the park like I did with the tombo tuna, then I'll have all the more buy-in from the rest of my family.
I'm celebrating with: Sushi this weekend! You'd think I'd have OD'd on fish by now, but I can't ever say no to sushi.
A recipe I'm really digging: I cooked this Greek-Style Halibut recipe with some modifications. I subbed the tombo tuna for halibut (since the latter isn't in season), omitted the booze, and added halved kalamata olives. I served it over brown rice. It was heavenly! I'd definitely make it again.
Keep Reading: