Team Chicken's first few clucks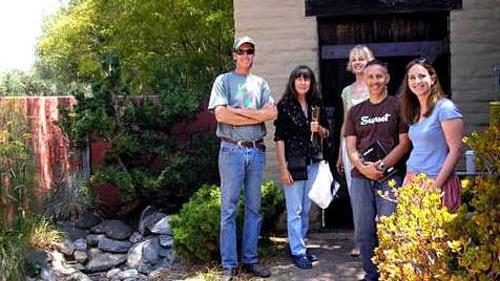 Above: Jody Main (in black shirt) and Team Chicken. As we were pondering the menu for...
Above: Jody Main (in black shirt) and Team Chicken.
As we were pondering the menu for our feast, we realized we wanted to get some protein in there. Edamame (soybeans) alone didn't seem substantial enough. Being not exactly ranching types, we knew we couldn't actually kill anything (although we all agreed that the most conscientious way to be a meat-eater is to do just that, instead of blithely buying a hunk of steak tidily shrink-wrapped for you at the store). So, face to face with who we are, we decided on chickens. After a few seconds we realized we couldn't kill a chicken, either. But we would have wonderful, glorious, super-fresh eggs.
A few weeks ago, we found a coop and had an entertaining and informative coop-placement session with our new Chicken Consultant, Jody Main, who occasionally teaches classes on backyard chicken-raising (more on her later). Then we tackled the preparation of the chicken's home-to-be. It was an empty koi pond in our test garden, with a tragic history (raccoons ate all the koi–a wee bit worrying for our future chickens, but we resolved to get very good chicken wire). So it lay there, drained but paved with massive, extremely heavy river stones. Our backs hurt just thinking about getting rid of them.
Above: John Fischer of Gilroy hauls  rocks from our chicken site.
Lauren Swezey, our garden special projects editor, had the brilliant idea of posting the stones on craigslist–free rocks to whoever was willing to haul them away. Within three days, a database engineer from Gilroy named John Fischer showed up. "I'm a rock hound, and every rock in here is nice," he said. He plans to use them to build a retaining wall for a pond at his place. Then he got to work with a hired crew. It took three days, but now our pond is just a shady patch of ground, waiting for its flock.
Keep Reading: