Chardonnay and Syrah tasting notes: Our 3-year-olds are feisty and loveable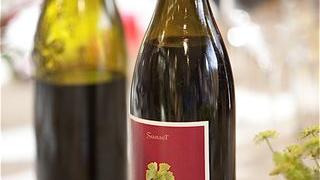 'Tis the season when good kids are rewarded for being nice, and though our 3-year-old wines have had their naughty moments (we were bottl...
'Tis the season when good kids are rewarded for being nice, and though our 3-year-old wines have had their naughty moments (we were bottle-shocked by their behavior at two dinner parties), we can't help but love them. Team Wine is so proud of our 2007 Syrah and Chardonnay, we even thought of sneaking them into the blind judging for Sunset's 2010 Western Wine Awards.
But both wines' feisty, individual nature makes each bottle unpredictable, so we mostly just pop their corks for special occasions at the office. Like Fridays (hey, they only happen once a week). And One-Block feasts—we don't miss those.
Two bottles of Sunset Syrah, ready to make merry.Photo by Spencer Toy, Sunset digital imaging managerHow were they behaving this week? Not bad, not bad at all. Here are the notes I scribbled down as Sunset Wine Editor Sara Schneider and I sipped and chatted with lunch guests.
Chardonnay (we opened 1 bottle; we have about 30 remaining): Exceptionally fresh, despite being 3 years old—whites like unoaked Chards aren't usually built to last long. Its crisp apple still has crunch to it, yet there's caramel from a little aging too. But not so much that the wine's acid backbone didn't pucker up into a lemon drop when sipped between bites of the Winter Feast's bitter (and yummy!) Winter Caesar salad. Our Chard is delightful alone and downright delish with the feast's Squash Soup, which was made extra slurpable by a generous drizzle of brown butter.
Syrah (we opened 3 bottles; we have cases and cases left—woohoo!): Dark plum and berry still race to the front, but the wine is no longer as rambunctious as it was as a young'un … though a little spritz was still present in one of the bottles we uncorked. The leather has also backed down and the bacon has run off, leaving leafy tobacco, slate, and pencil lead to ground it, marks of the "fractured sandstone and shale" of Fat Buck Ridge, Thomas Fogarty Winery's Santa Cruz Mountains vineyard where we picked our grapes. Our Syrah's deep, inky color remains (from the small berries—as wine grapes are called—making for a higher skin-to-juice ratio), so it's still tattooing with its dark purple mark when it drips on white tablecloths.
Our Syrah's lush fruit and acidity have also been constants, and its tannins are silkier now. Wine is a living thing that evolves in the bottle, so naturally each one we open has its nuances (this time, one was so tight that it blanched our mouths, leaving us with a Mojave mouth-feel that we needed several gulps of water to recover from).
But no matter the bottle, there's a character that runs throughout, a pedigree that we can only thank Thomas Fogarty winemaker Michael Martella for. We're very thankful—they kept us up at night, but we can't imagine life without our 3-year-olds.
Keep Reading: